The football community may be huge but the connections run deep.
After meeting some of the athletes that will be coached by the Patriots during the East-West Shrine Bowl, there were a lot of ties with New England.
Boston College's Jaiden Woodbey and Zay Flowers are both on the West roster along with Harvard's Truman Jones.
Miami native, Kadeem Telfort, played high school football with New England Patriots rookie wide receiver, Tyquan Thornton. "I talk to him. He loves it in New England and he told me to meet him at the top. He keeps telling me to take it day by day and control what you can control," said Telfort.
Virginia native and NC State linebacker, Isaiah Moore, played with Jakobi Meyers. "That was my teammate at NC State. He's had a great career at the Patriots. I've talked to him playing 2K and seen him back at school a couple of times. He's a great guy and I give him big props. He's worked super hard to be where he is and when I look at him I see that it can be done," said Moore.
Can I get a Wooo Pig Sooie? Multiple NFL prospects on the west team mentioned connections with Arkansas alums Deatrich Wise Jr., and Hunter Henry. Razorbacks' offensive lineman, Dalton Wagner, said he's best friends with Hunter's brother Hudson Henry so he loves watching Hunter Henry play. Louisiana defensive lineman, Andre Jones, tabbed Wise as his favorite Patriot. "He plays my position and my position coach coached him in college. So I got a chance to talk to him before, he explained to our position group what the NFL process was like and gave us advice," said Jones.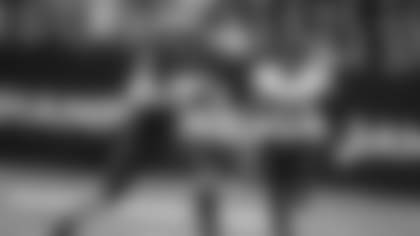 Michigan tight end, Luke Schoonmaker, originally from Hamden, Connecticut said he was born a Patriots fan. "Growing up my mom's side of the family is all from Boston so Boston sports are instilled in us," said Schoonmaker.
Fellow Washington Huskie, Henry Bainivalu, mentioned that he played with Myles Bryant for a short period in college. "I was a young guy during our time together at UW but the times I did talk to him he was super nice," said Bainivalu. 
Patriots offensive lineman Bill Murray had a huge fan at media day who happens to be his former teammate. William & Mary offensive lineman, Colby Sorsdal, was ecstatic to let us know on media day that his favorite Patriot was Murray. "I talk to him all the time and I try to get knowledge about the NFL process coming up," said Sordsdal.
UT-Chattanooga defensive lineman, Devonnsha Maxwell, played with rookie guard Cole Strange in college. "That's my guy; The year after he got there, I came right after. We played against each other and made each other better," said Maxwell. Maxwell also shouted out Patriots' defensive line coach, Demarcus Covington, stating that without Covington recruiting him to Chattanooga he wouldn't have this opportunity.
Now that you know some background information of some of the athletes being coached by the Patriots, stay tuned for more updates throughout the week on their on field performances as the first day of practices begin in Las Vegas.