Josh Alper of Pro Football Talk says that Kyle Arrington is set to have groin surgery on Friday. Although he did not miss a game in 2013, Arrington played through the groin injury for the majority of the season.
"Arrington is expected to need six weeks to rehab from injury," explains Alper. "While he's likely to take it easy at moments this spring, there shouldn't be any impact on his availability for training camp or the 2014 season."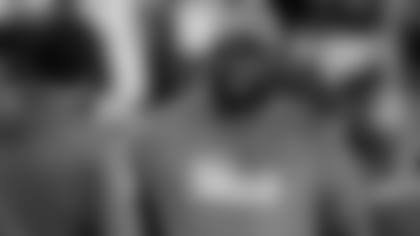 With Arrington preparing for surgery, Field Yates of ESPN Boston took a look at the Patriots' health report as the team enters the offseason. Yates says that he expects Vince Wilfork, Jerod Mayo, Sebastian Vollmer, Tommy Kelly, and Danny Amendola will all be healthy and ready to go at the start of training camp. As for Rob Gronkowski, however, Yates says that his status is difficult to determine.
"The timeframe for recovery from such an injury varies by patient, but a rough estimate is eight months. As of now, Gronkowski's status for the start of next season is not yet known," says Yates.
Speaking of Gronkowski, the Patriots tight end was at Providence College on Monday night. According to Kevin McNarama of the Providence Journal, Gronkowski was doing a favor for a friend but also spent time with some of the students on campus.
Zuri Berry of the Boston Globe believes the Patriots can learn something from the Seattle Seahawks. Berry says that the Patriots need to strengthen it's defensive line and build depth in the trenches, similar to that of the Seahawks. A strong pass rush would significantly improve the Patriots secondary, which has finished 30th, 31st, and 29th in consecutive years. The emergence of Chanlder Jones has helped, but according to Berry the team still needs more.
"But the beauty of what Carroll has done is build depth on the line, using seven different players regularly. Even with their health woes, that's one thing the Patriots are still working on," writes Berry.
In another article on Boston.com, Berry lists four players he believes could be on the bubble entering the 2014 season. Headlining the list are wide receivers, Kenbrell Thompkins and Danny Amendola.
The Bleacher Report*'s James Christensen listed a few players that the Patriots could cut this offseason to create more cap space. Christensen explains that the Patriots could save $6 million if they cut Vince Wilfork, $3 million if they cut Dan Connolly, $3 million if they cut Stephen Gostkowski, and $2.5 million if they cut Isaac Sopoaga. Though he doesn't believe the team will cut all four players, Christensen does expect that New England will readjust some of their contracts. He believes that both Gostkowski and Wilfork will be be resigned to long-term deals.
NESN's Doug Kyed shares his own thoughts on the Patriots salary cap situation. Kyed breaks down New England's options at each position on offense and explains where he thinks the Patriots will gain more cap flexibility.
Mike Reiss of ESPN Boston says that Tom Brady and Bill Belichick will be in the same foursome today at the AT&T Pebble Beach Pro-Am. Yesterday Belichick was spotted teeing off with Broncos quarterback, Peyton Manning, but today he's back with his own future hall of fame quarterback. Brady is paired with Ricky Barnes, while Belichick is paired with James Driscoll. The foursome teed off this morning at 8:22 a.m. PT (11:22 a.m. ET).