* Things seem a little awkward in Pittsburgh again, what with Ben Roethlisberger this week explaining away his skipping six of the Steelers' OTA sessions by offering the following excuse: "If coach (Mike Tomlin) asked me to be here every day, I would be here every day, but they haven't asked me to do that,'' according to the Pittsburgh Post-Gazette.
Huh? I guess the Patriots aren't the only AFC powerhouse with issues regarding their OTAs and their veteran starting quarterback's attendance.
Roethlisberger went on to add that his absence, due to a previously scheduled family vacation, afforded reserve Steelers quarterbacks Landry Jones, Mason Rudolph and Josh Dobbs "an awesome opportunity …. to get reps,'' a favor for which he said he was shown gratitude. "I know those guys really enjoyed it, and they were thanking me for it.''
Why didn't Tom Brady think of that angle? Score one for Big Ben.
I'm pretty sure that even if Mike Tomlin did give Roethlisberger a pass of sorts on attending the "voluntary'' workouts — and I'm a bit skeptical of that — he probably doesn't love the idea of his No. 1 quarterback broadcasting that information with the public, since it sets a bad precedent for other players who might otherwise want the same accommodation in corner-cutting when it comes to their offseason schedules.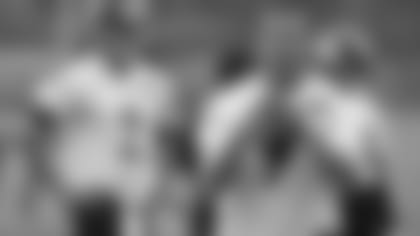 Roethlisberger's comments easily play into the "runs a loose ship'' perception that dogged Tomlin near the dispiriting end of Pittsburgh's 2017 season, when crucial home losses to New England (Week 15) and Jacksonville (AFC Divisional round) created entirely legitimate questions about the state of the Steelers' readiness, play-calling and execution when those games were on the line in the deciding final minutes.
Make no mistake: As Roethlisberger correctly pointed out, OTAs are not "real football,'' which doesn't start until training camp opens in late July. This is football played against air time of the year. But it doesn't help Tomlin at all in his quest to stay off the hot seat to suggest he's fine with a key player like Roethlisberger going missing for a couple weeks, implying that he has two sets of standards within his own locker room. And for the record, new offensive coordinator Randy Fichtner is taking over for Todd Haley, even if he was elevated from quarterbacks coach in a nod to offensive continuity.
When you add in star receiver Antonio Brown's curious and somewhat hard to decipher Instagram post last Sunday, when he appeared to be getting in subtle digs at both Tomlin and former Steelers offensive coordinator Bruce Arians — seemingly questioning their long ago doubts about Brown's skill set — it's always something in Pittsburgh. All of which somehow results in Le'Veon Bell not even meriting much mention these days, as his continued offseason no-show due to a his contract stalemate drags into a second year.
* Making a guest appearance this week on our Cover 2 podcast with Banks and Stevens, Fox Sports NFL and college football rules analyst Mike Pereira — himself a former 14-year NFL official and once the league's VP of officiating — flags the league's new national anthem policy on a number of fronts.
"The decision the NFL made to tell players if they want to take a knee to stay in the locker room is really a poor decision,'' Pereira said. "That's just going to create more hysteria in my mind, so it's like to the point of a no-win thing.''
Teams can be fined if players or club personnel do not stand at attention for the anthem if they are on the sideline under the new policy, but Pereira said it would have been a travesty if game officials would have been charged with penalizing for kneeling players, as was first discussed.
"Somebody asked me would I be comfortable if I was the official and I had to penalize a player or a team for taking a knee on the sideline during the national anthem?,'' he said. "My response to that was I'd certainly be very uncomfortable, but I'd do it if I was told to do it. But in my own personal mind I just can't think of myself penalizing a team or a player for a political statement that is not directed at all toward an opponent, it's against my DNA.
"To put me in that situation, and when they said they were going to do that, I thought this was absurd. So we've got the national anthem and you want the players to stand at attention, but you want the seven officials to scour the sidelines to look and see if anybody's kneeling? And then it's, 'O say can you see,' then boom three flags go toward the Patriots bench? That's nonsensical.''
Good calls, Mike. All good calls.
* Well, Terrell Owens just broke another NFL record. The enigma that is Owens was always known for going his own way to a degree during his eventful playing career, and at least he's consistent in retirement, announcing Thursday that he's choosing to skip his own Aug. 4 induction ceremony into the Pro Football Hall of Fame in Canton, Ohio.
The Hall labeled it an "unprecedented'' decision, and don't put it past Owens that he knew he was going where no other living enshrinee had been before, choosing to boycott the festivities, as it were. T.O. the player could always be calculating for effect, be it with a Sharpie pulled from his sock, taking a stand on the Cowboys' mid-field star, or doing those sit-ups for the TV cameras in his drive-way while holding out in Philadelphia.
Owens in a statement said he's grateful for the honor of induction, which came on his third year of eligibility — much to his well-known chagrin —  but he decided to celebrate his accomplishment elsewhere, with details to be announced at a later date. Maybe he'll throw a competing party for himself on Aug. 4, invite the media and see who has the biggest guest list. And does his already named presenter — former 49ers receiver coach George Stewart — now have to attend Owens' event and present him there?
Whatever happens, I'm guessing baseball's Pete Rose is taking notes and watching Owens' every move should he ever have such a no-show decision to make.
* Speaking of invites declined or going unused, I get the sense the defending Super Bowl champion Eagles won themselves plenty new fans this week with how maturely they handled the melodrama surrounding their canceled trip to the White House for a ceremony honoring their franchise's historic victory in February.
Once again, Eagles team leaders like Malcolm Jenkins, Chris Long and Zach Ertz did themselves proud by not engaging in a mud fight with President Trump, but instead largely focusing the discussion back on the societal issues that have prompted them to peacefully protest, speak out and act on their convictions. Those actions have consistently modeled and exhibited patriotism and a sense of service to the less fortunate members of society in a way that singing an anthem or standing at attention can not duplicate.
The Eagles and what they accomplished last season was not diminished one bit by this week and their missing out on the annual dog-and-pony show that is a Rose Garden photo op. Far from it. The White House rescinding their invitation at the last minute probably wound up doing the Eagles and their causes far more good than harm, because it gave them yet another opportunity to speak about those important issues and raise awareness for their fight. Nothing but good can come of that.
On this scoreboard at least, I had it Philadelphia 1, President Trump 0.
* I only got the chance to interview 49ers legend Dwight Clark a few times in my years covering the NFL, and those came after his playing career and when he was a team executive in San Francisco and Cleveland. But for a guy who clearly had that star quality and magnetism about him, he was one of the more approachable and well-grounded NFL figures I've ever encountered. You weren't going to get big-timed or blown off when you approached Dwight Clark and asked to chat.
Clark died at 61 from ALS this week, and you could easily argue that his famous touchdown catch in the 1981 NFC Championship Game was not only the most indelible play in NFL history, but the launching point moment of the 49ers' long dynastic run of the 1980s and '90s. It's impossible to know, but without "The Catch,'' does the rest of San Francisco's ultra-successful story play out roughly the same from that game on?
Clark was a straight-shooter in a league not exactly filled with them, telling it like it was, because he seemed almost incapable of misleading anyone. Of San Francisco's Candlestick Park, the 49ers' decrepit home for so many years, he got it just right: "It was a dump, (but) it was our dump, so we could talk bad about it, but we didn't want anybody else to talk bad about it.'' 
After he announced his diagnosis of Lou Gehrig's disease in early 2017, Clark said he suspected there was a connection between his ALS and playing football, noting that he suffered three concussions during his playing career. Let's hope his early and untimely death resonates anew within the league, leading it to renew its efforts to know as much as possible about the risks players are taking to play the game they love.
* The narrative that Tom Brady somehow owes the Patriots and their fans an explanation for not attending all of the team's offseason program work is laughable. It certainly goes against most of his past statements about the importance of OTAs, but hey, people's views are allowed to change over time, and if anyone has enough capital stored up in the bank to deserve the jump-ball possession arrow on this one it's No. 12.
Was his decision to no-show tied up in sending a message to Patriots coach Bill Belichick about who's in control this time? Leverage possessed, leverage utilized? Entirely possible. But for all we know, it's a compromise he worked out with his wife and family in attempting to add another two seasons to his NFL career now that he's in his 40s: "Give me your support to play through 2019 and I'll spend the lion's share of the offseason away from the team, with us doing our own thing. Deal? Deal.''
Not losing any more tread on Brady's tires at his age is also not a bad thing in my eyes, even if they are low-impact OTA sessions that aren't too taxing. Players do get hurt and sometimes seriously in OTAs, although not usually quarterbacks. I'm pretty sure Brady isn't going to suffer come the regular season because he wasn't in Foxboro this spring going through the motions of executing plays he knows like the back of his hand — new receivers or no new receivers.
If Brady hits the wall in September and isn't himself, feel free to bury me with I-told-you-so's. Until then, remember what time of year it is. Try remembering what everyone was buzzing about last year in early June — there must have been some critical topic in mini-camp — and remind me how it made a huge difference come the regular season.