Former Brown University running back Michael Malan is playing in NFL Europe with the Scottish Claymores this spring. Today's is the sixth in a weekly series of first-person accounts from the allocated Patriots fullback as he pursues his NFL dreams while living in a hotel in a foreign land. This week the Claymores dominated the Rhein Fire 33-0. Malan carried the ball three times for 29 yards and had one reception for 10 yards. The Claymores now have a 3-4 record and maintain hopes of making it to World Bowl XI, the culmination of the NFLE season on June 14.
It was definitely a big win this past weekend. We kept our World Bowl hopes alive and hopefully things will work out. If we end up with the same record as Rhein then we'll beat them in the tiebreaker because of the points that we were able to score this week and the points that we were able to keep them from scoring.
After a couple losses, this win just shows that that's the type of team we are and we just haven't put everything together in every single game that we have played in so far. But this past Sunday was a chance to show on national TV just what we could do and I think that everybody came away pretty pleased. The win was definitely something that this team needed. The head coach was preaching about keeping the dream alive and that's what we were able to accomplish this past Sunday. We'll let the other games play out and hopefully it will work in our favor. But what we need to do is win these next three games and just wait and see.
All along, starting out with camp and seeing what kind of talent that we had, I was expecting these sorts of performances every weekend. Some things we did involved a little bit of luck along the way in this past week's game and throughout the season we have been on the other end of some of that luck. Everything just fell together pretty well on Sunday.
Personally I think there is definitely a place for me in this offense. I was able to get the ball in my hands a few times this past week and did some good things. But I was a little disappointed in my blocking, which I will just have to continue to keep working on. It's not exactly where it needs to be at this point, but I am showing some good things when the ball is in my hands. I just keep focusing on some of the positives and fixing those things that I need to work on.
The blocking is just something I need to get better at. It's hard to describe whether it is physical or mental. I don't think I am being physically dominated by anyone. It's just a matter of repetition. I need to get even more reps than I have been getting. I guess it is just a combination of everything. I am comfortable in reading the defenses and knowing my assignment. Very rarely have I made assignment mistakes.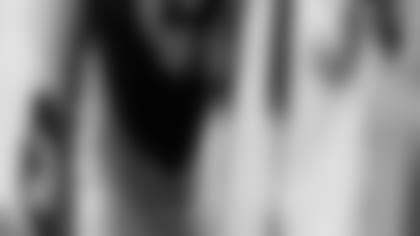 ]()
            Our offensive coordinator preaches to us that a huge percentage of the NFL runs the style of offense that we are running with the Claymores. So if you are able to get the job done over here those teams in the NFL will see the type of offense that you used and will be able to recognize a space for you on their team. I think I was a bit lucky getting placed on a team with a coach who was willing to use the two-back offense. I do look at all these other teams and in practice when we are running scout team offense there are very, very few fullback or two-back plays. So I definitely do feel a little bit lucky and I feel like I made some of my own luck by going into training camp and playing well. And I definitely think that as far as the fullback position in this offense as compared to with the Patriots it is pretty similar. So I am trying to just develop the skills that I am going to need when I am back over in New England.  

Missing the current passing and mini camps that the Patriots are having doesn't really bother me. I know I needed the work that I am getting over here. In one sense it might be nice to be able to learn the New England offense and go in knowing it, but I really needed to get some film for one and for two, just polish up my skills. I have no regrets about being sent over here, that's for sure.
In terms of playing and lifestyle, it is a little bit of an in-between world over here in Europe. When I was younger and you think of a professional football player, you think of the NFL. You don't typically think of the Arena League, or the CFL or NFL Europe players as being professional football players. But you are definitely getting paid to play so the fact is you are a professional and you need to treat it that way. And I do.
It was good to be on national TV, but my family gets to see every game on Direct TV and FOX Sports Net. So they have seen every single game. And of course they tell me that I do a great job no matter what. There is very little critiquing involved from them. It's only positive feedback