It's the question of the week, and still we have no clear answer: Who will quarterback the Patriots against Buffalo this Sunday?
"We'll see on Sunday. I don't know right now," replied Jimmy Garoppolo, one of the two men who could be chosen. Rookie Jacoby Brissett is the other.
"That's Coach [Bill Belichick]'s decision," Brissett asserted. "I can't make that decision."
In fact, the picture may have been further clouded after what we witnessed on the practice field Wednesday.
For the first time since he was slammed into the Gillette Stadium turf 10 days ago, Garoppolo showed off his throwing form in front of the media.
After the team stretching period, Garoppolo and rookie backup Jacoby Brissett – who's dealing with a sprained thumb in his right (throwing) hand – took part in pass-rush evasion drills before the third-year passer threw a few footballs to a stationary target. Garoppolo, nursing a sprain of the AC joint in his right shoulder, threw short, intermediate, and a couple of long passes to a member of the team's equipment staff who was stationed at various intervals on the field.
Before practice, he evaded a question about whether he's still experiencing pain when he throws.
"It's football. There's pain whenever you play… It's coming along. You know, I'm just taking it day by day right now. I've never had an AC sprain or anything like that," acknowledged Garoppolo, who added that he initially thought he just had the wind knocked out of him.
"It's tough. You just have to be smart with it. You don't want to do too much or too little. You have to find that comfort zone, really."
The Patriots deactivated Garoppolo for last Thursday's game against Houston, which was just four days after he suffered the injury in the Week 2 win over Miami. At least one media report last week indicated that the team was pressuring Garoppolo to play versus the Texans, a notion the QB himself unequivocally shot down today. However, he conceded that it was difficult for him to be reduced to a spectator that night.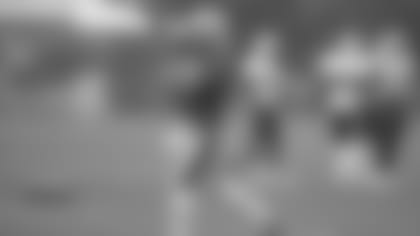 "It was different, that's for sure. Never really been in that situation. So you know, not the [most fun] thing, but it is what it is I guess. Jacoby did a good job. It was really an all-around team win. I mean, everybody participated – special teams, defense, offense. That's what we needed to do."
Brissett, meantime, arrived on the practice field Wednesday with his thumb wrapped in bandage (he briefly had black tape around it on Tuesday before a trainer removed the tape with scissors). He did not do any throwing while the media was viewing practice, but maintained that the injury is not causing him any significant discomfort.
"Whatever it is, you've just got to deal with it, go out there and have a good day of preparation," the rookie maintained. "I played with it [in the second half against Houston], so I didn't think about it. That's the main thing, to not think about it."
Both players were limited in Wednesday's practice as a result of their medical conditions, leaving the outside world to speculate on which one will give the Patriots the better chance of beating Buffalo when the Bills come to Gillette on Sunday.
"You know, you always want to be out there. It's part of football, part of being a competitor," added Garoppolo. "You want to be there guy out there and be the one running the show."
Collins holds court
It's been rare for Jamie Collins to engage with reporters in the Patriots locker room during his career. The linebacker made a surprise appearance Wednesday, though, and spent the better part of five minutes fielding a variety of questions.
One which he downplayed emphatically was about his being assigned the play-calling duties – signified by a green dot on a player's helmet – while co-captain and fellow linebacker Dont'a Hightower has dealt with a right knee injury that's kept him out of the past two games.
"Yeah. Everyone makes too much of the green dot. [It's] nothing. Everybody just looks at it different. The green dot doesn't mean anything."
While Collins conceded that his on-field role changed when he assumed the play-calling duties, he insisted that it didn't change his approach to preparing.
"To me, nothing [has changed]. I'm going to be me regardless, no matter who's in there."
Collins is playing in the fourth and final year of his original rookie contract. Coming off a 2015 Pro Bowl selection, he nevertheless maintains that he's not worried about his financial future, only in improving as a player because he's not nearly where he believes his potential can take him.
"No, definitely not. There's always room for improvement. I'm just trying to get there every day by coming here and doing what I do. Just keep doing what I'm doing," he emphasized. "I'm just out here doing what I can, what's best for the team, and that's be better and be great."
Gronk getting going
Like the aforementioned quarterbacks, tight end Rob Gronkowski continues to work his way back gradually from a hamstring injury. His limited first-half action against the Texans last week – mostly as a blocker – was his first in a game for New England since the AFC Championship in Denver this past January.
"Whenever you're coming back from an injury, you're not all of a sudden at 100 percent or full-go,"  the All-Pro and 2016 co-captain explained, "so [I'm] just kind of taking it one day at a time and easing myself into the progression of playing football and doing everything out there. 
"I felt good, definitely. You're always sore no matter what after playing a game. No matter if you play 10 plays or 70 plays, definitely sore like any other game, but no setbacks, no nothing. Feeling good and just progressing every day."
Allen award
For the second time in his pro career, punter Ryan Allen has been named AFC Special Teams Player of the Week after downing 6 of his 7 punts versus Houston inside the Texans' 20-yard line. The one that didn't make it was actually down right on the 20. Houston was unable to return any of Ryan's punts last Thursday night.
"Collectively, that's the type of performance our punt unit as a whole wants to have," Ryan said. "My experience playing with [special teams co-captain Matthew] Slater, and now [rookie] Jonathan Jones has stepped up and made a huge contribution in our punt unit – those guys work their tails off every day, and it shows in the game. It's something we can strive for each week, because we do want to make an impact and have a positive effect on our overall performance in the game."
The fourth-year veteran added that he had no inclination beforehand that he was going to have what turned out to be the best statistical game of his Patriots career.
"No, you never know how situations are going to present themselves. There are a lot of things you can't control in the kicking game – whether that's situationally, weather – and it's just our job to take them and focus on what we need to do. I have to work on giving them [on the coverage unit] good balls, and they have to do what they've been doing, because they've been doing great getting down the field. The protection's been solid. It's something to build on."      
Practice Report
The Patriots enjoyed perfect attendance at practice once again. All 63 players (the 53-man roster, plus the 10-man practice squad) suited up in full pads and took part at least on a limited basis.
There's been yet another change to the practice squad, with offensive lineman Ian Silberman having been released to make room for defensive lineman Anthony Johnson. The latter had been on the active roster until earlier this week, when he was let go to allow the team to add veteran DL John Hughes.