Gino Cappelletti, who scored the first points in the first game in AFL history against the Denver Broncos on Sept. 9, 1960, helped kick off the unveiling of a special AFL exhibit at The Hall at Patriot Place on Wednesday, October 7, 2009.


The 2009 season marks the 50th anniversary for the American Football League (AFL), of which the Boston Patriots were an original member. The Patriots were featured in the NFL's first "AFL Legacy Game" on the opening weekend of the 2009 season, a victory over the Buffalo Bills at Gillette Stadium. On Sunday, the Patriots will play in the second "AFL Legacy Game" when they travel to Denver to face the Broncos in a rematch of the first AFL regular season game, held on Sept. 9, 1960 at Boston University Field.
In recognition of the 50th anniversary of the Patriots and the AFL, The Hall at Patriot Place has unveiled "The AFL Turns 50," a special exhibit on display at The Hall throughout the 2009 season. "The AFL Turns 50" is the most extensive collection of AFL memorabilia available for viewing anywhere.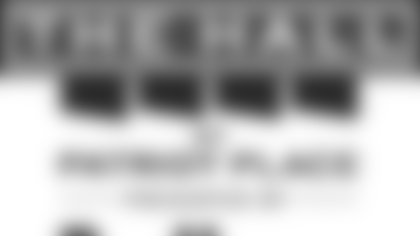 The exhibit features memorabilia from all 10 AFL teams, including expansion teams Miami and Cincinnati. Some of the artifacts included in the exhibit are:
Joe Namath's Super Bowl III jersey
Memorabilia from 21 Pro Football Hall of Famers
Memorabilia from all 10 AFL MVPS, including Patriots Jim Nance and Gino Cappelletti
A shirt and whistle that belonged to Hall of Fame coach Hank Stram
A film projector, cap and jacket that belonged to Hall of Fame coach Sid Gillman
Game-worn uniforms from George Blanda, Lance Alworth, Jim Otto, Don Maynard and Otis Taylor
A game ball from the Patriots' first win (September 16, 1960 vs. the NY Titans)
Memorabilia from AFL officials
A banner and helmet from the 1962 AFL Champion Dallas Texans (now the Kansas City Chiefs)
A graphic timeline of the 1960 comparing events in the AFL to historic events of the time
ABOUT THE HALL AT PATRIOT PLACE PRESENTED BY RAYTHEON
The Hall at Patriot Place presented by Raytheon is the crown jewel of Patriot Place and the only sports and education experience of its kind. Through a dazzling array of interactive multimedia exhibits and artifacts never before viewable by the public, The Hall showcases the tradition of the New England Patriots, explores the history of football in New England, and promotes math and science education for thousands of schoolchildren each year. Tickets to The Hall are $10 for adults, $7 for seniors and military and $5 for children 5-12. Children 4 and under are admitted for free. The fall and winter hours of operation are 10 a.m. to 5 p.m. from Monday to Friday, 10 a.m. to 9 p.m. on Saturday and 10 a.m. to 7 p.m. on Sunday. The Hall is not open during Patriots home games. For more information or to purchase tickets, please visit www.thehallatpatriotplace.com.