The headlines and attention typically heads in the direction of skill players, but championship teams are built around a collection of stalwarts along the offensive line.
Teams capable of controlling the line of scrimmage are able to impose their will on their opponents, leading to big plays on the ground or through the air. Coaches are constantly searching for difference makers to play upfront, and the 2012 draft class certainly features several elite players at prime positions.
USC's Matt Kalil is regarded as the top player in an offensive tackle pool that has at least four prospects carrying first-round grades on draft boards across the league. Kalil possesses the combination of size, athleticism and technical savvy to thrive at left tackle, and his potential to protect a franchise quarterback's blindside without assistance has earned him rave reviews from scouts.
Iowa's Riley Reiff, Stanford's Jonathan Martin and Ohio State's Mike Adams are also worthy candidates in the early stages of the first round due to their remarkable skills. Adams, in particular, might be the most talented edge blocker in the class despite ranking behind his counterparts at this time. His physical tools are off the charts and he has shown flashes of being a dominant player when focused. If scouts can come away with a strong feel for his motivating factors, Adams could be the biggest riser coming out of the NFL Scouting Combine.
Stanford's David DeCastro is viewed as the top interior blocker by most scouts around the NFL. He is a nimble athlete who also displays exceptional strength and power in the hole. He displays a toughness and intensity that is coveted by coaches, and he is certain to come off the board within the first 15 picks.
Wisconsin's Peter Konz and Kevin Zeitler will enter the discussion as Day 2 prospects, but they will need strong performances at the combine to cement their standing at the top of the board.
1. Matt Kalil, USC: Kalil is regarded as the premier offensive tackle in the draft after dominating the Pac-12 as a three-year starter for the Trojans. He is a sound technician who also possesses the size, athleticism and length typically found in Pro Bowl-caliber left tackles. Some scouts have questioned his temperament and toughness, but it is hard to dispute the consistent excellence he has displayed on tape. With an opportunity to silence his critics at the combine, Kalil could solidify his place at the top of the draft with a strong performance in Indianapolis.
Good fits: St. Louis Rams, Minnesota Vikings and Carolina Panthers.
2. Riley Reiff, Iowa: The Hawkeyes' hallowed tradition of producing quality offensive linemen continues with Reiff poised to take the league by storm. His game is more refined and polished than former teammate Bryan Bulaga, and he displays the combination of strength, athleticism and quickness to capably man the right or left side. Although there are some questions about his ability to play on the blindside, a solid workout in front of a large NFL contingent could lead to a late surge up the board. He is on the cusp of the top 10 entering the event but could cement his status by the end of the weekend.
Good fits: Washington Redskins, Carolina Panthers and Miami Dolphins.
3. Jonathan Martin, Stanford: As much as Andrew Luck deserves credit for the Stanford's ascension to the ranks of college football's elite, the strong play of the Cardinal offensive line deserves praise as well. Martin, in particular, has been one of college football's most dominant blockers, and his ability to excel on the edge has been critical to the offense's success. His combination of athleticism, strength and power poses problems for defenders when he plays with aggression. Martin certainly displays a nasty streak at times, but scouts would like to see him finish with more force in the run game. Although the combine will not provide him with an opportunity to address that concern, his speed, quickness and movement skills could entice an evaluator to gamble on his impressive physical tools.
Good fits: Buffalo Bills, Kansas City Chiefs and Arizona Cardinals.
4. Mike Adams, Ohio State: Adams might be the most talented offensive tackle in the 2012 class with his remarkable combination of size, strength and athleticism. There are few blockers in the NFL with his extraordinary physical gifts, and scouts are salivating over his pro potential after watching his dominant performance at the Senior Bowl. However, Adams must alter the perception of his inconsistent motor and focus by impressing scouts and coaches in interviews. He must demonstrate a strong work ethic by hustling in drills during the position-specific portion of the workout.
Good fits: San Diego Chargers, Chicago Bears and New York Giants.
5. Zebrie Sanders, Florida State: Sanders didn't have a great week at the Senior Bowl, but he gets an opportunity to make amends with his performance at the combine. He is an experienced edge blocker adept at playing on both sides, and that versatility is certainly valuable in the minds of evaluators. If he can display better than anticipated athleticism and movement skills in drills, Sanders could solidify his spot as a Day 2 prospect.
Good fits: New York Giants, New York Jets and San Diego Chargers.
Sleeper to watch: Rishaw Johnson, California University of Pennsylvania. Johnson might carry the label of being a small-school standout, but the truth lies in the fact that he was a productive starter at Ole Miss before being dismissed from the program due to numerous team violations. His questionable decisions in Oxford will make his performance in interviews critical to his chances of emerging as a top pick in the draft. If he can convince scouts he is no longer a character risk, a team will be willing to take a calculated gamble on one of the best interior blockers in the draft.
Good fits: Atlanta Falcons, Minnesota Vikings and New York Jets.
1. David DeCastro, Stanford: If offensive guards were valued at a premium, DeCastro would be considered a shoo-in to be a Top 10 pick in the draft. He is an underrated athlete with exceptional balance and body control. He plows through defenders in the hole and is one of the best finishers I've seen in college football in years. He is equally impressive in pass production, displaying excellent power and pop in his punches. Although the combine consists of a battery of drills conducted in shorts, DeCastro can solidify his standing as the top offensive guard by putting together a strong performance in drills.
Good fits: Seattle Seahawks, Kansas City Chiefs and San Diego Chargers.
2. Cordy Glenn, Georgia: Coaches and scouts hold prospects with position versatility in high regard, and the buzz surrounding Glenn is due to his ability to potentially contribute as a swing player as a pro -- Glenn is viewed as capable of playing right tackle or offensive guard. While most expect him to find a home along the interior, Glenn's athleticism and movement skills could prompt a team to give him a try at tackle. If he is able to display enough agility to hold up on the edge, Glenn could inch up the board as a legitimate tackle candidate.
Good fits: San Diego Chargers, Chicago Bears and Pittsburgh Steelers.
3. Peter Konz, Wisconsin: It is unusual for a pivot to come off the board in the middle of the first round, but Konz is garnering consideration in that range thanks to his consistent performance. Scouts view him as the top choice at the position, and his status could be cemented with a strong showing in Indianapolis. If Konz can display the combination of power, explosiveness and agility that appears on game film, he is certain to hear his name called near the end of the first round.
Good fits: Tennessee Titans, Baltimore Ravens and San Diego Chargers.
4. Kevin Zietler, Wisconsin: Teams intent on running the football have a preference for mobile offensive guards with strength and power. Zeitler fits the bill with his rugged game and aggressive mentality. To solidify his status as a Day 2 pick, Zeitler must display the movement skills and athleticism scouts covet in agility drills, while also showing power and explosiveness in the position-specific portion of the workout. If Zeitler can show coaches and scouts he is capable of fitting into any scheme with his athleticism and mobility, he could vault into the top 50 on draft boards across the league.
Good fits: Minnesota Vikings, New York Jets and Chicago Bears.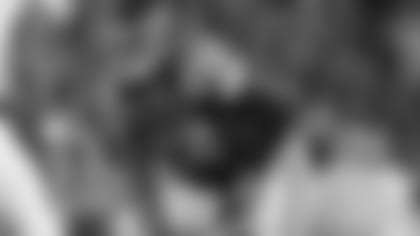 5. Kelechi Osemele, Iowa State: Osmele has experience playing offensive tackle, but most project him as an interior blocker as a pro. His combination of size and strength should allow him to dominate the line of scrimmage, but scouts will want to see confirmation at his workout. Osemele can provide proof to evaluators by posting impressive numbers in the weight room and displaying explosive power in drills. He also must display the footwork, balance and body control to convince scouts he is capable of being used on pulls or traps in the running game. If he can state his case with authority, Osemele could emerge as a possibility for a team in Round 2.
Good fits: Atlanta Falcons, Tennessee Titans and New England Patriots.
Sleeper to watch: Amini Silatolu, Midwestern State. It is not often a small school prospect garners the kind of buzz and attention that Silatolu has drawn in scouting circles. The Midwestern State standout is viewed as a future starter at offensive guard and evaluators are certainly smitten by his talent and potential. Although Silatolu's game is rough around the edges, his combination of size, strength and power is enticing for teams looking for rugged interior blockers. If Silatolu can show evaluators he is more advanced in his development than it appears on game film, he could emerge as an intriguing option on Day 2.
Good fits: Pittsburgh Steelers, Minnesota Vikings and Detroit Lions.
Follow Bucky Brooks on Twitter @BuckyBrooks