The Patriots wrapped up their third and final OTA session open to the media on Friday with an abbreviated practice that lasted a little more than an hour. As was the case on Tuesday, the last time reporters were allowed to watch, the tempo was less than full speed for most of the session.
Also as we've seen previously, the offense operated under the direction of Bill O'Brien with Bill Belichick laregely overseeing other areas. Interestingly for this time of year, O'Brien spends much of his time on or near the sideline and relays the plays into the quarterbacks via headsets. Normally that transition comes later in the offseason, sometimes not until training camp.
But the communication hasn't been a noticeable issue for the offense and plays have been generally run with good pace and without incident.
Mac Jones continues to look much more comfortable than he did during training camp a year ago when he was clearly working through the transition to new coordinators and schemes. His enthusiasm is almost always on display but this spring seems to have brought a bit more of that side of his personality out.
His comfort level with his tight ends probably is most noticeable as he has connected with Hunter Henry and Mike Gesicki on numerous occasions. Gesicki, a free agent arrival this offseason after spending five seasons in Miami, spoke about his relationship with Jones after Tuesday's practice.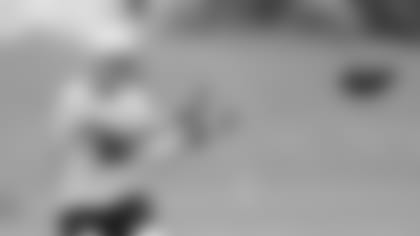 "Mac's awesome. That's my guy," he said. "He's been incredible as a leader, been great out there physically throwing the ball, timing, throwing a very catchable ball and all of that kind of stuff. And he likes to have fun. It's been a cool offseason for us trying to jell and get on the same page, and I think it's been good."
Henry was on the receiving end of a seam route that moved the ball into the red zone during an early full team period. Jones' throw hit Henry in stride as defensive back Myles Bryant pulled up just as the ball arrived. That came one play after Jones found DeVante Parker on a crossing route for a nice gain.
The drill ended on a down note when Jones' pass was deflected at the line and intercepted by Kyle Dugger. It was Jones' final play of the period and he was less than thrilled when he returned to the sideline.
The tempo was only a bit brisker than and a walkthough but we still got to see some connections between the quarterbacks and receivers. In addition to Parker, Kendrick Bourne also returned to practice and was active throughout. He spoke afterward and admitted he wasn't pleased with his performance from a year ago but felt an offseason of work has him positioned for better things in 2023.
"New year. New me. New us," Bourne said while adding that he worked on adding some bulk to his frame during the offseason. "I felt I didn't give the team my best effort last season and I'm trying to get bigger and do more."
Here are one man's observations from Friday OTA workout in drizzly Foxborough.
We will have to wait until next week's mandatory minicamp to see a few of the Patriots veterans because once again there were a handful of players not in attendance. That group included JuJu Smith-Schuster, Matthew Judon, Mike Onwenu, Trent Brown and Lawrence Guy. In addition, Jalen Mills, Tyquan Thornton, Jonathan Jones, Quandre Mosely, Josh Uche, Afernee Jennings, Kayshon Boutte, Bryce Baringer, Riley Reiff and Davon Godchaux also weren't present for practice. Cody Davis was seen early on but left the field as the workout began.
On the flip side, Nick Folk made his first appearance and did quite a bit of work, including some kickoffs and field goals alongside rookie Chad Ryland. Adrian Phillips, Parker and Bourne also returned after not doing much on Tuesday.
On Tuesday there were several former Patriots in attendance including LeGarrette Blount, Aaron Dobson and Patrick Chung. Chung actually spent quite a bit of time working with safeties on the field with perhaps an eye toward a coaching role down the road. Blount and Dobson were on the fields again on Friday.
While the tempo of the practice was at a level well below full speed, that was not the case for rookie Marte Mapu. The rookie third-round pick again patrolled the safety position and was flying around aggressively throughout. His signature moment came when he read a short hook intended for Matt Sokol perfectly and picked off Bailey Zappe's pass in stride. A few plays later, he nearly had another when Zappe's pass into heavy traffic intended for Ed Lee went off Mapu's hands.
When the Patriots drafted three offensive linemen on Day 3 in May it was apparent that Belichick felt adding some quality depth up front was a priority. While we won't learn for certain if that in fact has been the case, the OTA practices offered some encouraging signs. Antonio Mafi took a lot of reps at right guard while Onwenu continues to work his way back from offseason ankle surgery. Although the players aren't in pads, the fifth-round guard out of UCLA has not looked out of place. Same could be said of fourth-rounders Sidy Sow and Jake Andrews. Sow, the Eastern Michigan product, worked at tackle periodically and although he struggled at times with Josh Uche's speed he showed some quick feet as well. Andrews, who played his college ball at Troy, worked at both center and guard, offering some potential versatility along the interior front. Solid starts for all three, though we will obviously get a better indication of their abilities at training camp when the team can first don pads.
Although the spring work is largely about teaching moreso than evaluation, it was still disappointing not to see more flashes from rookie wide receivers Kayshon Boutte and Demario Douglas. That was especially true on Tuesday when the top four wideouts on the roster – Parker, Smith-Schuster, Bourne and Thornton – were all missing. Despite getting the opportunity to run several plays with Jones and Bailey Zappe, neither made much of an impact by generating a lot of separation. As a result, the quarterbacks leaned on the tight ends and running backs instead. On Friday, less heralded receivers such as Raliegh Webb and Ed Lee saw plenty of action and made some plays. Both Boutte and Douglas are sixth-round picks so it's not exactly a disaster that neither flashed during OTAs, and Boutte wasn't available on Friday, but it is worth noting nonetheless.
Practice ended with field goal work and Folk and Ryland both made the majority of their kicks toward the narrow goalposts at the far end zone. All appeared to be good if attempted into normal uprights with the kicks ranging from 35-55 yards. Jabrill Peppers, Isaiah Bolden and Lee all handled returns off the kickoffs.
With Jonathan Jones and Mills not present, Jack Jones lined up at right corner opposite rookie first-round pick Christian Gonzalez.
Zappe, Henry, Bourne, Phillips, Jahlani Tavai and Joe Cardona were among the Patriots who spoke to the media after practice.
The Patriots will be back to work next week for the start of their three-day mandatory minicamp. Practices are set to run on Monday, Tuesday and Wednesday from 11:20-1:30 and all are open to the media but closed to the public. Belchick will address the media each day prior to the start of practice at 10:45 a.m.
DISCLAIMER: The views and thoughts expressed in this article are those of the writer and don't necessarily reflect those of the organization. Read Full Disclaimer