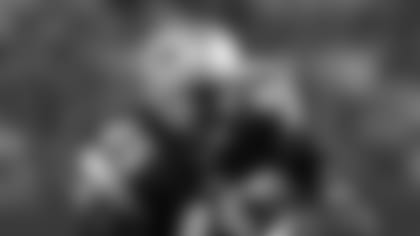 ]()FOXBOROUGH, Mass. - The New England Patriots announced today that cornerback Otis Smith has retired as a Patriot. The team signed Smith to a one-day contract and subsequently placed him on the reserve/retired list, officially ending his 13-year NFL career as a member of the Patriots.
"When I think about Otis Smith, a few things come to mind immediately: his incredible work ethic, the respect he earned as a result of the leadership he brought to the team and his production in some of our biggest games," said Patriots Head Coach Bill Belichick. "Otis helped the Patriots win a championship and he will always be respected and appreciated for that as well as for his professional approach to his job."
"I wanted to retire as a Patriot because the greatest success of my career came in a Patriots uniform," said Smith. "The thing that I really liked about playing in New England is that the fans always appreciated my talents and what I brought to the table, win or lose. They appreciated the effort more than the actual winning itself."
Smith, 39, played in 56 games for the Patriots during his two stints with the team (1996, 2000-02), and earned 48 starting assignments at cornerback. The 5-foot-11-inch, 198-pound cornerback out of Missouri played in two Super Bowls (XXXI and XXXVI) and had an important role in securing the first world championship in team history following the 2001 season. Besides his consistency at right cornerback, Smith is remembered in New England for his tendency to produce big plays in big games. In the 1996 AFC Championship Game, he scooped up a fumble and returned it 47 yards for a touchdown to secure the Patriots' 20-6 win over the Jacksonville Jaguars to earn a berth in Super Bowl XXXI. Five seasons later, he led the 2001 Patriots with five interceptions, including two that he returned for touchdowns as New England returned to the Super Bowl. Smith's big-play ability came through again in Super Bowl XXXVI, when he intercepted St. Louis' Kurt Warner late in the third quarter to kick-start a Patriots scoring drive as New England went on to win its first world title.
Smith was originally signed by the Philadelphia Eagles as an undrafted rookie free agent in 1990 and went on to play for 13 seasons with four different teams. He returned seven of his 29 career interceptions for touchdowns, a total that is tied for sixth in NFL history.
"There is a team concept in New England, not just from the standpoint of the players but expressed throughout the whole organization," said Smith. "I have developed a feeling in my heart for the way that the Patriots do things and that is something that I want my name to be tied to for the rest of my life. When people ask me who I played for, I say the New England Patriots."