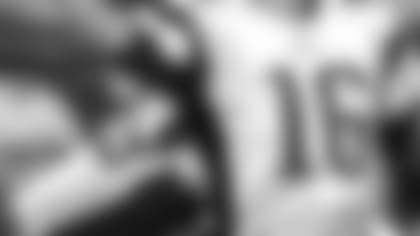 ]()The best thing about the fourth preseason game is that it's the last preseason game. With Tom Brady not even making the trip to New Jersey, it was a good opportunity for Matt Cassel to continue getting reps as he prepares for life as the Patriots number two quarterback.
He wasted no time getting his team on the scoreboard. New England took the opening kickoff and drove 67 yards and 14 plays to six points. Cassel hit Bam Childress down the middle for 13 yards midway through. Childress fumbled the ball forward and John Stone fortunately recovered at the Giants 28. An 11 yard screen to Corey Dillon later in the drive brought the ball to the Giants 3. After a 2-yard run by Kevin Faulk, Heath Evans took three straight cracks at the goal line, finally breaking into the end zone behind a blowout block by Matt Light.
The Giants were only able to get close enough for a 51-yard Jay Feely field goal attempt which was blocked by Rosevelt Colvin on their first drive.
While New England's offensive starters only lasted for one series, its first team defense came out for a second stand. They faced Jared Lorenzen who replaced Eli Manning (4 of 5 for 35 yards in his brief stint). That defense featured Richard Seymour, Vince Wilfork and Mike Wright up front. Junior Seau once again manned inside linebacker with Mike Vrabel while Colvin and Tully Banta-Cain were on the outside. Rodney Harrison made his second start at safety with Eugene Wilson while Ellis Hobbs and Asante Samuel were at the corners.
It was during that second stand that all heck broke loose and the Patriots defense lost its collective cool.
It started with a little dump off from Lorenzen to Tim Carter. On the way downfield, Lorenzen, who's as big as a lineman, laid a block from behind on Wright. Harrison took offense and pushed the Giants QB to the ground. Everyone ran to each other's defense at that point with Vince Wilfork throwing some nice combinations Willie Ponder's way. Flags and caps were flying until the refs basically ran out of things to throw. In the end, Harrison, Wilfork and the Giants Na'Shan Goddard were flagged for personal fouls but in all fairness, players should have been tossed.
New England failed to regain its cool. On the next play, Brandon Jacobs cut through the defense for a 57-yard touchdown run.
If that wasn't crazy enough, on the Patriots next series Troy Brown was under center. His two plays were handoffs, the second to Cobbs which he fumbled. Carlos Emmons recovered for the Giants.
New York converted the turnover into three points on a Feely 29-yarder to make the score 10-7, Giants.
Proceedings settled down for the remainder of the first half until Lorenzen lost the handle on the snap with under two minutes left and Artrell Hawkins recovered. That gave the Patriots first and 10 on the Giants 43. Cassel (yes, Brown only stayed at quarterback for the two plays) immediately hit Childress for 26 yards and then two plays later for 16 down to the 13. That was as far as New England could get and Stephen Gostkowski was good on a 29-yarder to tie the game at 10 at halftime.
New England started the second half with good field position after forcing a three and out from the Giants with a Wright sack of Lorenzen. But at the New York 40, Cassel had his pass tipped and intercepted by Mathias Kiwanuka who returned it to the Giants 43.
Jacobs went on a tear from there with runs of 13, 6 and 9. Lorenzen added a little pass to Michael Jennings who eluded Antwain Spann and others for a 14 yard gain. At the 15-yard line, Tony Jackson caught one down to the 2-yard line where Jacobs' hard work from earlier was rewarded as he easily took it in for the score.
Cassel had a nice drive going in an attempt to answer but penalties hurt his chances. It did, however, give Gostkowski his first opportunity at a long range field goal attempt this preseason. The kick was 54 yards and the rookie had just enough leg to tack on 3 points to make the score 17-13, Giants.
Lorenzen created some separation on the scoreboard for the Giants with a 74-yard, 12-play drive that ended with a 3-yard James Sims touchdown run with 11:11 left to play. Some loose coverage and sloppy tackling made the Giants second-stringer look good.
Cassel bounced back with a big 42-yard pass to Childress that Childress caught, lost his balance and did a forward tumble and then regained his feet for an additional 10 or so yards. It gave New England first and goal at the 9 but that was it aside from a 2-yard Cobbs run. Gostkowski came on for a 25-yard attempt which he made. The field goal put the rookie at 9 for 9 in his field goal attempts this preseason as well as being perfect with his point-after attempts.
A defensive stand could have given the Patriots a chance to tie the game with a touchdown and two-point conversion but the New England last string defense just wasn't up to the task. Tim Hasselbeck replaced Lorenzen and hit Ponder for 27 yards down to the New England 31. Two plays later he put six on the board with a 26-yard touchdown pass to tight end Darcy Johnson with 4:40 left.
Corey Bramlet got his first snaps of the preseason and was nearly picked off by telegraphing a pass to Kelvin Kight followed by a sack. Not a first pro series the young QB will be adding to the scrapbook.
The Giants gave Bramlet one more shot by fumbling (Mike Jemison) deep in its own territory with time running out. Jeremy Mincey recovered and on his first play, Bramlet looked to Eddie Berlin in the end zone. Gerrick McPhearson was flagged for interference. From the 1, Cobbs dove in for the score to end the night with the score Giants 31, Patriots 23.
Patriots announced prior to the game the following players would not play: Tom Brady; Chad Jackson; Guss Scott; Tebucky Jones; Patrick Pass; Willie Andrews; Laurence Maroney; Tedy Bruschi; Nick Kaczur; Deion Branch; David Thomas; Reche Caldwell; Dan Klecko; Ty Warren; Chad Brown.