Five Patriots played key roles for the Scottish Claymores last Saturday, each turning in productive afternoons despite seeing their team drop a tough 33-27 overtime decision to the Frankfurt Galaxy. Wide receiver Scott McCready grabbed his third touchdown of the season from the arm of fellow Patriot Shane Stafford, while fullback Michael Malan played a key role in blocking for two 100-yard rushers. Tight end Rod Trafford was in the mix with a 16-yard reception to go along with his blocking role, and cornerback Dyshod Carter tied his season high with four solo tackles.
McCready made his presence felt almost immediately against Frankfurt, snaring a five-yard pass on the Claymores' first drive of the game, which led to a touchdown. In the second quarter, McCready again starred in a touchdown drive, this time taking the lead role in grabbing a five-yard toss from Stafford in the corner of the end zone to give the Claymores a 21-6 advantage. Stafford, playing for the first time in three weeks, quarterbacked the team for the entire second quarter and led the Claymores on a 10-play, 83-yard drive than ended in McCready's touchdown grab. Along the way, Stafford notched his longest completion of the season, a 32-yard bomb to Edell Shepherd.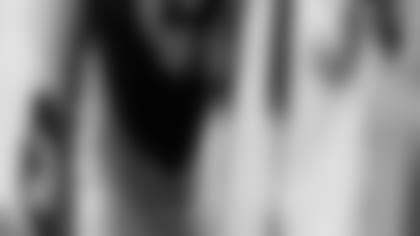 ]()
            Malan continued his strong play, again making his presence felt in the running game through his blocking exploits. The Brown University product, who has said that improving his blocking was one of his main motives in going to Europe, helped open holes against Frankfurt for two different Claymores to rush for over 100 yards (Ken Simonton, 132 yards; Maurice Hicks, 100 yards). NFL Europe's leading ground game netted 235 yards, and the Claymores' offense generated 500 total yards last weekend. Malan's progress has clearly caught the eye of the Claymores' coaches, who named him as a captain two weeks ago against Barcelona. Find out more about Malan's experiences overseas in his weekly diary, appearing right here on Patriots.com.  

It's been a almost five months since Sundays meant sitting back and watching the Patriots, but this Sunday, New Englanders can whet their appetite for Patriots football by seeing five members of their favorite team play on national TV. The Claymores and their five Patriots allocates will be in action against the Rhein Fire (4-2) in a game nationally televised on FOX at 1:00 p.m. EDT on Sunday, May 18. The game can be seen in the Greater Boston area on WFXT, Channel 25, and in the Greater Providence area on WNAC, Channel 64.
In other Patriots news from across the pond, Frankfurt center Mike Clare and Rhein linebacker Courtney Ledyard were both inactive. Wide receiver T.C. Taylor played in a reserve role for Frankfurt in their win over the Claymores and Taylor's five Patriots teammates.
On the season McCready has 18 catches for 306 yards and three touchdowns. He leads the team in receiving touchdowns (all thrown by Stafford), ranks second in receiving yards and has added three special teams tackles. … Stafford has completed 25-of-42 passes for 284 yards, three touchdowns and six interceptions in limited action through six games. … Malan has caught 15 passes for 129 yards and rushed the ball seven times for 44 yards. He has helped Simonton average 5.7 yards per carry and pile up three 100-yard games. … Trafford plugs along with quiet consistency with another catch this weekend. He has started 5-of-6 games at tight end totaling seven receptions for 79 yards. … Carter has 17 tackles and two passes defensed in five games at corner, including three starts. … As the NFLE season plugs along three teams are tied for the top spot in the standings. Barcelona, Frankfurt and Rhein all have 4-2 records after six weeks. Amsterdam, Berlin and Scotland are all tied for second place, or last place depending on how you look at it, with 2-4 marks