At halftime, most New England fans were feeling pretty good. The Patriots were leading 21-6, and had been able to score both times they entered the red zone. Tom Brady had completed 8-of-12 for 91 yards. He was backed by a career record of 62-2 when the Patriots led at halftime, 9-0 in the playoffs. Running back Corey Dillon was leading the ground attack with six carries for 49 yards and a touchdown. Cornerback Asante Samuelran a pick back for a touchdown. Everything seemed to be clicking. Even guard Logan Mankins had recovered aLaurence Maroney fumble in the end zone for a touchdown. Unbelievably, two more linemen would score before the game was done. Unfortunately, both of them would have horseshoes on their helmets.
"It was crazy like that. I think both teams got lucky there and just the overall execution on our part could've been better," said Brady after the game. "I think everyone fought pretty hard and you knew it was going to be a 60-minute game. Even when we were up 21-3, you knew at some point they were going to come back. We played very well in the first half and just really let it slip away in the second."
Things looked good when Patriots kicker Stephen Gostkowski kicked off the second half, with special teams captain Larry Izzo laying a mean hit on Colts return man Terrence Wilkins. Peyton Manning took the field and led his team on a 14-play, 76-yard drive, which culminated in a 1-yard sneak by Manning for a touchdown. The Colts had drained nearly 7:00 from the clock and closed the Patriots lead to just eight points.
The Patriots offense took the field for the first time in the second half and went three-and-out, a third-down completion to fullback Heath Evans falling just shy of the sticks. The Colts offense took over again, and marched down the field with the touchdown going to former Patriots defensive lineman Dan Klecko, who serves as a fullback in the Colts goal line package. A successful two-point conversion tied it up, 21-21.
"The second half, they came out and played some great football. They ran the ball. They threw the ball. They play-actioned us and moved it up and down the field. We played our hearts out. That's all you can ask," said nose tackle Vince Wilfork.
The Patriots had lost their momentum, and the Colts had engineered the biggest second-half comeback in any conference championship ever played.
"Yeah I mean [the momentum] did [shift]. But you know, we got it back," said Brady. "We got up another touchdown and we were up seven. And then they tied it up."
The Patriots last touchdown of the game came on a perfectly played pass to wideoutJabar Gaffney in the back of the end zone. The replenished momentum had been supplied by cornerback Ellis Hobbs, who returned the Colts first kickoff of the half 80 yards to set Brady and the offense up with a short trip to the end zone.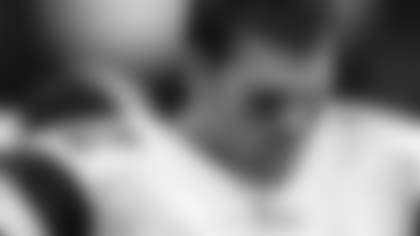 As Brady said, the Colts returned the favor, tying the game with a 6-play, 67-yard drive that ended in a fumble by running back Dominic Rhodes, which was recovered by center Jeff Saturday in the end zone.
"We went up three and had an opportunity to close it out with a first down," Brady recounted. "Just didn't execute very well, so it's disappointing."
The Patriots and Colts traded punts and then field goals before the time came for the rookie Gostkowski to prove his mettle on a 43-yard field goal attempt. He was successful, and the Patriots gained the lead again, 34-31.
"Good kicks," was all coach Bill Belichick could muster about the rookie after the loss.
The Colts took the field and punted without gaining a yard. It appeared the final blows may have been dealt, but the Pats couldn't drain the clock, also going three-and-out after a tough illegal procedure penalty separated the Patriots from a first down by an extra five yards.
"I would say the Colts just made a few more plays than we did," said Brady. "Some plays there that are uncharacteristic. I mean the penalty before that second-to-last drive where it goes (from) first-and-10 to first-and-15 and then, what do you know? It's third-and-4, so if we complete those other two, it's first down and it's a lot tougher for them to move the ball into position. So, just little things like that where the margin of error's so slim. It just didn't end up on our side today."
The Colts put together another successful drive, with the Patriots getting another tough call when linebacker Tully Banta-Cain got popped for roughing the passer. The Colts gained the lead for the first time in the game, 38-34.
"Do I think I had a great season? I mean I think it's always judged on whether you win the Super Bowl or not," Brady said. "I mean we're in the AFC Championship, coming down the fourth quarter with the lead. You're three and a half minutes from winning the AFC Championship, so. You just try to take what you learned and move on and try to do it better next year."
The Patriots offense took the field with 1:00 left on the clock, and simply didn't have enough time to regain the lead. Brady said he tried to force his last pass to tight endBenjamin Watson, which was intercepted by cornerback Marlin Jackson to end the game.
"We had to score," said Brady. "So, [you] want to score a touchdown. I mean you're backed up and time was an issue, so it's not like you have 2:30 left, you got a minute, or less than that. … [Jackson] was playing the slot defender. I was trying to throw to Ben, but he just undercut him. It's one of those, uh. Yeah. I'd rather throw it in the dirt. You just try to force it. You've got 20 seconds left. In hindsight, you always wish you threw it away."
"Just got to give the Colts credit," said Belichick. "They made more plays than we did. They deserved to win. It was about as competitive a game as you could get. They just made a couple more plays than we did."
After producing just 144 yards of total offense in the first half, Manning and the Colts came back to attack with 237 yards through the air and another 93 yards on the ground in the second half. The Patriots defense sacked Manning three times in the game, but couldn't stop the onslaught once the Colts began gaining momentum.
"It was a tale of two halves, really," said linebackerTedy Bruschi. "We had some key defensive stops and a key defensive score by Asante [Samuel]. We had a little bit of momentum going into halftime. Give credit to them. They made some great adjustments and were able to do a lot of things on us in the second half. It seemed like both defenses were doing what they could to make a stop, especially in the fourth quarter, and they got their stop to win the game."
Brady finished the game having completed 21-of-34 passes for 232 yards and a touchdown. Watson was his favorite target, reeling in five catches for 48 yards. The Patriots running game fell off in the second half, only producing 13 net rushing yards. The final score was 34-38, and the Colts move on to Super Bowl XLI, where they'll meet the NFC Champion Chicago Bears.
"They're a good offensive football team," said Belichick. "They use everybody. They run the ball, they throw it and they throw it to everybody. They got a lot of guys that can make plays. They execute very well. They're a good football team. That's why they're in the Super Bowl."
"We had great support all year and [the fans] really stuck by us," said Brady. "It was challenging for everybody and I wish we could've won this one."
Quote of note:
Tom Brady on whether or not he'll watch Super Bowl XLI:
"Will I watch the Super Bowl? I'm not sure. Probably not, knowing me. I uh… Probably not."
Pats maintain second-best all-time playoff record
The Patriots dropped to 19-12 (.612) all-time in the playoffs, a mark that ranks second to only the Green Bay Packers for the best playoff winning percentage in NFL history (minimum 10 games). Of the team's 19 playoff wins, 15 have come since Robert Kraft purchased the club in 1994. Over that span, the Patriots lead the NFL in total victories (144), Super Bowl championships (3), conference championships (4), playoff wins (15) and playoff games played (20). New England is also tied for the NFL lead since 1994 with nine playoff seasons.
Belichick still has second-best all-time winning percentageBill Belichick lost for just the third time in 16 playoff games as a head coach. His 13-3 (.813) playoff record still ranks second in NFL history, trailing only Vince Lombardi's 9-1 (.900) career playoff mark. Belichick owns an 82-28 (.745) record since the beginning of the 2001 season, a mark that leads all NFL coaches over that span.
Brady still has second-best all-time winning percentage
Tom Brady lost for just the second time in 14 career playoff starts, dropping to 12-2 (.857) in the playoffs. Brady's career record trails only Bart Starr (9-1, .900) as the winningest playoff quarterback in NFL history.