What is the Patriots expected salary cap number for 2022? Thomas Clarke
First, it's important to note that the NFL has yet to make an official announcement about the 2022 salary cap, but the prevailing sentiment is that it is expected to be in the neighborhood of $208 million for each team. A formal declaration should be forthcoming, with the new league year set to begin on March 16.
Depending on which media reports you believe, that would give New England less than $10 million to spend (exact projections vary), barring any contract-related maneuvering between now and the 16th – a far cry from the multi-millions they had at their disposal a year ago at this time. Erik Scalavino
What do you think of the Patriots making a move in free agency for receiver Allen Robinson? Gareth Jones
Glad you brought up this topic, Gareth. Just yesterday, we began our annual Free Agent Forecast series here on patriots.com. In it, we analyze each position in terms of which players not only are available in the upcoming free-agent marketplace, but also those we feel might be suitable targets from a Patriots perspective. Monday kicked off with specialists (pun intended), and we'll post a different position each weekday this week and next. So, 10 positions in all. And that will take us right up to the so-called legal tampering period (beginning March 14) prior to the new league year's start on March 16. Erik Scalavino
A lot of mock drafts I'm seeing have the Patriots picking up either a linebacker, cornerback, or wide receiver, which is all great to me. But I've been seeing we could also use some help on the O-line. So, let's say we hit pick 21 and we have a guy on the board from each position group listed, and each of them warrant being selected at 21. If you were picking, which position would you take? And, for fun, which player would you be hoping that it was? Thanks for the fun in the boring offseason! Ty Gray
I'd probably take the corner, because in my estimation, that's the position with the shallowest depth on the roster right now. That could change once we enter the free-agent marketplace in mid-March, but for the time being, I'm leaning toward cornerback as being the most pressing need. It doesn't matter to me which player it is, as I'm not a professional scout or personnel executive who can truly evaluate how good these players are. Nor do I pretend to be, as many other analysts in the mainstream football media often do, so, take what you see in these mock drafts with as many grains of salt as you like. Erik Scalavino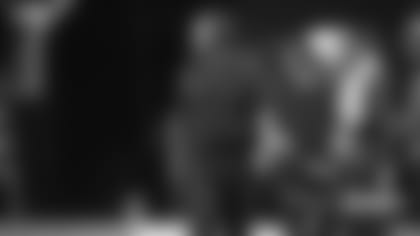 The Patriots need a young Stanley Morgan at wide receiver, a linebacker with 4.5 speed who can really hit, and a 4.4 corner who can mirror the receiver. A shifty, quick slot receiver would help, as would a developmental tackle. With fewer draft picks than usual, is it even possible to acquire all these players in one draft and free-agent season? Also, is it easier to draft the speedy athletic playmakers necessary to stop Josh Allen, or to strengthen an offense that could score often enough to keep him off the field? Ron Miller
I agree with your list of needs, and while it's not impossible to get all of those kinds of players in one offseason, it might be unreasonable to expect the Patriots to acquire all of them, especially this year, with limited funds to spend compared to last offseason. With respect to your second question, I believe the offense is closer to being competitive than the defense, so, that could be where the focus is during this upcoming teambuilding period. Erik Scalavino
Do you think that, with so many needs (LB, DB, T, WR) and a draft class that is perceived to have more solid players but not as many studs, the Patriots are more likely to trade back into the early second round and acquire more solid, young talent than to use pick 21 on one solid player that may not be more than a good starter? Rob Nee
It's definitely a possibility, as much as I don't like the idea. My philosophy is always to stay put or trade up in the first round, where there is a larger pool of truly talented players from which to choose. The further down you go, the less likely you are to find an impactful player. But your point is a valid one, and the Patriots have plenty of history with trading down and out of the first round under Bill Belichick. Erik Scalavino
I see players like Dalvin Cook or Tyreek Hill electrifying their teams (obviously these are outrageous examples). What are the chances the Patriots will attempt to pick up a "hot" player this offseason? Just like with Randy [Moss in 2007]? Peter Martin
From your lips to Bill's ears! I don't know any team that wouldn't want uber-talented playmakers on offense, but again, given New England's relatively limited resources this offseason (i.e., smaller available salary cap funds, fewer draft choices), I wouldn't get my hopes up, if I were you. Erik Scalavino
Do you see Bill Belichick taking a defensive lineman in the first round, and which ones would be good to watch in the combine? Blair Boone
It seems to me that excellent wide receivers generally can beat first-rate defensive backs, especially when the D-line doesn't get much penetration or allows the QB to escape the pocket. Wouldn't the Patriots benefit from an upgrade on the D-line, which would take pressure off the D-backs? David Hirshberg
I could absolutely see the Patriots taking a D-lineman in Round 1, as that's among the several areas of need on this team. A word of advice, though, Blair. The Combine is overrated, at least from a fan's perspective. It's a valuable resource for teams to meet individually with incoming players and gauge what kind of people they are, what skills they have that might fit their particular systems, et cetera.
Yet, based on these workouts, players' stocks can nevertheless unfairly rise or fall in the media's eyes. Just because a guy can perform well in a drill, wearing shorts and a t-shirt, doesn't necessarily mean he can succeed in the NFL. And just because a player meets with a team, doesn't necessarily mean that team is interested in drafting him. They could just be trying to gather information about him and perhaps even confirming any suspicions they have about him.
Also, keep in mind, most players at the Combine meet with most of the teams at some point during Combine week. So, when reporters fall all over themselves to mention that a certain player met with the Patriots, this really isn't anything noteworthy.
If you're truly intrigued by any particular players, though, you'd be better served searching online for their game highlights. Those will give you a better idea of what the players can or can't do, much more so than anything that's reported out of Indianapolis this week. - Erik Scalavino
Is Raekwon McMillan still on the Patriots, and if so, and if healthy, what impact do you think he will have at the LB position this upcoming season? Brandon Cail
Yes, McMillan is still a member of the Patriots. After a strong start to 2021 training camp, the now-26-year-old suffered a knee injury and spent the remainder of the season on injured reserve. Last September, he signed a one-year extension to his contract, keeping him in New England through this upcoming season.
Generally speaking, players coming off ACL surgeries, as McMillan is, are not quite 100-percent the first year back on the field. With that history in mind, I'm not placing high expectations on what McMillan might be able to do for this defense. I'm more eager to see how he compares to what we briefly saw of him last summer, whenever he's able to get back on the field. Erik Scalavino
What is the story with Chase Winovich? He seemed to be on a promising trajectory, but then more or less dropped off the face of the earth. Too soon to label him a bust? Mark W.
Well, the edge rusher is entering his fourth NFL season, so, no, it's not too early to make whatever determination you want about him. He certainly showed some promise early on, in terms of his pass-rushing playmaking ability, but he wasn't consistent enough in that regard, from what I could see. He also didn't appear very stout in run defense, which could explain why he's seen limited snaps in his previous three seasons. Erik Scalavino
I am confused why I keep hearing phrases such as "Patriots offensive woes" when the 2021 Patriots scored 462 points with a rookie QB. Only five teams scored more points in the NFL this past season, and they were led by Josh Allen, Patrick Mahomes, Dak Prescott, Justin Herbert, and Tom Brady. That's good company. Mike Murphy
Without knowing from whom you heard these and in what context, Mike, I can only assume that they're referring to New England's inability to score 20 or more points against quality opponents this past season. The final numbers are a bit misleading, too, since most of those 462 points came against inferior competition (Jaguars, Jets twice, a depleted Browns squad, etc.). When the Patriots faced playoff-caliber teams, they generally failed to reach the 20-point mark, and they only won once (14-10 at Buffalo) scoring fewer than 20 last season. That could be why the voices you're hearing are lamenting New England's lackluster offensive output, particularly toward the end of the season, when they couldn't keep pace offensively with the better teams. Erik Scalavino
Hi, guys. I can't find Patriots Unfiltered on patriots.com any longer. What's happened? Going through withdrawals. John Cioffari, Southern California
Well, we can't have that now, can we! I understand your confusion, John. The podcast is now listed under the Video tab in our navigation bar – even though we're an audio podcast, not a video one. In any event, here's a convenient link directly to the Patriots Unfiltered show archive. Hope you have time to catch up! Erik Scalavino