The countdown to the 2023 NFL Draft is on with less than three weeks remaining until the big event.
Although those holes in the roster are obvious, head coach Bill Belichick's unpredictable nature in the draft begs the question of where Belichick could zig in the first round when everyone expects him to zag. In other words, what are the under-the-radar positions the Pats could target on day one? Here are the three most-likely possibilities:
Edge rusher - the Pats could aid the secondary with another talented pass rusher rather than targeting a top corner. With Josh Uche in a contract year and Matthew Judon entering his age-31 season, it's also a long-term need. This year's class is stacked with options that include Iowa power-rusher Lukas Van Ness and Georgia's uber-athletic Nolan Smith as fits at 14. There's also a tiny chance that the league is lower on Texas Tech's Tyree Wilson than draft media, who feels like a Belichick dream pick with traits to play 3-4 defensive end and outside linebacker.
Tight end - another incredibly deep and talented position in the 2023 draft; the Pats need another body at some point here. Hunter Henry is entering the final year of his deal, and Mike Gesicki is on a one-year contract, while Belichick often refers to Gesicki as a receiver. Plus, the offense could function through an elite pass-catching tight end like it did the first time Bill O'Brien was at the helm. Notre Dame's Michael Mayer is the consensus TE1 due to his well-rounded, polished skill set. But Georgia's Darnell Washington is a monster with freakish athletic traits, and Utah's Dalton Kincaid has the receiving skills that resemble the top producers in the NFL. Although he's likely a day-two option, the Pats also hosted South Dakota State's Tucker Kraft on a '30' visit.
Running back - I'm on the record voting firmly against this. However, there might be something with the Patriots and Texas running back Bijan Robinson. Although there isn't much data to support a running back, even one as good as Robinson, being the main cog in an offensive turnaround, the reality is that he could be New England's highest-graded player when they're on the clock. Robinson is essentially a faster Rhamondre Stevenson with excellent power, contact balance, rare lateral agility for his size, and he's a legit vertical threat out of the backfield. Robinson is the best running back prospect since Saquon Barkley. Between him and Alabama's Jahmyr Gibbs, it shouldn't surprise anyone if the Pats take a running back in the top 50.
For a rebuilding team, there's an argument for taking the best player available in the first round rather than forcing a pick at a position of need. Still, their last few drafts suggest the Pats prioritize need, selecting a quarterback and guard with obvious holes at both spots the last two years.
Ideally, New England finds the sweet spot where need and best player available meet. But elite talent is the priority, and Belichick is the ultimate wildcard.
Let's empty the Patriots Unfiltered mailbag with the draft right around the corner:
Q: What are your thoughts on Senior Bowl Director Jim Nagy saying the league is lower on the wide receiver class than the media? - @Scottish__Rain
I'm glad that someone asked this question. Although I'm crushing on Zay Flowers for the Patriots, I have routinely compared this wide receiver class to the 2019 draft. In 2019, the first receiver off the board was Hollywood Brown (25th overall), and only two receivers were drafted on day one. However, if we re-draft that 2019 class, does anyone think that A.J. Brown, Deebo Samuel, and D.K. Metcalf would fall to the second round? Terry McLaurin to the third? I understand why league evaluators are struggling with this wide receiver class since there aren't any can't-miss prospects, and the best players have slot receiver skill sets. Typically, smaller receivers who project to play inside don't go as high as the prototypical "X" receivers.
My theory is that we'll wonder why it took so long for Jaxon Smith-Njigba, Zay Flowers, and Jordan Addison to be drafted in a few years. It's fair to say that this wide receiver class isn't as stacked as the past few drafts, but I'm willing to bet that a handful of these 2023 wideouts will be excellent pros. Plus, the position value is skyrocketing, making even a high-end WR2 on a rookie contract very team-friendly. Although it might not be worth it in the top 20, it's still a sound investment in the first round.
Q: How does Odell Beckham's contract affect the possibility of trading for a wide receiver versus drafting a wide receiver in the first round? - Kyle Davy
Beckham is yet another example of the current landscape for wide receivers. Premier talent comes at a premium, even after sitting out an entire season due to injury. With that said, I don't think it changes much for the rest of the veteran market. The Broncos have a prized asset in Jerry Jeudy on a rookie contract and rightfully are driving a hard bargain. DeAndre Hopkins, on the other hand, isn't a free agent where a team can take a one-year flier while structuring the deal with void years to make it cap-friendly as the Ravens did with OBJ, so Hopkins's trade value remains the same. Again, this is why despite the league potentially being down on this wide receiver class, the draft remains the best avenue to acquire a high-end talent. It's the most straightforward and cheapest path to land an impact player at the position.
Q: Rumors have it the Pats are looking at running backs. If true, how many running backs do you need? Granted, they signed Smith and Gesicki, but they still need another bona fide receiver on the other side. Also need help on the offensive line - Joseph M
As we mentioned in the open, there's plenty of smoke around the Patriots and top running backs, especially Texas star Bijan Robinson. Running back is far down the needs list for the Pats with Rhamondre Stevenson, free-agent addition James Robinson and two 2022 draft picks on the roster. The other element that gives me significant pause is expecting a running back to turn the tides offensively. Although Robinson is an exceptional talent, so are Christian McCaffrey and Saquon Barkley. McCaffrey is now the cherry on top in San Francisco, but even though his fantasy football production was off the charts, he didn't move the needle for Carolina. New England's coaching infrastructure is better than Carolina's or the pre-Daboll Giants. However, the roster talent offensively is comparable to those situations. Robinson might be the best player available at 14 without factoring in need, but history tells us that it's not wise to build your offense through a running back in today's NFL. You're banking on Derrick Henry's Titans, who had an elite play-action passing attack, a young A.J. Brown, and still hit a ceiling offensively with that style of play.
Q: Do you think the Patriots would pick Georgia TE Darnell Washington in the first round? - @MrSullivan08
No, I don't see the Patriots selecting Washington in the first round. Washington is an enticing developmental prospect with alien-like athletic traits, flashes of receiving upside, and an outstanding baseline as a blocker. However, he only had 45 career catches in three seasons at Georgia, and his blocking technique needs work. He's built like a snow plow with immense people-moving strength, but Washington still ducks his head into contact and doesn't use his hands to sustain blocks. The Georgia product is a classic early day-two prospect, where you're willing to bet on elite physical traits due to the upside. You can't take on the risk that Washington never develops into a high-volume receiver in the first round, especially as a rebuilding team. The Patriots first-rounder needs a higher floor than a suped-up Marcedes Lewis.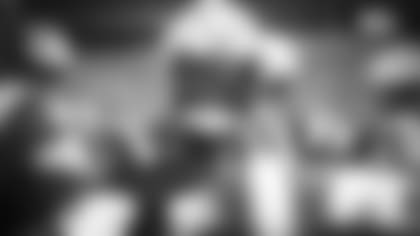 Q: What do you think the Patriots front office will do to replace Devin McCourty? - Ori M
Patriots head coach Bill Belichick said it best at the owner's meetings last month: "I don't think you're going to replace Devin McCourty with one player." McCourty's role as a field general is irreplaceable. He also leaves behind a significant void as a center fielder in single-high coverages, which is New England's bread-and-butter coverage structure (cover one, cover three). My guess is we'll see more split-safety defense moving forward to alleviate some of the burden on the backend while also playing into the strengths of Kyle Dugger, Adrian Phillips, and Jabrill Peppers. Dugger is the best ball-hawker of the current group, so maybe he will take on more responsibility in the deep part of the field this year. As for the draft, it's a down year for safeties, and I wouldn't consider anybody besides Alabama's Brian Branch a round-one prospect. We could see the Pats draft a college cornerback, like Iowa's Riley Moss or Georgia's Kelee Ringo, and transition them to safety as they did with McCourty.
Q: Is there a scenario where the Patriots trade up slightly for an elite player? - Alex Clauss
The Patriots have traded up in the first round four times during the Belichick era, so it's possible. Belichick traded up nine slots to select TE Daniel Graham in 2002, one spot to draft Ty Warren in 2003, and six spots each to select Chandler Jones (No. 27 to No. 21) and Dont'a Hightower (No. 31 to No. 25) in the 2012 draft. There isn't much precedent for Belichick operating in the top-15. Still, he has traded up before. But it's important to remember that they weren't significant moves like trading into the top ten this year, for example. If they were to trade up, it would likely be for a few spots to secure one of the top offensive tackles. The draft is deeper than its top-heavy this year, especially at cornerback and receiver, but not so much at tackle, where day one might be the only time you're getting a plug-and-play starter. If Paris Johnson or Broderick Jones fall out of the top ten, Belichick might entertain a trade-up, especially if they anticipate a team behind them jumping up for an OT.
Q: Do you think this will be the year Belichick drafts a faster/smaller linebacker? Someone like Daiyan Henley (Washington State) or Henry To'Oto'To (Alabama)? - @sohereswhatino
Ah, clamoring for Belichick to adapt at linebacker, a draft season tradition. The Pats haven't taken an off-ball linebacker in the first four rounds since Jamie Collins in 2013. For whatever reason, likely positional value and the skillsets they covet being available later, they no longer prioritize the position in the draft. I can't see this being the class where they buck that trend. It's not a good year for inside linebackers. But, if they surprise me, Henley and Arkansas's Drew Sanders have intriguing versatility and athleticism. They can both rush on the line of scrimmage, Sanders from anywhere and Henley as an interior blitzer, so maybe that added value entices Belichick into making the pick.
Q: People are going overboard with the Florio report that Mac is on the trade block, despite other reports shooting those rumors down immediately. Is this just rumor-mongering in the absence of actual news between free agency and the draft? - Matt Porter
I find it hard to believe that if Belichick was shopping Jones that we'd know about it. That is highly sensitive information, as the team still needs buy-in from Jones with no imminent trade. For example, when the Pats dealt Jimmy Garoppolo, that deal came out of nowhere, and Jimmy G was traded to trusty allies in San Francisco. A tight-lipped organization allowing it to leak that they're dangling their starting quarterback out there feels unlikely,I even if the optics suggest Belichick would be willing to deal Mac. Although anything could happen, my gut tells me they'll bury the hatchet, and Jones will be the starting quarterback in 2023, hoping he recaptures his rookie season form and then some under Bill O'Brien.
DISCLAIMER: The views and thoughts expressed in this article are those of the writer and don't necessarily reflect those of the organization. Read Full Disclaimer