Two quick questions: Any update on how rookie receiver Kayshon Boutte is doing? What do you foresee happening with Jack Jones and his legal issues? - Jesse Hurkes
Boutte has been quiet thus far both in the spring and at the start of training camp. The reps he's received have been with Bailey Zappe or Trace McSorley with most of the other young receivers looking to earn spots down the road. He hasn't necessarily done anything wrong from what I've been able to see but thus far hasn't had any opportunities to work with frontline players. Fellow rookie Demario Douglas has gotten many more chances to run with veteran players with Mac Jones and looks to have a leg up on his draft classmate at this point. As for Jack Jones, no need to speculate at this point as we have very little information to go on. His next scheduled court date is August 18 so it's possible we will learn more at that point. Bill Belichick seems to be working him with youngers players in the second group so it's possible he's trying to prepare the secondary for life without Jones down the road.
This is a recommendation vs. question. Wes Welker and Julian Edelman were sensational slot receivers for the Patriots. Rhamondre Stevenson should be our workhorse running back. Free agent Dalvin Cook could fill in as a rotational running back, but primarily play slot wide receiver. Dalvin Cook is a good pass catcher and way more explosive than Welker or Edelman. Wide receivers on average make more than running backs in the NFL. This could also extend the NFL career for a player like Cook. Plus, getting Cook means the Dolphins, Jets and Bills do not. Kareem Hunt is a bargain option to do the same thing. Please share this idea with Bill O'Brien & Bill Belichick. Our defense is strong. This gives an innovative and explosive edge to our offense. - John Somers
There are a few flaws with this theory, not the least of which has to do with the fact that Cook has never played wide receiver in the NFL. Being a great pass catcher as a running back is not the same as being a great wide receiver. For starters slot receivers are covered by defensive backs, not linebackers as is often the case for running backs. Also, there are many nuances necessary to route running, knowing and understanding coverages and adjusting based on the various looks and who knows if Cook has the ability to learn those traits. Plus, Cook is explosive for a running back and is electric in the open field. There's no way of knowing for sure how that translates to receiver. The Patriots have used JuJu Smith-Schuster and Kendrick Bourne in the slot at times this summer. I think Belichick would be better off continuing with that plan than trying to convince a free agent to change positions in the prime of his career.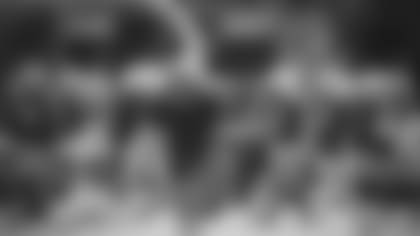 I have only been a New England Patriots fan since the year 2000 which has allowed me to have a pretty good understanding of all the players, coaches and front office staff who have contributed to the success of arguably the greatest sports dynasty in history, but with my limited knowledge of the years that preceded the glory days could you tell me your personal top five favorite players from the era before Brady and Belichick that you believe were not only brilliant at their respective positions but who also helped push the franchise forward when it was struggling to head in the right direction? - Marc Saez
If we're talking about players who preceded Belichick and Brady's arrival in 2000 I can't include Drew Bledsoe, who played two seasons under Belichick. I always felt he was a huge part of the team's overall resurgence before Brady obviously put them over the top. But some of my personal favorites through the years would be Andre Tippett, John Hannah, Mike Haynes, Stanley Morgan and Russ Francis. There are obviously many more great players but I'd put this group in my all-time top five outside of the Belichick era. Tippett was a ferocious pass rusher but was equally effective against the run and always had a toughness about him that permeated the defense. Hannah is widely regarded as the greatest offensive lineman in the history of football so there's not much more to say about him. He played in a run-oriented era and dominated. Haynes remains one of the most underrated players in NFL history despite the fact that he's a member of the Pro Football Hall of Fame. Tremendous combination of size and athleticism at the cornerback spot. Just a stud. Morgan is another underrated player who should be in the Hall of Fame. His average yards per reception is among the highest in history at nearly 20 per catch. He did it at a high level for a long time and was the team's best offensive player for most of it. And Francis was as gifted a tight end as you will ever find. Another big-play threat who could also block and had a well-rounded nature to his game. All five were part of some very good Patriots teams that never seemed to be able to put it all together, but they were a lot of fun to watch as a young kid learning the game.
Why did the Patriots not sign Damien Harris to a contract extension? - Frederick Rider
I think both sides had gotten to the point where they were looking to move on. Harris signed a one-year deal worth about $1.77 million so he easily could have been re-signed in New England. But his injury problems frustrated the coaches and at times Harris seemed to be ready to leave late last season. Harris certainly would solve the search for Rhamondre Stevenson's backup, but I honestly felt neither side was interested in running it back.
The Patriots have now had Leonard Fournette, Ezekiel Elliott and I think Dalvin Cook in to evaluate. To date none have been signed. Of these three I like Leonard Fournette best because he has been the best receiver, maybe because he played with Tom Brady. Also I like that he rarely fumbles, only four in his career and only one of those lost. The other two fumble a lot. Rushing stats are similar and Leonard Fournette not quite as good but close. Which of these three or others would you like to see the Pats add? - David Fogg
As a slight correction the Patriots have not yet met with Dalvin Cook but the other two have been in Foxborough. Choosing between these three I'd go with Cook, Fournette and Elliott in that order. Cook is by far the most explosive of the trio and given the offense's lack of weapons adding a dynamic option to the mix would make sense. Fournette is a strong pass catcher, but the other two are as well. I think Fournette has more left in the tank than Elliott, although Zeke was solid on the goal line last season with 12 touchdowns and in a reserve role he would be valuable in that regard. Cook also figures to cost the most money, though, and as a backup that might not be how the Patriots would want to play it. But I'm with you on Fournette over Elliott.
Every great team is known for something. Kansas City is known for Patrick Mahomes and Andy Reid creativity. The 49ers are known for their defense and Kyle Shanahan. The Bengals have the Joe Burrow to Ja'Marr Chase deep ball. Philly has a great defense with a mobile quarterback and A.J. Brown. My question is, what do we have? - John Murzycki
We'll be finding out the answer to that question pretty soon but at this stage I'd say the Patriots would be known for Bill Belichick and a strong defense. Belichick has been among the best coaches in the game throughout his Patriots tenure and if we're giving credit to the other coaches than Belichick has to be at or near the top of the list. Defensively, the Patriots may be flawed and struggle with top offenses, but so does everyone else. The Eagles couldn't stop Mahomes in the Super Bowl, a problem most every team in the league has. In order for New England to rise to the upper echelon of the league, the offense will need to improve dramatically. If that happens, it's possible we'll be talking about Mac Jones and Rhamondre Stevenson when this question comes up next year.
I've noticed that NFL teams have players wear additional padding on helmets when in training camp. I assume this is to prevent concussions. If this padding does prevent concussions, why not use such padding in regular season games? - Gordon Rowlinson
That's a great question. There have been a lot of theories tossed around and although it's not something that can be answered definitely there have been examples where players have complained about them because they feel it has caused individuals at times to use their helmets more than would normally be the case. Also, the padding causes some friction between two players when their heads collide, and that can occasionally lead to neck injuries and other ailments. The hard plastic allows helmets to slide off each other instead. During the early days of the NFL players wore leather helmets and other variations before the advent of the current head gear and there were very serious injuries then, even death. Obviously football is a violent sport and there's no way to legislate injuries out of the game.
Can you explain the logic of giving millions in guaranteed money to over-the-hill and unimpressive tackle Riley Reiff, that could have been spent on an offensive playmaker the Pats desperately need? - Stan C.
The Patriots have plenty of money to make any moves they wish to make. If they want to add a playmaker they've had many chances to do so and have been linked to, among others, Leonard Fournette, Ezekiel Elliott and DeAndre Hopkins. It's about what the Patriots want to spend on these players, not how much they have available. The offensive line, and tackle in particular, has also been a huge need and the Patriots signed a veteran in Reiff hoping he had something left to contribute. He signed a one-year, $5 million deal so he's not exactly breaking the bank. He has struggled thus far but his contract won't be the reason the team doesn't make any moves in the future. There is still enough money to make moves.
DISCLAIMER: The views and thoughts expressed in this article are those of the writer and don't necessarily reflect those of the organization. Read Full Disclaimer