FOXBOROUGH, Mass. (April 16, 2014) – The Patriots Marathon Team continues to add to record-breaking fundraising totals as they near race day, raising $375,475 and counting.
This Patriots Day, 52 runners, including 15 staff members, will make their way to the starting line of the 118th Boston Marathon after months of training and fundraising. The team will begin the historic race starting on Main Street in Hopkinton at 11:25 a.m. with the goal of reaching the finish line on Boylston Street while wearing an official Patriots Marathon Team jersey generously donated by Nike and All Sports Heroes in Lowell.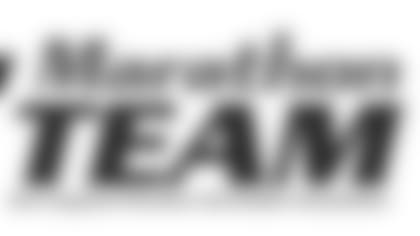 This year's Patriots Marathon Team, the largest fielded in the team's seven years, set an ambitious goal of fundraising $300,000 and has already eclipsed that mark with the record-breaking effort of $375,475 and counting. Since its inception, the New England Patriots Charitable Foundation Marathon teams have raised more than $1,000,000 to support children and families throughout the region. For the fourth year, the funds raised will support the Myra Kraft Community MVP Awards program which awards grants to nonprofit organizations through nominations of deserving volunteers in the New England region as part of the Patriots ongoing Celebrate Volunteerism initiative.
"On behalf of the New England Patriots Charitable Foundation and my entire family, including my father and my brothers, I would like to sincerely thank all of the runners who have committed to running the Boston Marathon this year," said first-time marathon runner and president of the Patriots Charitable Foundation, Josh Kraft. "My family is involved with many philanthropic initiatives, locally, nationally and internationally; but I know for both of my parents the philanthropic endeavor that is closest to their heart, without any hesitation, is the Community MVP Awards. Through the marathon team's investment of time and fundraising, they are making the New England region stronger for those in need."
This year's team includes runners from 13 states and a variety of lifelong Patriots fans, first-time marathoners and avid runners. Runners include former Patriots linebacker Eric Alexander, and a wide range of Patriots employees, including Josh Kraft, chief operating officer of TeamOps Mark Briggs, Patriots vice president of sales Murray Kohl, community relations director Donna Spigarolo, director of premium sales Jeff Connors and assistant editor of Patriots Football Weekly Andy Hart.
As a result of the circumstances of last year's Boston Marathon, many individuals did not have the opportunity to finish. While these runners were given the opportunity to run again this year, they were not required to raise any additional funds for charity teams. However, this year's Patriots Charitable Foundation Marathon Team has 19 individuals that volunteered to raise money on behalf of the Foundation, including 14 members from last year's team.
Many runners applied following opportunities announced through the Patriots Facebook page and @patriots Twitter accounts. When applying to the team, runners submitted information about their desire to run on the team, which included stories of being lifelong Patriots fans, triumph over personal difficulties and a desire to lead healthy lives. Fans can continue to make donations through race day in support of the team's cause by clicking here.
For more information about the Patriots Marathon Team or the Myra Kraft Community MVP Awards program, please visit www.patriots.com/community. For more information about how to receive email or text alerts each time a Patriots Marathon Team runner reaches checkpoints throughout the race, or for personal stories about members of the team, please contact Dan MacPherson at DMacPherson@patriots.com or 774-226-3031.
NEW ENGLAND PATRIOTS CHARITABLE FOUNDATION MARATHON TEAM MEMBERS
Eric Alexander – Quincy, Mass.±
Lexi Allen – Foxborough, Mass.
Christy Berkery - Boston, Mass.±
Meredith Bielecki – Cambridge, Mass. ±
Lauren Biller – Wallingford, Conn.
Paul Botelho – East Providence, R.I.
Mark Briggs – Foxborough, Mass.±
Jeff Connors – Sharon, Mass.±
Tuere Crawford – Attleboro, Mass.
Dwight Darian – Canton, Mass. *
Melany Engman – Charlotte, N.C. ±
Cecily Faenza – Brighton, Mass. *
David Ferrucci – Essex, Conn.
Michael Flynn – Brighton, Mass.±
Danielle Fogarty – N. Bennington, Vt.±
Patricia Foster – East Brunswick, N.J.
Josh Goldman – Newton, Mass. *
Emily Green – Concord, Mass. *
Brandon Harper – Boston, Mass. ±
Andy Hart – Dartmouth, Mass.
Clayton Herriford – Savannah, Ga.
Samantha Hughes – Charlestown, Mass.
Stephen Hurley – Scituate, Mass. ±
Jennifer Jarbeau – East Greenwich, R.I.
Jessica King – East Boston, Mass.
Murray Kohl – Walpole, Mass. *
Josh Kraft – Newton, Mass. *
Andrew Krueger – Rothschild, Wisc.
Leo Lake – Mansfield, Mass.
Angela Lorusso – Plainville, Mass.
Scott Lyons – Boston, Mass.
Jason Marshall – Boston, Mass.
Bill McQuaide – Andover, Mass. ±
Elizabeth Melampy – Dunstable, Mass. ±
Jon Morgan – Midland, Tx.
Melissa Pennington – Andover, Mass.
Kelly Pierson – Dedham, Mass.
Ella Pittman – Medfield, Mass. ±
Murilo Silva – Boston, Mass.
Donna Spigarolo – Norfolk, Mass.*±
Mike Sundet – Wildwood, Mo.
Jess Tourville – Boston, Mass. ±
Joe VanAllen – Cumberland, R.I. *
Marie Viscardi – Westborough, Mass. *
Jessica Wayashe – Alexandria, Va. ±
Holly Wheeler – Madison, Conn.
Trisha Winton - Canton, Mass.
Jasmine Wu - Glendale Heights, Ill.
Patriots staff, alumni or Women's Association member
± Member of the 2013 Patriots Marathon Team
Please note that some of our other runners wished to remain anonymous.