FOXBOROUGH, Mass. (AP) - A defense that allowed 44 points in a playoff game might boost the confidence of its next opponent.
Such generosity rarely leads to wins.
But the New England Patriots aren't counting on the Indianapolis Colts being that vulnerable again.
"I hope we can find something that we can move the ball with," Patriots coach Bill Belichick said Monday, "but you have to go out there and execute it and do it at a high level."
Much of the focus in the Colts' 45-44 AFC wild-card playoff win over the Kansas City Chiefs on Saturday went to quarterback Andrew Luck for directing a comeback from a 38-10 third-quarter deficit. The defense that put Indianapolis in that hole got far less attention.
In the first half, the Chiefs marched 82, 79 and 81 yards to touchdowns and 73 yards to a field goal after kickoffs or punts.
Did Belichick spot anything he could exploit when the Patriots host the Colts in a divisional-round game Saturday night?
"We might get an idea or two from that game and the other games they played before that," he said, "but we're not going to change our wholesale offense just because we saw somebody else do something. That's what (the Chiefs) do. We'll try to find things that we can do that we feel like we can attack the Colts with."
Things, perhaps, like those the Patriots did last season in a 59-24 win over Indianapolis. That tied a team record for most points scored in a game. But the Colts' defense wasn't entirely to blame. New England returned two interceptions and a punt for touchdowns.
Turnovers also plagued the Colts against the Chiefs, leading to 17 points. That was uncharacteristic of Indianapolis, which committed an NFL-low 14 turnovers in the regular season. And the Colts allowed only 186 yards in the second half after giving up 327 in the first.
"Kansas City took advantage of a few opportunities and really made some big plays in critical situations," Patriots offensive coordinator Josh McDaniels said. "I think the turnovers, a few big plays here or there, can certainly change the complexion of any game and seemed to do that the other day. That being said, this is a tremendously disruptive group."
It's led by Robert Mathis, who will try to speed up Tom Brady's throws or tackle him before he can make them.
The linebacker topped the NFL with a career-high 19 1/2 sacks and forced nine fumbles.
"He seems to be getting increasingly better as the years go on, which, as an offensive coach, you tend to hope it goes the other direction," McDaniels said. "He's as disruptive a player on the edge as we have played or will play."
Speed, acceleration, effort. Mathis has it all, McDaniels said.
"You can't ever assume that, `Well I did enough,' because if you assume that then usually he ends up finishing the play better than you did," he added, "and a lot of times that ends up in a bad situation for the offense."
Mathis has five sacks against Brady in 12 games, the most he has against any quarterback not in the Colts' AFC South.
But he lines up in different spots on different plays, so Brady's blockers must be sharp.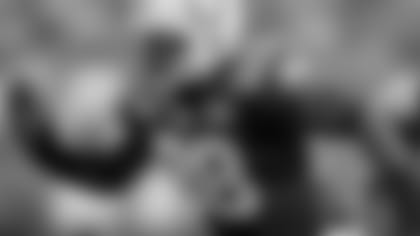 "No one's more explosive than him," Brady said Monday on his contractually obligated appearance on WEEI radio. "Once he gets to the quarterback, it's not as much sacking him, but it's the strip sacks. The fumbles and the fumble recoveries is where he's really dangerous."
Six minutes into the third quarter last Saturday, Mathis did just that against Kansas City's Alex Smith. Kelvin Sheppard recovered for the Colts and they capitalized with Luck's 3-yard scoring pass to Donald Brown. The 38-10 deficit early in the quarter was down to 38-24.
But if the Patriots keep double-teaming Mathis, they'll have one less player to block a blitzer.
"It would be great to say, `Well, why don't we just put a guy over there to help?"' McDaniels said. "They pressure enough with enough people, use the secondary, use the linebackers, that some of those people that you would like to use in help on a guy like him may have to be blocking blitzers."
Brady, though, is among the best at reading defenses. So he can throw quickly and remain upright.
"Every game you go into, you feel like you can do something," Belichick said. "I don't think we've ever played a team that we didn't feel like that."