Foxborough, Mass. - More than any other game this season, Sunday's game against the Baltimore Ravens lent itself to being a contest that would favor a strong running game. Playing against a formidable Baltimore defense, in driving wind and rain much of the night, the Patriots ground came through as Corey Dillon rushed 30 times for 123 yards and a touchdown in a sloppy 24-3 win over the Ravens.
In a game where both teams had trouble throwing the ball and the footing in the middle of the field became increasingly worse as the game progressed, Dillon's sixth 100-yard game of the season couldn't have been timelier.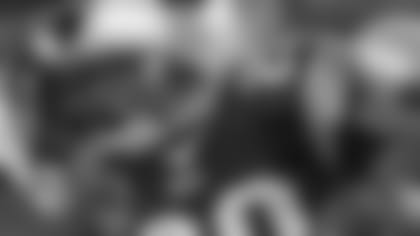 ]()"I think in a 16 game schedule, there are not going to be too many days like that," Patriots head coach Bill Belichick said. "When they come, you just have to do as a team what you need to do. He ran the ball well. The offensive line blocked well. He ran the ball there in the second half when we were ahead. He was able to grind out some yardage and pick up some first downs. It's great to see that."
Dillon did most of his damage in the second half, rushing for 83 yards on 17 carries as the Patriots protected a 9-3 lead until his 1-yard touchdown run in the fourth quarter made it 17-3. Dillon's effort marked his sixth 100-yard game of the season, setting a new career-high. He now has 1,121 yards through 10 games and is on pace for 1,681 yards, which would not only set an individual single-season high but would break the franchise mark of 1,487 set by Curtis Martin in 1995.
"That's a tough defense," Dillon said. "They're known; they're known for playing tough and known for intimidating people. For us to go out there and be successful, that's a plus for us. I'm going to enjoy this one - probably not [more] than any other game - but I'm going to enjoy it. I just came here to win. As long as I'm doing that, I'm going home and I'm happy."
Dillon also surpassed the 1,000-yard mark for the season during the first quarter, reaching the milestone faster than any other rusher in Patriots history. Dillon - who was inactive against Pittsburgh on Oct. 31 with a thigh injury - reached the mark in 10 games, besting the previous team record set by Martin (1997) and Jim Nance (1966), both of whom passed the 1,000-yard mark in their 11th game.
"He ran great, as he has done all year," Tom Brady said. "It is getting to the point where it doesn't surprise me anymore. It is like the more you give it to him, the better he seems to do. He just keeps firing away."
Money Man
Adam Vinatieri added to his AFC scoring lead Sunday, hitting all three of his field goal attempts and converting one extra point to give him 112 points this season. In the process, Vinatieri extended his NFL-best streak of consecutive field goals to 21, and has been successful on 28 of 29 field goal attempts to raise his accuracy to 96.6 percent. Vinatieri's current streak is the second longest in franchise history, trailing his own mark of 26 he set during the 1996 and 97 seasons. He connected on field goals of 28, 40 and 48-yards, his longest this season, in terrible weather conditions.
"There's no other kicker I'd rather have," Belichick said. "Those long field goals, I think had they been on the other end of the field, I'm not so sure we even would have attempted them. He did a great job of kicking them. Those were tough conditions. That 48-yarder, that was a tough kick. He nailed that one. "
Not What They're Looking For
Two critical mistakes on one play by the Patriots punt team led to the Ravens first points of the game. After a 38-yard punt by Josh Miller, linebacker Matt Chatham was called for a 15-yard facemask penalty at the end of an 8-yard return by B.J. Sams. Linebacker Tedy Bruschi was then called for an unspecified unsportsmanlike conduct penalty. The two 15-yard penalties gave the Ravens field position at the New England 16-yard line with 36 seconds left in the half. Kyle Boller completed three of his four pass attempts, including a key 10-yard gain to tight end Dan Wilcox, setting up the game-tying 22-yard field goal by Matt Stover.
"We got two 15-yard penalties on a punt," Belichick said. "It was just about all of the things that you could do wrong we did wrong. Fortunately, we were able to make a couple of plays there defensively to keep them out of the end zone and at least come in 3-3, but that was really like the Bad News Bears."
Injury Update
The only significant injury for the Patriots appears to be to offensive tackle Matt Light, who left the game midway through the fourth quarter with an apparent injury to his left leg. Light, who has started 51 consecutive games for the Patriots at left tackle, came up lame on a 10-yard run by Dillon and had to be helped off the field. Without Light, starting right tackle Brandon Gorin slid over to the left side, while reserve Russ Hochstein played in Gorin's spot. The Patriots have been hit hard by injuries at the tackle position this season, losing starter Tom Ashworth and reserve Adrian Klemm to season-ending injuries earlier this season. Belichick was mum about the injury, saying "I'm not sure exactly. Hopefully he will be all right."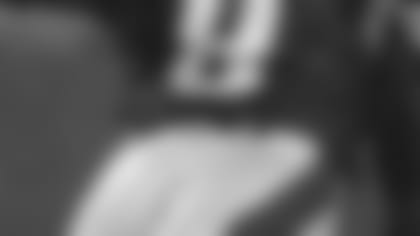 ]()Not Exactly Miller Time**Miller had a rare off day in the driving wind and rain Sunday at Gillette Stadium. Miller punted eight times for 257 yards, averaging a season-low 32.1 yards per punt which left him well below his 45.3-yard average this season. In a game where both teams were dependent on field position, Miller missed madly on several first half punts. After the Patriots first drive of the game, Miller angled a 28-yard punt out of bounds to give the Ravens possession at their 27-yard line. After their next possession, punting from the Baltimore 35-yard line and hoping pin the Ravens deep in their own territory, Miller punted into the end zone. Later in the second quarter, the Patriots punted from near midfield, only to see Miller shank the ball to the left sideline for a 16-yard punt. Miller, who entered the game as the AFC's second-leading punter, redeemed himself with a picture-perfect 29-yard pooch punt that was downed at the Baltimore 3-yard line late in the fourth quarter.
On The Board
The Patriots set an NFL record Sunday by scoring first in their 16th consecutive regular-season game. After a scoreless first quarter, the Patriots got on the board first with a 28-yard field goal from Vinatieri. The 1978 Miami Dolphins, who scored first in 15 straight games, held the previous record. The last time the Patriots did not score first was on Nov. 23, 2003, when Houston took a 3-0 lead at Reliant Stadium.
Game Day Inactives
The Patriots deactivated eight players for Sunday's game: Cornerbacks Asante Samuel, Ty Law and Tyrone Poole; running back Cedric Cobbs; linebacker Roman Phifer; and defensive linemen Marquise Hill and Ethan Kelley. Jim Miller was announced as the emergency third quarterback.
Quick HitsThe Patriots improved to 10-1 this season, the best mark in franchise history through 11 games. ... New England has won 17 consecutive regular-season and postseason contests at home, the longest current home winning streak in the NFL. The Patriots have not lost at home since a 30-17 defeat to the New York Jets on Dec. 22, 2002. ... Brady completed 15-of-30 passes for 172 yards. It was the first time in 13 regular season games in which Brady failed to throw a touchdown. ... The Patriots signed defensive back Omare Lowe from the practice squad and released wide receiver Kevin Kasper. Lowe saw snaps late in the game at cornerback. ... Boller had gone 123 straight passes without an interception before a first quarter interception by Randall Gay. Boller finished 15-of-35 passing for 93 yards and an interception. ... Gay's interception was his second of the season. ... Rookie safety Dexter Reid started is first NFL game, while regular safety Eugene Wilson started at cornerback. ... Jarvis Green's fourth quarter fumble recovery in the end zone was his first career touchdown. ... David Givens led the Patriots with six receptions for 42 yards. ... The Patriots totaled 10 penalties for 97 yards, while the Ravens had 10 penalties for 106 yards. ... Rodney Harrison led the Patriots with 12 total tackles. Ray Lewis led Baltimore with 12 total stops.