Foxborough, Mass. - Count defensive back Eugene Wilson as the latest member of the Patriots to display the ability to seamlessly play more than one position, and play it well. In fact, Wilson played so well in his first career start at cornerback last week against the Baltimore Ravens that hardly anyone noticed. Neither Patriots head coach Bill Belichick, nor Wilson, treat the second-year player's versatility as a big story.
"[With] some players, they could never make that [switch]," Belichick said. "Other guys, it's no big deal. Eugene is a very flexible, as we've seen, person and a very flexible player. He can go in and out of things and transition almost seamlessly. It doesn't really affect him."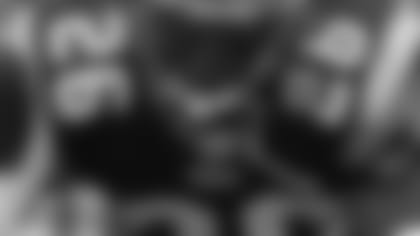 ]()Wilson, a collegiate cornerback at Illinois who the team switched to safety the second week of the regular season during his rookie year, has started 24 of the last 26 games there for the Patriots. When injuries in the secondary forced the Patriots to look elsewhere for a cornerback, they turned to Wilson to start alongside rookie Randall Gay against Baltimore. Wilson responded with three tackles and a pass defended to go along with a solid day in pass coverage.,
" I thought they were joking, but they weren't, and I just accepted it and went out there and it was alright," Wilson said of the switch to safety last season. "I knew they weren't joking about [playing corner last week], because we've been kind of slim there. They told me to be ready to play there."
Wilson, who has been practicing at both safety and corner throughout the season, had never played safety in college. Belichick pointed to his natural skill set - his size, quickness and athletic ability - as what has allowed him to find success in the middle of the field.
"What gave him the abilty to play safety is his tackling," Belichick said. "You can't really put a corner at safety without the tackling issue coming up. You just can't avoid that. For a guy to play safety that isn't a good tackler, that is a problem. I think [Wilson] is a very good tackler for a corner. I think he has done a good job tackling as a safety. The physical part of it - the tackling, the thoughness, the run support, the dealing with the linemen, the fullbacks, the tight ends, the crack blocks - all of those types of things that corners don't see as much of, that is a whole different ball game. He has handled that well. He plays physically and he tackles well."
As a college player, Belichick said Wilson possessed the best tackling skills of nearly every cornerback in the 2002 Draft. Wilson, who has 55 tackles and a team-leading three interceptions this season, is still taking life as a safety in stride.
"I feel like I'm still gradually learning, gradually getting better and seeing things develop more when I'm out on the field," Wilson said. "I know there's a lot of room for improvement but it's just something I'm going to have to keep working at."
Seymour Named Patriots Best Dressed
Although it hasn't created a media buzz quite yet, the latest Patriot to win an award is none other than defensive end Richard Seymour. If you haven't seen the current issue of Sports Illustrated, the magazine named Seymour the best dressed of the Patriots in its SI Players section. Seymour, who was a bit modest about the spread, said he hasn't seen issue but friends have called him about it.
"Well, it's tough to argue with the truth," Seymour joked about being the best-dressed Patriot.
According to Seymour, the nomination came about as the result of some background work by tight end Christian Fauria. It turns out Fauria has a friend at the publication who asked him who he would nominate among his teammates.
"Through the process of elimination it was [Seymour]," Fauria said. "It was a tight race. It was pretty even. I didn't want to leave anybody out. People spend a lot of money on their clothes. Tom [Brady] was a candidate. Ted Johnson. Willie [McGinest] and Don Davis. But I stuck with Seymour. It was highly debated, but I had to make a call."
Sullivan Adds Depth
The Patriots signed offensive lineman **Marques Sullivan** on Friday, adding some much-needed depth at the tackle position. Sullivan, originally a fifth-round pick by Buffalo in 2001, has started 22 of his 32 career games entering the season, including all 16 games at right guard with the Bills in 2002. Sullivan, who will wear No. 77, worked out with the Patriots on Thursday.
The Patriots have been thin at tackle for much of the season, as starter Tom Ashworth and reserve Adrian Klemm have both been placed on injured reserve. Fourth-year tackle Brandon Gorin has played well since being inserted into the starting lineup, starting the last five games in the first consistent playing time of his career.
"Yeah, he is there for now," Belichick said when asked if Gorin has settled into the position for the long haul. "He is there for this week. Hopefully he will be there next week. He has gotten better. He is doing a lot of things pretty well. There are some things that he can continue to do better as he matches up against different types of players - the power players, the quick players, the speed players, the technique guys, plus all the different looks that you get. So, sometimes those things are a little less than perfect, and then they have consistently gotten better."
Injury UpdateFor the third straight day, the Patriots reported no changes to the injury report. Cornerback Ty Law (foot) is out, while cornerback Tyrone Poole (knee) remains doubtful. Linebacker Roman Phifer (calf), cornerback Asante Samuel (shoulder) and linebacker Mike Vrabel (foot) are listed as questionable. The team reported that all of the above players missed a portion of team practice Friday.
Cornerback Randall Gay (arm) and quarterbacks Brady (shoulder) and Jim Miller (shoulder) are all listed as probable.