Wes Welker, Wide Receiver
(On today's team effort)
"All three sides of the ball came out and played well. We made some key plays early on and just kept putting the pressure on and made sure we got stops on [them] and scored points. It was a solid day for us."
(On Julian Edelman's performance today)
"He made some great plays out there today on special teams, offense and everything else. He stepped up his game and really played well for us; it was good to see. "
(On finishing opportunities and scoring touchdowns)
"I think that's the way we want to play, get turnovers, capitalize on turnovers, play good team football and I think that's a good case of what we did today."
(On what the turnaround is like with a short week coming up)
"We will enjoy this for a few hours and then get ready for New York tomorrow and make sure we're on top of everything. This is like a Wednesday night right now, so we've got to make sure we are getting ready for Thursday."
(On Rob Gronkowski's play today)
"He's been playing really well. He's been very consistent and is doing a great job for us and we're going to need him to continue to do that."
Julian Edelman, Wide Receiver
(On his overall performance)
"[I] had some opportunities to make some plays and was fortunate that it went my way today. We executed a few plays in special teams. [The] defense played well. We played overall a complementary football game. It was a good team win and we have a short week now and we have got to move on for the Jets."
(On the rhythm and timing between Tom Brady and the receiving corps)
"I mean I haven't watched film yet, but like you said, it was quick hitting. I'm sure there were a bunch of things that we could have done better, but there always are and we made enough plays to win the game."
(On how it feels to finally break a punt return for a touchdown after being close throughout the season)
"I'll tell you right now, we've been working real hard as a unit to get that done and create an explosion play on the punt return unit. Those guys, they've been working their tails off and they executed what they had to do—held up their guys—we got the gunners and as a punt returner you have to make one miss—and finish blocks and we did that. So it was a good overall execution of a play."
(On if he thought he was going to score on his 47-yard rush)
"It was unfortunate that I didn't get in, but it set us up for a touchdown. We got the touchdown as an offense and it kind of put it away. So that was good."
(On if he prides himself on his versatility)
"I don't know. I just do what the coaches tell me to do. [I] try to go out there and execute any situation that they put me in and that's my job on the team—to do what the coaches ask me to do and help try to contribute in any kind of way."
Rob Ninkovich, Defensive Lineman
(On if there is an art to getting a sack, a forced fumble and a fumble recovery in the same play)
"I think a little luck right there. On that one I just fell down, I saw the ball and said, 'Hey, might as well grab it.'"
(On if he enjoys the reputation he is developing for forcing and recovering fumbles on sacks)
"Yeah, I mean I'm not going to not take it. Obviously it's everything that is helping the team out. Having our defense get a lot of turnovers is one of the best things we do. Obviously there are some things that you don't want to give up—yardage and stuff like that. But when you can lead the league in turnovers that speaks a lot for what we do on defense. We might give up a yard here or there, but when you're turning the ball over, especially to our offense that's going to score every time they get the ball, it just sets you up to be good in the fourth quarter."
(On what changed after the defense gave up a lot of yardage on the Colts' first two drives)
"I think we settled in. Obviously they gave us their best shot early. Everything they were doing, they game plan just like we do. So I think that you've got to give them credit. They were able to move the ball well. [Andrew] Luck, give him credit for getting that ball out fast and getting it to his receivers. You don't want to give up those drives, especially the first drive, you want to get the offense the ball. So it's just another one of those, 'Hey, let's watch the tape and see the things we weren't doing correctly.' I was happy that we were able to settle down and stop them there towards the end and then we were able to just kind of keep rolling on that momentum there."
(On if the defense was fired up after Aqib Talib's interception return for a touchdown)
"Yeah definitely. [Aqib] Talib has come in and done a great job for us. I think that he's a playmaker. He's out there making plays and scoring. I think that's something that you love to have on defense—a guy that you know when he touches the ball, something is going to happen; something great is going to happen. So I was happy that he was able to come in for his first game, make an impact and score."
Alfonzo Dennard, Cornerback
(On his interception return for a touchdown)
"We were playing a 'Cover 2' and I got my hand on the receiver to re-route him. And then I saw Andrew Luck throw the ball to Reggie Wayne and I just broke on it."
(On the identity of the defense)
"The coaches want us to play aggressive. So that's what I was doing out there, was being aggressive and getting to the ball."
(On if he was watching himself on the Jumbotron during his touchdown return)
"Yeah I was [laughs]. I was, though. Because I know Andrew Luck, he's a pretty fast quarterback, so I had to look at the Jumbotron to see if he was behind me."
(On how much grief he would get from teammates if Andrew Luck caught him)
"Yeah, a lot [laughs]. I went to the sideline and Devin [McCourty] was like, 'If the quarterback would've caught you, you know we would've given you stuff about it.'"
Devin McCourty, Defensive Back
(On the defense scoring 14 points)
"Yeah, that's big. You talk about going out and trying to stop an offense and getting turnovers and all those good things, but when you score points, that really lifts your team up. So to come out and score two touchdowns on defense - and then a lot of those guys who play defense are on special teams, so to help Julian [Edelman] get in the end zone on the punt return, that's big. When our offense doesn't have to score 21 points and then to put on top of the points they're already scoring, we end up with a big turnout."
(On Aqib Talib starting things off with an interception return for a touchdown)
"Oh yeah, that's a big spark. Anytime we get a turnover or a takeaway, it really gets the defense going, it gets the team going. But when you can turn it into points, it kind of gives you momentum and leads you into getting another defensive stop, offense going down there and scoring another touchdown. I think Aqib [Talib] did a good job of just, once he got the ball in his hands, finding the end zone."
(On the defense getting well-timed takeaways)
"That's big. For us, we always talk about when the game starts to wind down or if the offense doesn't score and the [opposing] team comes back out and they're trying to punch another one in, that's the time when someone really has to step up. Because the momentum of the game can really shift, so when guys come out and make big plays like that, it really turns that momentum right back on our side. Usually when we're able to do that, the offense takes advantage of it. If we get a stop or a turnover and the next time they get the ball, they try to put points on the board and it just rolls from there."
Steve Gregory, Safety
(On getting pressure on Andrew Luck)
"Yeah, that was the point of emphasis, get pressure on this guy [Andrew Luck]. Because if you just let him stand back there and throw the ball, he can pick you apart. So we wanted to focus in on getting pressure on the guy and the guys up front did a great job of it."
(On if the defense was playing with more swagger as the game went on)
"Definitely, definitely. Obviously it started out a little bit rusty, but we made some plays there: [Aqib] Talib with the big interception return for a touchdown, [Alfonzo] Dennard with a big interception return for a touchdown. Some plays that really got it going for us. We just stayed poised and kept fighting and found a way to go out there and make plays."
Ryan Wendell, Offensive Line
(On protection)
"Our job is to keep Tom [Brady] safe. That's the most important thing and I don't know, but I think we can always do better. Usually I have my back to him so if I'm ever seeing Tom it's not very good, so hopefully when we watch the film we did a good enough job, but there's always things to improve on, so I'm sure we'll be back at it next week."
(On how easy Tom Brady makes it for the offensive line)
"I wouldn't want anybody else. The biggest thing that Tom does is that he puts us in a position to keep him safe. Tom's just as important in the protection as the offensive linemen."
(On why Tom Brady's impressive year has flown under the radar due to the young quarterbacks)
"I wouldn't know about that. You guys are the ones that cover him so you can talk more about him if you want."
(On what kind of year he thinks Tom Brady is having)
"I don't know. I'm an offensive lineman so our job isn't to think; it's just to block."
(On quick turnaround)
"We have a quick turnaround. This is really like a Wednesday for us going into that game Thursday night, so we're going to have to get right at it tomorrow."
(On having everything go well during the game)
"We want wins and the win was the way we wanted to go. The offense wants to score points and that happened, but we didn't score a touchdown every time we touched the ball, so there's definitely more things to work on.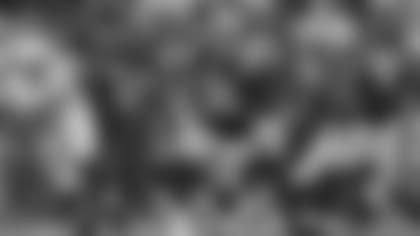 Aqib Talib, Cornerback
(On his first game)
"A lot of fun, man. Executing all three phases of the game. Won the game [and] had a lot of fun out there."
(On if he watched his return on the Jumbotron like Alfonzo Dennard admitted to doing)
"No. I had a little action in front of me and his was different than mine, so I was watching what I was doing out in front of me."
(On how comfortable he felt with the new terminology)
"I felt pretty good. I got to get in a little better game shape and get my eyes on the right spots and then I'll be alright."
(On being targeted a lot by the Colts' offense)
"I play corner man. You're used to it all. It is what it is."