So, the referees and the league have settled their labor dispute, just in time for tonight's Browns-Ravens game in Baltimore. The officials' union still must ratify the agreement, but it is expected that all Week 4 games will be officiated by the regular crews, not the replacements who've held down the fort all season.
Today before practice, several Patriots players were asked for their reaction to the settlement.
"It's obviously encouraging that they got that whole situation resolved," said special teams captain Matthew Slater. "It was really a tough situation for all parties involved. I don't think you can point the finger at anyone, but fortunately they got it worked out.
"Those guys have a tough job to do. There were a lot of situations that came up with the guys that were in there for them, but they were put in a tough spot. [The replacements] did the best that they could. It's good to have these [regular crews] back, who have had some experience calling big games and have been in tough situations. Now we're all moving forward.
"I think that's big for us," Slater concluded, "to know that we're out there with guys that are going to do their best to keep us safe by making the right calls, and it really comes down to player safety. We want to be safe out there on that field, we want to make sure that the rules are being abided by, and that we are taken care of and that the game is fair for everybody involved."
"After three weeks, they were a bigger deal than people thought," defensive end Rob Ninkovich said of the replacements and the controversy surrounding them of late.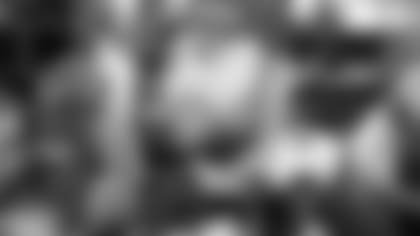 "Everyone can just stop worrying about that and play football. The whole official thing was something that was out of our control to begin with. You're really not going into a game thinking about if there is going to be a flag thrown here. You're really just focusing in on playing football and now that they're back, everything can cool down with the media.
"The new refs are back," added Ninkovich, "but everyone is still going to yell when a flag is thrown, no matter who is out there throwing them."
Slater agreed with Ninkovich's assessment.
"We can't spend too much time thinking about who's calling the game, we've just got to continue to prepare and do our jobs and I'm sure at some point we're going to get mad or upset at a call these guys make, that's just the reality of it. We've just got to move on, but I'm happy it got resolved." So, no more controversial calls, right?
"I wish," laughed linebacker/co-captain Jerod Mayo. "No matter who's out there making the calls, there's going to be some issues."
Which seemed to be the realistic approach taken by left tackle Nate Solder. Asked if he was happy that the regular refs are back, he replied, "I don't know, we'll see."
For details about today's Patriots practice and more locker room tidbits, please visit the PFW blog.*