FOXBOROUGH, Mass. – The New England Patriots signed veteran DB Derrick Martin and veteran FB Kareem Huggins today. Terms of the contracts were not announced.
In addition, veteran G Robert Gallery retired and FB Tony Fiamettta was placed on exempt/left squad.
Martin, 27, is a veteran of six NFL seasons with Baltimore (2006-08), Green Bay (2009-10) and the New York Giants (2011). The 5-foot-10, 198-pounder originally entered the NFL as a sixth round draft pick (208th overall) of Baltimore out of Wyoming in the 2006 NFL Draft. He was traded by Baltimore to Green Bay on Sept. 5, 2009 for G Tony Moll. Martin was cut by Green Bay on March 2, 2011 and then signed with the Giants on August 13, 2012. Martin has played in 61 NFL games with four starts and has registered 30 total tackles, three interceptions and eight passes defensed. Last season with the Giants, he played in 14 games and all four postseason games, including Super Bowl XLVI against the Patriots.
Huggins, 26, is a veteran of two NFL seasons with the Tampa Bay Buccaneers (2009-10). After originally joining the Buccaneers as a rookie free agent in 2009 out of Hofstra, the 5-foot-9, 198-pounder spent some time on the practice squad before joining the 53-man roster. He has played in six NFL games and has carried the ball four times for 11 yards. Huggins was out of football in 2011.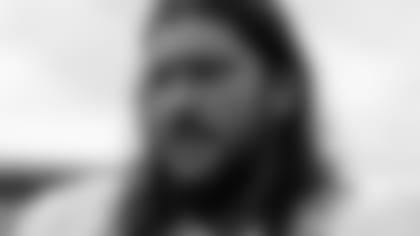 Gallery, 31, joined New England as a free agent on March 21, 2012. He is a veteran of eight NFL seasons with the Oakland Raiders (2004-10) and the Seattle Seahawks (2011). He originally entered the NFL as a first round draft pick (2nd overall) by Oakland in the 2004 NFL Draft out of Iowa. Gallery, 6-7, 320 pounds, was signed by Seattle as an unrestricted free agent on July 29, 2011. He was released by Seattle on March 14, 2011.
Gallery has played in 104 games with 103 starts during his eight NFL seasons at both tackle and guard. He was the winner of the Outland trophy in 2003 as the nation's best interior lineman and was a unanimous All-America first team selection.
Fiammetta, 25, was signed by the Patriots as a free agent on March 30, 2012. He is a veteran of three NFL seasons with the Carolina Panthers (2009-10) and Dallas Cowboys (2011). The 6-0, 250-pounder originally entered the NFL as a fourth-round draft pick (128th overall) of Carolina out of Syracuse in the 2009 NFL Draft. He was released by Carolina on Sept. 3, 2011 and was claimed off waivers by Dallas on Sept. 5, 2011. Last season he played in 10 games with six starts for the Cowboys and finished with four rushing attempts for four yards and three receptions for 39 yards. In three NFL season, Fiammetta has played in 34 games with 17 starts and has 11 rushing attempts for 26 yards and eight receptions for 73 yards.