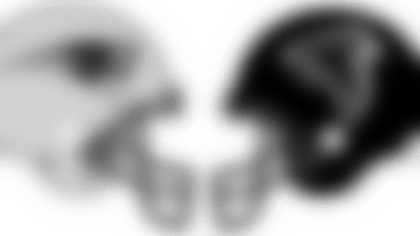 * NEW ENGLAND PATRIOTS (1-1) vs. ATLANTA FALCONS (2-0)
*Sunday, September 27, 2009 - Gillette Stadium (68,756) - 1:00 p.m. EDT
The New England Patriots and the Atlanta Falcons will clash this week for the first time since 2005 and for only the 12th time ever. Atlanta will be making its first trip to Gillette Stadium, becoming the 30th different opponent to travel to the Patriots' stateof- the-art facility for a regular-season or playoff game. Following this week's game, the only club that will have not appeared at Gillette Stadium in a regular-season game is Carolina. The Panthers visited the Patriots in a preseason matchup at Gillette Stadium in 2002 and will play their first regular-season game at Gillette on Dec. 13. This week's game will be the first of four games the Patriots will play against NFC South opponents. The Patriots will travel to London to play Tampa Bay on Oct. 25, travel to New Orleans on Nov. 30 and then face Carolina at home on Dec. 13.
TELEVISION:This week's game will be broadcast to a regional audience by FOX and can be seen in Boston on WFXT-TV Channel 25. Joe Buck will handle playby- play duties with Troy Aikman providing color. Pam Oliver will be the sideline reporter.
NATIONAL RADIO:This week's game will be broadcast to a national audience by Westwood One. Mark Champion and Dan Reeves will call the game with Scott Graham handling the sideline reporting.
RADIO:98.5 FM, The Sports Hub, is the flagship station for the Patriots Radio Network. A complete listing of the network's 36 stations can be found here. Play-by-play broadcaster Gil Santos is in his 33rd season as the voice of the Patriots and will call the action along with Patriots Hall of Famer Gino Cappelletti. Santos and Cappelletti are celebrating their 26th season as a tandem.
SERIES HISTORY
The Patriots and the Atlanta Falcons will clash this week for the first time since 2005 and for the 12th time in team history. Atlanta will be making their first trip ever to Gillette Stadium. The last time the Falcons traveled to Foxboro was during their 1998 Super Bowl run when they beat the Patriots 41-10 on November 8, 1998 at Foxboro Stadium. The last two games between the teams were played at the Georgia Dome. The Patriots beat Atlanta 24-10 (11/4/01) and 31-28 (10/9/05). Prior to those wins, the Patriots had suffered four straight losses to the Falcons, dating back to 1989. The series is tied at 2-2 in games played in Foxborough. The series began in 1972, when the Patriots claimed a 21-20 victory at Schaefer Stadium on Carl Garrett's fourth-quarter touchdown run.
SERIES BREAKDOWN
Overall Record, 5-6
Home Record, 2-2
Schaefer/Sullivan/Foxboro Stadium, 2-2
Gillette Stadium, 0-0
Away Record, 3-4
Atlanta-Fulton County Stadium, 1-2
Georgia Dome, 2-2
Bill Belichick vs. Atlanta Falcons, 2-1 (2-0 with NE)
Mike Smith vs. New England Patriots, 0-0
Total Points Falcons 267, Patriots 193
Current Streak, Patriots, 2 win
Falcons Owner & CEO Arthur Blank received a B.S. Degree in Business Administration from Babson College located in Wellelsey, Mass.
Falcons General Manager Thomas Dimitroff was a scout for the Patriots from 2002-2007.
Paul Bordeau, offensive line coach for the Atlanta Falcons, also coached the offensive line for the Patriots from 1997-1998, as well as an O-Line coach earlier in his career at Boston College, Maine and Dartmouth.
Falcons defensive line coach Ray Hamilton was a fixture on the Patriots defensive line from 1973-1981, and was an assistant defensive line coach with the Pats from 1985-1989 and head defensive line coach from 1997-1999.
Falcons Asst. Director of Player Personnel Lionel Vital served in the same position with the Patriots from 2001- 2004.
Patriots LB Eric Alexander and Falcons DT Jonathan Babineaux both grew up in Port Arthur, Texas.
Patriots CB Terrence Wheatley and Falcons OG Justin Blalock were raised in Plano, Texas.
Patriots DB Jonathan Wilhite and Falcons S Eric Brock roamed the defensive backfield for Auburn from 2005-2007 while Falcons CB David Irons was their teammate in 2005-2006.
Patriots TE Benjamin Watson, Falcons LB Tony Gilbert, FB Vernon Haynes and QB DJ Shockleywere teammates at Georgia from 2001-2002.
Patriots RB Kevin Faulk and Falcons C Todd McClure were teammates at LSU from 1995-1998.
Patriots RB Fred Taylor and Falcons LB Mike Peterson were college teammates at Florida from 1995- 1997 and with the Jacksonville Jaguars from 2003-2008.
Falcons QB Chris Redman and Patriots DLMyron Pryor both hail from Louisville, KY.
Falcons QB Matt Ryan attended Boston College and won ACC Player of the year during his senior campaign in 2007.
Patriots rookie DL Ron Brace and Falcons QB Matt Ryanwere teammates at BC from 2005-2007.
Patriots S Brandon Meriweather and Falcons CB Glenn Sharpe were teammates at Miami from 2004- 2006.
Falcons DT Vance Walkerand Patriots LB Gary Guyton were teammates at Georgia Tech from 2005- 2007. Both were teammates with Patriots TE Michael Matthews in 2005.
Falcons FB Ovie Mughelliand Patriots LB Adalius Thomas were teammates on the Baltimore Ravens from 2003-2005
Falcons TE Jason Rader was a member of the Patriots practice squad in 2007.
Patriots G Kendal Simmons and Falcons FB Verron Haynes were teammates on the Pittsburgh Steelers from 2002-2007.
Falcons LB Coy Wire, DT Jason Jefferson, LS Mike Schneck and Patriots WR Sam Aiken were teammates on the Buffalo Bills from 2005-2006.
Patriots LB Rob Ninkovichand Falcons CB Edmond Miles were teammates on the Miami Dolphins in 2007.
Patriots TE Chris Bakerand Falcons DE John Abraham both played for the New York Jets from 2002- 2005.
Patriots P Chris Hansonand RB Fred Taylor and Falcons S Jamaal Fudge, LB Tony Gilbertand LB Mike Petersonplayed for the Jacksonville Jaguars in 2006.
FIRST TIME VISITORS
The Falcons will make their first appearance at Gillette Stadium, becoming the 30th different opponent to travel to the Patriots' state-of-the-art facility for a regular-season or playoff game. New England holds an all-time record of 25-4 against first-time visitors to Gillette Stadium and has won 21 of its last 22 games against teams making their inaugural appearance there. Following this week's game, only one club has not yet appeared at Gillette Stadium for a regular-season or playoff game (Carolina).
PATRIOTS VS. NFC
The Patriots have been successful against NFC teams in recent seasons, compiling a 31-5 (.861) record against the conference since 2001, including a 3-1 record in Super Bowls. The Patriots have won 15 straight regular-season games over NFC teams dating back to 2005. New England has not lost a regular-season game to an NFC team since Sept. 18, 2005, falling on the road to the Carolina Panthers, 27-17. The Patriots finished 4-0 against NFC competition last season, defeating the San Francisco 49ers 30-21 on Oct. 5, beating the St. Louis Rams 23-16 on Oct. 26, defeating the Seattle Seahawks 24-21 on Dec. 7 and defeating the Arizona Cardinals 47-7 on Dec. 21.
PATRIOTS VS. NFC SOUTHThe Patriots play each of the teams from the NFC South this season as part of the NFL's schedule rotation that was implemented in 2002. New England lost its first game against the division, dropping a 27-17 decision at Carolina in Week Two in 2005. Following that loss, the Patriots have not lost to an NFC team. The Patriots hold an all-time mark of 19-13 (including postseason) against the four teams that make up the NFC South.