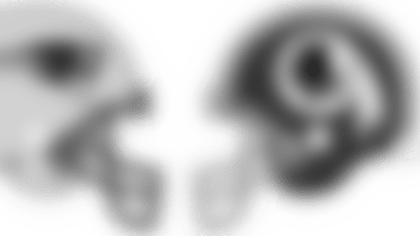 The New England Patriots (1-1) will face the Washington Redskins (1-1) in a nationally-televised preseason game from Fedex Field in Washington. After opening at Philadelphia (8/13) with a 27-25 victory, the Patriots dropped a 7-6 decision at home to the Cincinnati Bengals last Thursday. Washington lost their preseason-opener 23-0 at Baltimore (8/13) and rebounded with a 17-13 win vs. Pittsburgh (8/22) last Saturday night in Washington.
TELEVISION:This week's game will be broadcast by CBS and can be seen in Boston on WBZ-TV Channel 4. Jim Nantz will handle play-by-play duties with Phil Simms providing color.
RADIO: 98.5 FM, The Sports Hub, is the flagship station for the Patriots Radio Network. A complete listing of the network's 36 stations can be found here. Play-by-play broadcaster Gil Santos is in his 33rd season as the voice of the Patriots and will call the action along with Patriots Hall of Famer Gino Cappelletti. Santos and Cappelletti are celebrating their 26th season as a tandem.
JIM NANCE INDUCTED INTO PATRIOTS HALL OF FAME
In a year that the franchise is celebrating its 50th anniversary, Patriots fans had an opportunity to vote for one of three hall of fame finalists, each of whom were perennial American Football League (AFL) All-Stars for the then Boston Patriots. Fullback Jim Nance earned the honor of becoming the 14th player and the first running back to be inducted into the team's hall of fame. Nance passed away on June 17, 1992. He is survived by his daughter, Rachel, who represented her father at the Patriots Hall of Fame induction ceremony prior to the Cincinnati preseason game on August 20. In a fitting tribute to the Patriots 50th anniversary, Chairman and CEO Robert Kraft inducted the Patriots original owner Billy Sullivan into the hall of fame as a contributor. Nance and Sullivan were honored in a ceremony on the Plaza outside The Hall at Patriot Place presented by Raytheon and at halftime of the Bengals game.
ROSTER REDUCTION DATES
The NFL roster limit during training camp is 80 players. The first mandatory preseason roster reduction date is Sept. 1, two days prior to the Patriots' final preseason game. On that date, rosters must be reduced to 75 players. On Saturday, Sept. 5, rosters must be reduced to the regular-season limit of 53 players. On Sept. 6, clubs may establish an eight-man practice squad.
SERIES HISTORY
The New England Patriots and Washington Redskins will meet for the 20th time in the preseason, with New England holding an 12-7 advantage in the previous 19 contests. The Patriots have played Washington more times in the preseason than any other NFL team, with 19 previous preseason games between the clubs. The Patriots' 12 preseason victories over the Redskins are their highest total over any preseason opponent. The Patriots have won four straight preseason games against Washington and have won seven of the last nine preseason games in the series. The team's last faced off against each other in the preseason in 2006 with the Patriots taking a 41-0 victory in Washington's first-ever visit to Gillette Stadium. The two team's last played in the regular-season on October 28, 2007 with New England taking the contest, 52-7.
INFREQUENT FOES IN THE REGULAR SEASON
The Patriots and Redskins, despite frequent preseason matchups, have met just eight times in regular-season play. The Patriots' eight games against Washington are the second fewest against any team that entered the league prior to the most recent era of expansion, which began with the entry of the Jaguars and Panthers to the NFL in 1995.
PRESEASON HISTORY
The Patriots are 35-29 (.547) in the preseason since Robert Kraft purchased the team in 1994. New England has had a winning record in eight seasons since Kraft purchased the team.
BILL BELICHICK IN THE PRESEASON
Bill Belichick has compiled an overall record of 32-27 (.542) as a head coach in the preseason, including a 21-18 (.538) mark as Patriots head coach.
Patriots Senior Football AdvisorFloyd Reese and Redskins offensive line coach Joe Bugel both worked for the Detroit Lions in 1975. Reese was the team's strength and conditioning coach and Bugel was the team's offensive line coach.
Patriots CB Shawn Springs played for the Seattle Seahawks when Redskins head coach Jim Zorn was the offensive assistant in 1997 and the quarterbacks' coach in Seattle from 2000-2003.
Patriots rookie LS Jake Ingram and Redskins QB Colt Brennanwere teammates at the University of Hawaii from 2005-2006. Brennan attended Worcester Academy for one year in Worcester, Massachusetts before his first year of college.
Patriots rookie OL Sebastian Vollmer and Redskins RB Anthony Alridge were teammates at the University of Houston from 2006-2007.
Redskins QB Todd Collins is a native of Walpole, Massachusetts and attended Walpole High School.
Redskins LB Alfred Fincher is a native of Norwood Massachusetts and attended Norwood High School.
Patriots LB Tully Banta-Cain and Redskins DE Andre Carter were teammates at the University of California from 1998-2000.
Patriots S Brandon Meriweather and Redskins rookie DT Antonio Dixon were teammates at the University of Miami (Fla.) from 2005-2006. Patriots NT Vince Wilfork and Redskins LB Rocky McIntoshwere also teammates at Miami from 2001-2003
Patriots LB Pierre Woods and Redskins rookie CB Doug Dutch were teammates at the University of Michigan in 2005.
Patriots rookie WR Terrence Nunn and Redskins rookie LB Cody Glenn were teammates at the University of Nebraska from 2004-2007.
Patriots WR Matthew Slater and Redskins S Chris Horton were teammates at the University of California- Los Angeles from 2004-2007.
Patriots LB Eric Alexanderand Redskins S LaRon Landry were teammates at Louisiana State University in 2004.
Patriots LB Shawn Crable and Redskins G Rueben Riley were teammates at the University of Michigan from 2004-2006.
Patriots rookie QB Brian Hoyer and Redskins WR Devin Thomas were teammates at Michigan State University in 2006.
Patriots TE David Thomas and Redskins OT Mike Williams were teammates at the University of Texas in 2004.
Patriots Head Coach Bill Belichick was raised in Annapolis, Md.
Patriots TE Benjamin Watsonand Redskins DT Kedric Golston both played at Georgia from 2002-03
Patriots T Ryan O'Callaghan and Redskins DT Lorenzo Alexander were on the same University of California team from 2002-03.
Patriots Quarterbacks coach Bill O'Brien coached running backs at the University of Maryland from 2003- 04.
Patriots Strength & Conditioning Coach Mike Woicik was born in Baltimore, Md.
Patriots T Nick Kaczur and Redskins K Shaun Suisham are both from Ontario, Canada.
Patriots RB Fred Taylor and Redskins DE Renaldo Wynn both played for the Jacksonville Jaguars from 1998-2001. Taylor continued to play with the Jaguars through the 2008 season.
Patriots LB Adalius Thomasand Redskins C Casey Casey both played for the Baltimore Ravens from 2001-2004.
Patriots S Tank Williams and Redskins DT Albert Haynesworth were teammates when they both played for the Tennessee Titans from 2002-2005.
Patriots WR Joey Gallowayand Redskins DE Phillip Danielsboth played for the Seattle Seahawks from 1996-1999.
Patriots LB Vinny Ciurciu and Redskins OL Will Montgomeryboth played for the Carolina Panthers in 2006.