The entire football world will be watching Thursday night at Gillette Stadium when the two-time defending Super Bowl champions host the Oakland Raiders. The made-for-TV extravaganza emanating from Foxboro marks the opening of the NFL season, commemorates New England's Super Bowl XXXIX win and begins the NFL's yearlong tribute to 40 years of Super Bowl action that will culminate in February at Super Bowl XL in Detroit.
That's a lot of hype for a football game. Add in the Rolling Stones, Kanye West and a variety of other celebrities and opening night has become a mini Super Bowl in its own right.
Not surprisingly the Patriots, a team that went through all the same hype and hoopla leading up to last season's opener at Gillette Stadium against the Colts, are taking the potential distractions in stride. Head Coach Bill Belichick, a master at minimizing distractions, admits that the schedule for the prime time game alters the pregame schedule slightly, but that doesn't mean it will affect how prepared his team is when it takes the field.
"It will be a little bit different. We'll warm up earlier. We'll be out there longer before the game," Belichick said. "They tell us where to be and then we'll be there. We show up there. That's the way it works."
Unveiling the team's third Super Bowl banner in four seasons will also be a part of it, just as it was a year ago. On opening night 2004 the team emerged from the locker room to take a short victory lap around the field when the 2003 Super Bowl banner was unveiled. For a coach who has already turned the page to the new season, such a lap is not necessarily in line with the new season's goals, but Belichick said the team did and will do what it is told.
"We did what we were supposed to do. That's what we were supposed to do, so we did it," Belichick said of last year's ceremonies. "Whatever we're supposed to do this year, we'll do it.
"Whatever we're supposed to do, we'll do. We're coming here Thursday night to play the Raiders. That's what we're here for. We have a very tough football team to play. It will be very competitive and that's what we're here for. We're not here for the concert. We're not here for fireworks."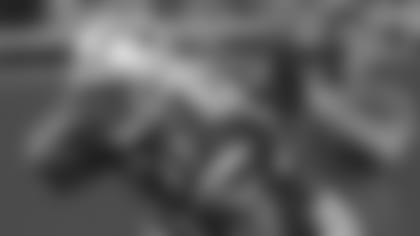 ]()New England's focused veteran players take a similar approach. Defensive co-captain Rodney Harrison says it's easier to block out the hype when you realize you have a job to do.
"When it comes down to it it's just football," Harrison said. "After all the circus, all the antics and all the side shows it's just football. I mean that's exciting for the fans and everything, and deservedly so because we are in the business of entertainment. But for us our entertainment is at the end of the season. You want to go out there and you want to give the fans something to cheer for, but we know that it comes down to going out there, just knocking heads off and just playing football. It's just running, hitting and executing."
Notes and numbers
After spending the entire preseason struggling to learn a new defensive system, veteran linebacker Chad Brown is looking forward to a positive start to his career in New England. "Obviously it's going to be a big game and a big test for me," Brown said heading into the opener. "But I have been in the game long enough to know that it's a marathon, it's not a sprint. Obviously you want to get off to a good start. You want to play well that first game. We are playing Thursday night and everyone will be watching. But the Super Bowl and the playoffs are at the end of the season not at the beginning of the season. So I have some perspective on it, but at the same time I do want to get off to a good start." … Not surprisingly the numbers heading into the game clearly favor the Patriots. Last season New England ranked 7th in the NFL in total offense and 9th in total defense on the way to a 14-2 regular season record. Oakland ranked 17th in offense and 30th in defense on the way to a 5-11 mark. … The Raiders won the last meeting between the two teams 27-20 at Network Associates Coliseum in Oakland on Nov. 17, 2002. The team's last met in Foxboro in the memorable Snow Bowl game, a 16-13 Patriots win, at Foxboro Stadium on Jan. 19, 2002. … Oakland leads the all-time regular season series 14-12-1, while New England has won two of three postseason contests between the two teams. … Belichick enters the season opener with 99-72 record as a head coach, meaning his next win will be his 100th. … Quarterback Tom Brady has started 62 consecutive games for the Patriots. … New England has won three straight home openers and owns an 8-2 record in its last 10 home openers. … The Patriots are 2-3 in season opening games under Belichick. … Brady needs three touchdown passes to reach 100 career regular-season passing touchdowns.