Chargers All-Pro linebacker Shawne Merriman finished third in the NFL's Defensive Player of the Year voting behind Miami's Jason Taylor and Denver's Champ Bailey. He rounded out the season with a league-leading 17 sacks despite missing a quarter of the season while serving a league-mandated suspension for violating the substance abuse policy.
They call Merriman "Lights Out" because of his aggressive style of play, and he supposedly acquired the nickname as a high school sophomore. The story goes that he knocked four members of an opposing offense unconscious before halftime, and the nickname surfaced as a result of that performance.
Whether the story's true doesn't really matter, since he's been nothing but impressive on the field since entering the league. He was the Defensive Rookie of the Year in 2005, and will make his second trip to the Pro Bowl in two years this February.
Pats quarterback Tom Brady.
Thinking back on his last meeting with the Patriots, a 41-17 Chargers victory, Brady's poise was the first thing Merriman remembered in a conference call with the New England media on Wednesday.
"When you are in the National Football League and come straight from college, you don't expect to see talent and see some of the things that [Brady] did, even the time that we did beat them. We had to get pressure on him, and the whole time we got pressure, he never got rattled," said Merriman.
With his 17 sacks, Merriman proved this year that he's one of the top pass-rushers in the league. Moreover, the double-teams he demands often leave fellow outside linebacker Shaun Phillips to deal with one-on-one matchups on the other side. Phillips' 11.5 sacks tied for ninth-most in the NFL this season.
"[Phillips] is one of the best pass rushers in the National Football League, if you ask me, a natural pass rusher at that. That is something he does. That is a specialty of his," explained Merriman, who sees himself in a bit of a different light.
"I'm more of a go-out-there-and-change-the-game kind of guy," he said. "I'm a playmaker. That is how I classify myself. I don't do just one thing. I don't just rush the passer. I don't just play the run. I'm not just a run-stopper. I drop a lot in coverage and I do everything. I'm a playmaker."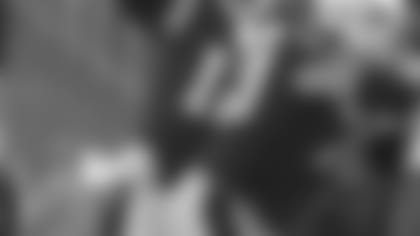 Whatever you want to call him, Brady knows he's good at rushing the passer.
"You're not going to outrun him," said the Patriots quarterback. "He's 270 pounds. He runs like a deer. He's powerful. He's quick. He plays with a high motor."
"It's a good pass-rushing team," said coach Bill Belichick on Thursday. "They've got 60-some sacks or whatever it is. And not only that, but they put you in a lot of passing situations. They lead the league in creating second-and-long and third-and-long (situations) for the (opposing) offense. The more of those long-yardage situations there are, the harder it is to protect and the easier it is for them to rush. They've had (opposing) offenses in 75 third-and-10-plus (situations). That's a lot of long yardage situations. That's the way they play defense. They create a lot of those situations."
"They're real good at putting teams in long-yardage situations," echoed tight end Daniel Graham on Wednesday. "A goal of ours is to stay out of that long-yardage situation and keep the ball in our hands."
Despite Merriman's impact on the Chargers defense (and his overt confidence), a few members of the Patriots offense are looking forward to playing against him. One of those guys is offensive co-captain and fifth-year veteran Graham.
"He's a physical linebacker. I'm a physical tight end, so it's going to be a lot of fun for us," he said. "I like a challenge. I like when teams play a physical style of football. That's what I play. It's going to be a lot of fun this week for me."
Notes:
The Patriots held practice inside the Dana Farber Field House on Thursday wearing shorts/sweats, shells and helmets. As was the case Wedensday, the only players not seen during the portion of practice available to the media were fullback Heath Evans (Questionable with a shin injury) and safety Rodney Harrison (Out with a knee injury). … Also, San Diego Union-Tribune writer Jim Trotter, is reporting that Harrison sustained "a slight tear in his right anterior cruciate ligament," and that he'll miss the rest of the playoffs. Asked if the knee injury was to Harrison's ACL, coach Belichick said, "I think we've given out all the injury information we're going to give out." It should be noted that Harrison's recent knee injury (suffered in the regular-season finale against the Titans) is not the same knee he injured last season.