Over the weeks leading up to training camp Patriots Today has been debating some of the more interesting individual positional battles that will be taking place in New England. After Brian Lowe and Jackie Brittain make arguments for the players who'll be competing for roles and jobs this summer, the PFW staff analyzes the debate and declares a winner. We keep things rolling with a look at a couple guys battling for jobs on the tight end depth chart.
Daniel Fells vs. Zach Sudfeld
The arguments:Lowe's assertion is that Fells is the team's best combination tight end – effective as both a receiver and a blocker in the running game – aside from Rob Gronkowski. He also cites Fells' reliability and leadership abilities as an experienced veteran. Brittain, on the other hand, believes Sudfeld has shown the talent in spring practices to be a factor for the Patriots. She correctly notes his massive physical attributes (6-7, 260) and athletic ability, which are comparable to Gronkowski.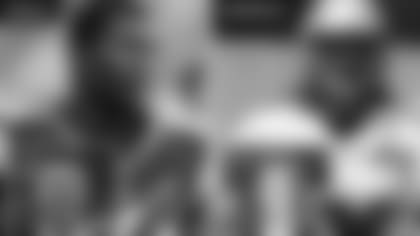 The verdict – Fells: Both Lowe and Brittain agree that there's an opportunity for Sudfeld this summer in training camp, and they're right. I like what I've seen from the rookie so far as well. However, he has an injury history that scares me. Fells was plagued by injuries last year, too, but he has proven he can play tight end at the NFL level in his previous stops around the league. That factor alone gives him a slight edge over Sudfeld as the Patriots enter 2013 training camp, with their first practice on July 26. Fells is simply the more proven commodity at this stage.
Now it's your turn to weigh in. Who has a better chance of making the Patriots roster and contributing at tight end this season – Daniel Fells or Zach Sudfeld?
http://polldaddy.com/poll/7261822/
What do you think of the battle between Fells and Sudfeld? Let us know with a comment below!