FOXBOROUGH, Mass. - Two seasons ago, the Patriots underwent a major overhaul at the safety position. First, they signed veteran strong safety Rodney Harrison and traded Tebucky Jones. Next was the release of Lawyer Milloy, followed by the smooth transition of rookie Eugene Wilsonfrom college cornerback to pro safety.
Two seasons later - a period spanning 38 games and two Super Bowl wins - the combination of Harrison and Wilson has turned out to be an impressive and productive pairing at safety for the Patriots.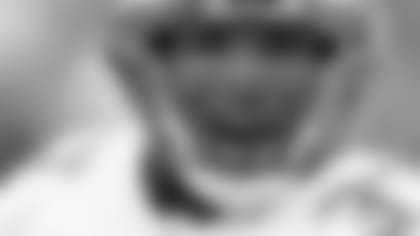 ]()Harrison, who spent his first nine NFL seasons in San Diego before signing prior to the 2003 season, appears to be getting better with age. The 32-year-old had one of the best seasons of his career in 2004, starting all 16 games and leading the Patriots for the second consecutive year with 138 total tackles. He also tied for the team lead with three forced fumbles, had two interceptions, three sacks and even contributed 12 special teams tackles.
Beyond the statistics, Harrison - the unanimous choice of the Patriots Football Weekly staff as the team's Most Valuable Player - was instrumental in leading an inexperienced and injury depleted secondary for much of the season. After injuries forced cornerbacks Ty Law and Tyrone Poole out of the lineup, the Patriots turned to an inexperienced group of defensive backs to fill the void during the second half of the season. Considering the collection of second-year cornerback Asante Samuel, reserve Earthwind Moreland, wide receiver/nickel back Troy Brown and rookies Randall Gay and Dexter Reid entered the season with a combined one career start on defense between them, Harrison's veteran presence on defense shouldn't be understated.
Harrison, who lost out on a Pro Bowl invitation to Baltimore's Ed Reed,Denver's John Lynchand Troy Polamalu of Pittsburgh, had his share of big games in 2004. He was named AFC Player of the Week with six tackles, two sacks and a forced fumble in a Week 2 win at Arizona. Three weeks later, he registered a team-high 15 total tackles, a sack and another forced fumble against Miami. He collected a career-high 20 tackles against Pittsburgh in Week 8, and was tremendous in Super Bowl XXXIX with seven tackles, a sack and two interceptions.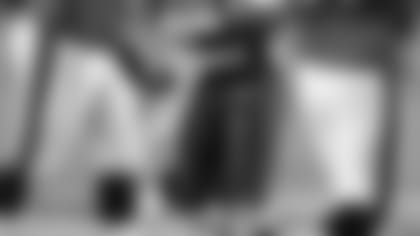 ]()Wilson took another step as a key defensive starter in 2004, starting 14 of his 15 games and collecting 67 total tackles, seven passes defensed, three forced fumbles and a team-leading four interceptions. A former college cornerback at Illinois, he started eight of the first nine regular season games at free safety before switching between cornerback and safety the remainder of the season. The team's second-round pick in 2003, Wilson displayed his all-around ability in both coverage and run defense while his flexibility helped the Patriots depleted secondary survive injuries. He played especially well early in the season, earning AFC Defensive Player of the Month honors for September. He recorded eight total tackles and a forced fumble in the season opener against Indianapolis, and had four tackles, three passes defensed and two interceptions against Arizona the following week.
The Patriots selected two safeties in the 2004 draft in order to build depth at the position, selecting Guss Scott in the third round and using the first of two fourth-round picks on Reid. Scott, 22, was having a solid training camp with the team until he suffered a season-ending knee injury in the second preseason game against Cincinnati. He often worked with the first and second team defenses and appeared to be a player who would provide valuable depth during the season. Scott stayed in the area to work with team trainers during the season and is expected to make a healthy return in 2005.
Reid, 23, was immediately a valuable member of the Patriots special teams but struggled at times in the base defense and showed his inexperience. He played in 13 games, including two starts at free safety against Baltimore and Cleveland, before missing the final three regular season games with a shoulder injury. The 5-11, 203-pound Reid ranked fourth on the Patriots with 17 special teams tackles and also recorded nine total tackles and a forced fumble on defense. Unfortunately for Reid, the play most will remember from his rookie season was when he was beaten for a 30-yard touchdown by Philadelphia's Greg Lewis in Super Bowl XXXIX.
The other notable contribution at safety for the Patriots was by linebacker Don Davis, who, along with Reid, played a significant role during Wilson's time at cornerback. Davis saw action at safety in six games this season, including his first career start at the position against the New York Jets in Week 16 and another start against San Francisco in the season finale. The fastest of the Patriots linebackers, the 6-1, 235-pound Davis collected 17 tackles and a pass defenses as one of the team's more unheralded two-position players. An unrestricted free agent, Davis has spent the last two of his 10 NFL seasons with the Patriots.
The final roster spot at safety out of training camp went to second-year player Shawn Mayer, who was later released on Oct. 6 in favor of veteran Je'Rod Cherry. Cherry, who was initially released on the final cut-down to the 53-man roster, went on to see action in 11 games, almost exclusively on special teams, where he recorded 13 tackles.
Position Analysis: In Harrison and Wilson, the Patriots feature two above average starters at safety. But the limitation of the group - experienced depth - became a cause for concern in 2004. While still playing at a high level, Harrison's age will at some point become a factor. Wilson, because of his versatility, provides value at multiple positions. The Patriots would be well served to locate depth at the position, and should have it next season in Reid and Scott. Despite his rookie limitations, Reid will be another year experienced in all phases of the game in 2005. Scott, who appeared to be one of the rookies most ready to contribute out of training camp, could provide a significant boost as well. The Patriots have enough young players at the position. If Cherry and Davis, both free agents, are not brought back next season, the team may be looking for a veteran free agent at the position to provide depth and special teams experience.