It's beginning to look a lot like the playoffs here in Foxborough. As these photos (courtesy Christy Berkery of the Patriots' Media Relations Department) show, the Gillette Stadium grounds crew has spent this Monday sprucing up the field with a fresh coat of paint.
Meanwhile, head coach Bill Belichick and staff are hunkered down doing their own work to prepare for the Denver Broncos in Saturday night's Divisional Round Playoff Game. At midday, though, Belichick, assistant coach Matt Patricia, and player personnel director Nick Caserio took a brief timeout to entertain reporters' questions via conference call.
The biggest news, of course, is the return of Josh McDaniels, and Belichick was asked about the seeming coup that brought the former Patriots offensive coordinator and Broncos head coach back to New England as an offensive assistant coach for the playoffs. McDaniels spent this past regular season as St. Louis' OC.
"Josh is obviously a very good and experienced coach, both in the league and in our system," Belichick began. "He's here to help us any way he can, whether that's with me or the offensive staff or anything else. [We are] Glad to have him. He's ready to help us in any way that he can. I'm sure that he'll be an asset to our coaching staff and our team."
It's presumed that McDaniels will reclaim his offensive coordinator title here in New England once current OC Bill O'Brien leaves after the playoffs to become head coach at Penn State.
"I'm not sure exactly how that will pan out," said Belichick. "We'll see how that goes. But he'll help me, he'll help the offensive staff, Billy or whoever else it is, I don't know. I think he's an asset because of his knowledge, his work ethic and his familiarity with what we're doing. Right now it's just a one game season, so whatever we can do to help ourselves this week we'll do and then we'll worry about next week and next year later."
It also remains unclear exactly where McDaniels will be during Saturday night's game against his old team. Having him up in the coaches booth might make sense, as O'Brien typically works from the sideline and an extra pair of eyes in the sky might be beneficial. However, Belichick indicated that such specifics would be worked out as this week went on.
The working relationship between O'Brien and McDaniels is strong, according to Belichick, who added that the two are "very good friends."
"Again, he's been here before. We've all worked together. I don't really anticipate it being a problem," Belichick continued. "I think they've both very comfortable with the situation, I've talked to both of them and we're all just looking forward to trying to pull together as a staff and do the best job we can for preparing our team for this Saturday's game."
Another move that didn't take place, but was reported to have been considered over the weekend, involved Caserio. Indianapolis was said to have been interested in talking to him about the Colts' vacant general manager position, but that Caserio chose to remain with the Patriots.
That was the first question posed to him when he joined today's media conference call.
"I've got a great job here in New England," he replied. "I work with a great staff, I'm privileged to work for the head coach that I do. Today is no different than it was any other day and I enjoy being here and right now the focus is on getting ready for the Denver Broncos and that's where we're at.
"I love New England," Caserio stressed. "I enjoy being here, I enjoy the work that I do, the people that I work with and that's not going to change."
Caserio was more forthcoming about his feelings on McDaniels' rejoining the staff. The pair has a history that stretches back to their college playing days at John Carroll University.
"I think it's great and I have a lot of respect for Josh not only as a coach, but as a friend. I've known Josh a long time, it's no secret. I think it's great to have him back. It's great to have him a part of our program and our system again. His goal and our goal is for everyone to work as hard as they can in preparation for this game and that's what we'll try to do."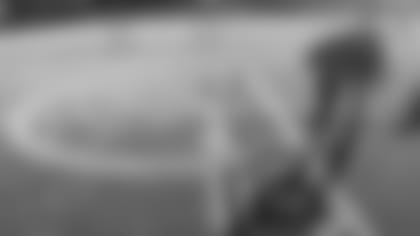 And in so doing, the Patriots are no doubt breaking down not only last night's Broncos victory over Pittsburgh, but also the New England-Denver game from last month, and trying to examine what has changed about their opponent since then.
"We're excited to be playing in the Divisional Playoff round," Belichick concluded. "We have a lot to great ready for with Denver coming in here. That was a great win for them yesterday, a really impressive game.
"We spent time on all three [possible opponents] last week and, so, now, we very quickly got zoned in on Denver last night and of course today. We have a lot of work to do today in terms of getting things finalized for the players when we get back on the field tomorrow."