Some good news, as two players who missed Sunday's session were back out there today: running back Danny Woodhead and safety Steve Gregory.
Two others, however, remain absent: running back Shane Vereen (left lower leg injury) and tight end Visanthe Shiancoe. Either is potentially a candidate for the new "designated for return" injured reserve listing, which can be made as early as tomorrow (Tuesday 9/4) after 4 p.m. Eastern Standard Time.
Safety Patrick Chung (shoulder) continues wearing a red (no-contact) jersey. Meanwhile, o-lineman Nick McDonald (right arm) took part in stretching again, but not in pads. Following that opening period, he went off to work on his conditioning.
Tight end Aaron Hernandez was on the field as well, in today's scaled down practice attire. His presence was noteworthy only because yesterday, as media were climbing the stairway to the practice fields, he was headed down them, fully geared up, and did not return during the 15-minute media viewing window.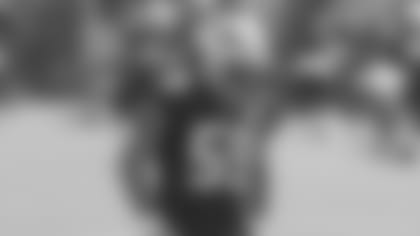 As first noted yesterday in this space, rookie linebacker Dont'a Hightower was due for a jersey number change, and today, he got it, to comply with NFL rules (linebackers must wear 50s or 90s). Interestingly, he was assigned number 54, which most recently belonged to right guard Brian Waters (he is officially listed on the Reserve/Did Not Report list).
In pre-practice remarks to the media, head coach Bill Belichick was asked about the Pro Bowler's prolonged absence (he is still under contract with the team). Belichick would not say whether Waters remains an excused absence, as was the case during spring practices, or if the team was fining him for not being here. "He's not on the roster," was as far as Belichick would go in discussing Waters' situation.
Several other Patriots have new digits today. Linebacker Mike Rivera goes from 47 to 59; Shiancoe dropped two, from 82 to 80. Three rookie defensive linemen also upgraded from 60s to 90s: Jake Bequette has 92 (was 66), Justin Francis is now 94 (was 68), and Marcus Forston owns 98 (was 68).