When outsiders talk about the New England Patriots, they often mention their "experience in big games" giving them an edge over their opponents.
In many ways, that's a specious argument, however. Yes, the organization has been in numerous AFC Championship Games and Super Bowls, winning it all three times.
What matters, though, is the experience that this year's Patriots have in big games. And the fact is, most players on the roster have never played in a game as big as the one they'll be in on Sunday. Indeed, last week, for most of them, was their first taste of playoff victory in the NFL.
New England finally did something against Denver that they've been unable to do all season: play a complete game in all three phases. The results showed – a 45-10 shellacking of the Broncos in the Divisional playoff game.
And now here come the Baltimore Ravens in the AFC title game.
So far this week, the Patriots have exhibited the look and feel of a confident team, buoyed perhaps by their success a week ago. The challenge this week, it seems, is keeping those emotions in check, like they did last week, and trying not to place too much emphasis on the enormity of Sunday's game.
It's quite the delicate balance.
"Well," chuckled second-year linebacker Brandon Spikes, "that's going to be key. Some of the guys on the team are just making sure I'm … you know, I can get a little crazy out there. It's all fun and games, I just have to make sure throughout the week that I prepare and just be ready, mentally, physically, everything. It's a big game.
"Our whole goal was to be here, and we're here. We're going to make sure we make the best of it."
That's something the Patriots didn't do two years ago, when Baltimore came to Foxborough and literally ran New England out of town on the first play of the game. There appeared to be none of that lethargic look from this Patriots club last weekend or so far this week, either.
"I don't know much about that game, but I've heard about it," said second-year tight end Aaron Hernandez, who did experience playoff defeat last year against the Jets.
"We just have to come out and play and think about now, the present and the future."
There is a cautious confidence that is evident in every comment, smile, and laugh they've offered in interviews.
"We know what challenge we have ahead of us in the Ravens," stated cornerback Kyle Arrington. "They're very talented running the ball, explosive plays as well in the passing game. It's definitely another do-our-job type of week."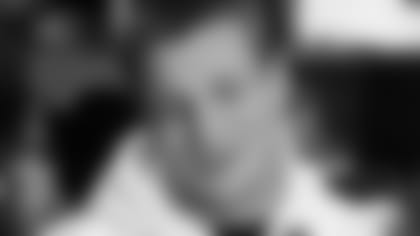 There are still a few veterans left on the Patriots who've been in this position many times before – guys like Kevin Faulk, Vince Wilfork, Deion Branch, Tom Brady, et al. As Spikes indicated, they've provided ballast for their inexperienced and potentially overexcited younger teammates.
"It's a circus. It's always a circus," Faulk said of the conference championship environment. "The most important thing is playing the football game and preparing for the football game. The other stuff doesn't even matter. It's pretty obvious what you have to be aware of or what to walk away from."
"We have great leadership," added Arrington, "guys like Vince. He does a great job of telling you, 'Hey, fellas, don't overthink, don't get overly emotional. It's not just any other football game, but you almost have to treat it as such. Just do what you've been doing to get you to this point."
"You just have to block out what's going on around you on the outside," echoed second-year tight end Rob Gronkowski. "Just stay focused on the inside of the facilities, focus on what your own job is, not worrying about anything else."
Branch, a one-time Super Bowl MVP for New England, joked that it's been so long since he's been in this position that he's forgotten what it's like. But if a younger teammate came and sought his advice, what would he tell them?
"You win, you stay in, you lose, you're season's over. That's the focus," Branch declared. "We want to continue playing. It's a one-week season and this is it.
"The biggest thing is going out and executing our game plan. It's not about the magnitude of the game; it's about our focus on our game plan. I mean, we can focus on what's going on outside of the game and lose sight of what our plan is going into the game.
"These are times when coming to work is a lot of fun. There is a lot of joy coming to work. Early on when the season started, at the beginning of training camp, I wouldn't say that. But right now, the guys enjoy coming in. We're very relaxed. We enjoy waking up, coming in, getting the game plan and seeing what the coaches have for us.
"It is [special]," Branch admitted of the AFC Championship Week and all that goes along with it. "The feeling, it's a great feeling once you obtain it … hopefully, we can regain it."
Seems like they already have.