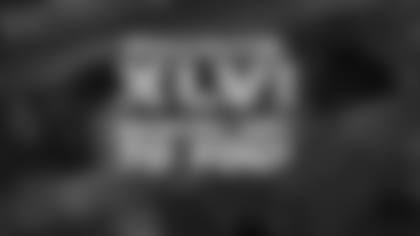 During Super Bowl XLVI week, there will be no place like the Patriots digital home, Patriots.com, especially when it comes to video. Throughout the week you'll go inside the team hotel,  the NFL Media Center and Lucas Oil Stadium for live daily press conferences from Coach Bill Belichick and select Patriots exclusively presented so that you can select from five different podiums. You make the call!
On Thursday night, watch a special Patriots event live from the Indianapolis Motor Speedway (7-8pm ET) and on Saturday, a live Super Bowl edition of Patriots All Access will come to you direct from the team hotel (7-8pm ET).
Then there's Patriots Today, Patriots.com's daily video news show. Throughout the week, multiple episodes will be available everyday with updates after each practice, special features and every bit of news leading up to Sunday.
For your listening pleasure, Patriots.com Radio will broadcast 24/7 radio programming starting with the WEEI simulcast of Patriots Monday featuring Coach Belichick and Tom Brady. Tuesday through Thursday offers live editions of PFW in Progress from 12-2pm ET, Patriots Playbook from 2-4pm and The Pete Sheppard Show from 4-6pm.  On Friday, it's the simulcast of WEEI's Patriots Friday and on Saturday from 12-2pm, we'll bring you a special edition of PFW in Progress ... your chance for the final word before the Patriots take on the Giants.
Photos and info galore! Exclusive behind-the-scenes photo galleries will take you all over Indianapolis and our Patriots Football Weekly staff will write all about it with analysis, commentary, features, notebooks and PFW Blog entries.
On Sunday, follow the game on the Patriots.com Game Center with real-time stats and live in-game commentary.
And don't forget to follow @Patriots on Twitter and the Patriots page on Facebook and Google for content updates, alerts and other fun stuff direct from your favorite football team.
Patriots.com is in Indy, and that means you are too!