While Patriots fans are still coming to grips with the idea that Wes Welker is now a Bronco following the slot receiver's introductory press conference in Denver, the free agent activity seems to be heating up in New England.
Not only did the team announce the signing of impact veteran kick returner Leon Washington on Thursday night, but multiple reports now indicate the Patriots are set to host a pair of talented veteran defensive free agents – former Falcons defensive end John Abraham and former Cardinals safety Adrian Wilson.
Abraham, who's already met with the 49ers and Seahawks, is a 34-year-old veteran of 13 NFL seasons with the Jets and Falcons. He was released this spring despite his 10 sacks in 2012. He's had 9.5 sacks or more nine times in his career, including each of the last three years and five of the last six. Abraham would add a nice veteran presence to a Patriots pass rush that is now anchored by Chandler Jones and Rob Ninkovich, but his numbers show that he still has plenty to contribute on the field as well as what he offers as a mentor.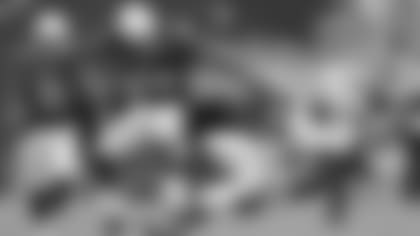 Wilson is a four-time All-Pro whose impressive career never got the attention it's deserved playing Arizona. The 33-year-old is a veteran of 12 seasons with the Cardinals. In his prime he was a versatile playmaker, impacting the running and passing games. In 2005 he had 100 tackles, eight sacks, a forced fumble, two fumble recoveries and an interception. For his career he has 25.5 sacks and 27 interceptions. He started all 16 games for the Cardinals last fall before being released this spring, and has actually played all 16 games in five of the last six years.
Adding veterans to the pass rush and safety spots were two of New England's perceived primary needs heading into this offseason. Depending on how much Abraham and Wilson have left in the tank – and their playing time and production in recent years would indicate the former Pro Bowlers are far from washed up despite their advancing age – the two veterans could add important depth to a still fledgling New England defense.
One other report that came out overnight was a tweet from ESPN's Adam Schefter, arguably the most connected information man in the business. Schefter was asked a question about Patriots free agent cornerback Aqib Talib, and responded by saying that he still thinks the former first-round pick ends up re-signing with New England.
In the wake of the Welker departure many fans were clamoring for some action to improve the Patriots defense. Well, based on these reports, Bill Belichick and Company are working in that area right now. Adding Wilson and Abraham while re-signing Talib would certainly go a long way toward bolstering the roster on the Patriots young and, ideally, developing defense.
Do you like the idea of signing Abraham and Wilson? Which is a bigger need at this point? Let us know with a comment below!*