Two of the Patriots' three restricted free agents appear poised to hit the open free agency market, with the latest report from ESPN's Mike Reiss indicating that Gunner Olszewski will not be tendered.
Restricted Free Agents Olszewski and Jakob Johnson will be able to sign with any team if New England does not apply any tender to them by 4pm Wednesday. Both entered the league as undrafted players, thus an original round tender would mean no compensation for the Patriots if either player signed with an opponent. The price tag would be $2.433 million for a one-year contract and only offer New England the right of first refusal.
Olszewski has been the Patriots' primary returner for the last three seasons after making the team as a D2 cornerback out of Bemidji State. He was named an All-Pro returner in 2020 after a remarkable late-season stretch that was a bright spot during the playoff-less season. However, he remained buried on the depth chart at receiver and has yet to break through there.
He's shown some promise and has had his moments as a receiver during training camp, it would be easy to see why the Patriots would want to continue developing him, as well as Jakob Johnson, but first Gunner and Jakob will first have a chance to see what kind of offers might be out there for them.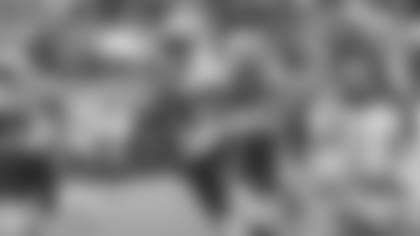 Bolden joins Josh
Ian Rapoport reported at the start of the league year that running back Brandon Bolden would be departing to Vegas to join Josh McDaniels and the Raiders.
Bolden had a career season with the Patriots in 2021, filling in admirably for James White as the team's third-down back. Bolden spent all but one of nine seasons in New England, taking a one-year hiatus in Maimi in 2019, in which he scored two touchdowns against the Patriots, and opting out of the 2020 season.
During his career, he filled a variety of roles and was one of the unsung heroes of the locker room, where teammates and coaches alike praised him for his positive attitude. It's no surprise that McDaniels plucked him from New England where he'll help bring some Patriots playing experience to Vegas.
"Brandon's role on the team – I would think everybody would say that he's just invaluable because this is a guy who's mature, he's dedicated, he's a great teammate," said his new head coach McDaniels this past season. "He's ready to play any role that we ask of him, really at any time. He learns all the spots in our offense each week and he can play the sub-back role if we needed him to on third down. He plays some on early downs as a runner. He's in the game with two backs in the game at the same time.
"Brandon's a great, great teammate. He's one of the great unselfish players we have here, and we've had a lot of them. But, this guy plays in all of the phases of the kicking game. He's ready to go. If I told Brandon he was going to play 70 snaps on offense, he wouldn't flinch or blink. If I told Brandon he was going to play five snaps on offense, he wouldn't flinch or blink. So, he's got a great attitude and a great approach. He's got a really wonderful skillset to be able to do a lot of different things and we're really glad we have him."