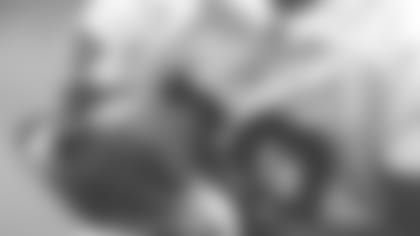 ]()Rookie mini-camp may not be the most glorious aspect of an NFL offseason, but it may be as important as any. Coaches like to joke that rookies are so inexperienced that they don't even know what they don't know. So anytime players can begin their learning curves it has to be considered relevant.
"If we were reading a long novel, were on page one," Patriots coach Bill Belichick said to open his Saturday press conference. "That's the approach that I want to take with the team, the rookies. We have such a long way to go, so many things to do we're just taking this one step with a lot more in front of us."
Belichick and the rest of the Patriots coaching staff welcomed 25 players for the weekend – 10 draft picks and 15 undrafted free agents. There were also six players in uniform going through tryouts, one of which was Steve Silva, a running back from Holy Cross. The Patriots would not confirm the identity of the five others, but there were two running backs in addition to Silva, one offensive lineman, one wide receiver and one kicker/punter.
First-round pickLaurence Maroney predictably drew a crowd on his first day in a Patriots uniform. The former Minnesota running back felt right at home with the cold and rainy New England weather. He likened the conditions to Minnesota but said he was used to it. As for his goals for the weekend, Maroney simply wanted to learn.
"It's important right now for me to just get the concepts down and understand how they run things here," Maroney said. "Every time I take a step I feel like I'm being evaluated so I want to make sure I'm as ready as I can be."
Wide receiver Chad Jackson, the team's second-round pick out of Florida, also mentioned the miserable conditions but echoed Maroney's thoughts when he spoke about his first impressions. "I'm just trying to work hard and get myself up to speed on everything they want."
The team practiced once in the morning, which was closed to the media, and again for about 75 minutes in the afternoon. Both took place inside the Dana Farber Fieldhouse, the team's beautiful practice facility.
Maroney and Jackson certainly looked the part of top-flight picks and stood out noticeably among the group. Maroney showed excellent hands out of the backfield, making several difficult catches look easy. Jackson appeared to be the favorite target of quarterback Corey Bramlet and he made the undrafted rookie out of Wyoming look good. Jackson showed strong hands over the middle, making several catches in traffic with his arms away from his body.
Not many kickers create much of a buzz at such a camp, but Stephen Gostkowski isn't the average kicker. Gostkowski was selected in the fourth round as a potential replacement forAdam Vinatieri, so the media throng around him was substantial for virtually the entire 45-minute open locker room period.
"I'm not used to seeing this many cameras at Memphis," he joked in reference to his college career.
When asked what the Patriots expected of him, Gostkowski had a straightforward response. "Make all your kicks from 40 and in, make all your extra points and make the ones that count."
Sounds like a resume for the guy he is trying to replace. For what it's worth, Gostkowski wasn't given the option of wearing Vinatieri's old No. 4. He was asked to choose between 3 and 5 and went with the former.
As a general rule, most NFL teams conduct their rookie mini-camps during the weekend immediately following the draft, but this year saw a slight change. The Patriots are one of 14 NFL teams that waited a week before holding their orientations this year. The reason for that had something to do with a quirk in the schedule that saw the draft get pushed back to April 29-30, the latest possible dates it can take place.
Because NFL rules dictate that any rookie orientations must occur within 15 days of the draft, and rookies are not allowed to return to their teams anytime before May 15, most years don't provide the opportunity that presented itself this year. Last year, for example, all but five teams conducted rookie mini-camps the week immediately after the draft.
By waiting a week, Belichick welcomed his rookies to Foxborough within the 15-day window that's required and also was able to keep them here for the start of their offseason program since Monday is May 15, the earliest they're allowed to return. Teams that held their camps last weekend weren't afforded that luxury.
Belichick mentioned in his press conference that about a dozen players had experience as returners and clearly the coach is not prone to hyperbole. No fewer than nine different players received kickoffs during a drill with Maroney leading off and Jackson also taking a turn. Seventh-round pick Willie Andrews, who is Baylor's all-time leading kick and punt returner, was among the group. Gostkowski displayed a big leg during the drill, consistently kicking the ball the length of the fieldhouse. The playing field inside is roughly 70 yards and the kicks sent the returners into the end zone virtually every time. … Brian Barthelmes may be a prospect worth keeping an eye on. The 6-6, 288-pound offensive lineman started games at three different positions in college (27 at left guard, 10 at center and 1 at right guard), which is just the kind of versatility Belichick loves in his backup lineman. Plus, Barthelmes played at Virginia for Al Groh, who obviously has ties to Belichick from their days working together with the Giants, Patriots and Jets. … Remi Ayodele, a 6-2, 300-pound nose tackle out of Oklahoma, is the brother of former Jacksonville and current Dallas linebacker Akin Ayodele. Also, Bramlet's brother, Casey, is currently a member of the Washington Redskins. Sticking with the family theme, former Vanderbilt wideout Erik Davis is the cousin of seven-year NFL linebacker Quinton Caver, who played for Dallas in 2005. … With Bramlet the lone quarterback in camp, director of pro personnel Nick Caserio took his usual spot as fill-in passer during drills. Caserio was a quarterback during his playing days at John Carroll University in Ohio. … VeteransDan Koppen and Lonie Paxton were present in the locker room after their workouts. Paxton joked with sixth-round pick Dan Stevenson as he was conducting an interview, telling the rookie that it's best not to say too much. At that point, Stevenson joked that his interview was over. … Belichick was asked about Barry Gardner and Jeremy Loyd, the pair of veteran linebackers added to the roster recently. "It's competition. Any players that we feel can be competitive on our team, then we'll put them out there and see how it turns out. The two guys we signed last week we feel like they'll be competitive both defensively and in the kicking game." … In case anyone was wondering, unlike last year at this time, former linebacker Roman Phifer's locker was not in tact at the end of the room.