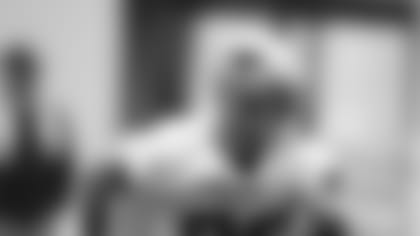 ]()Hang around an NFL locker room long enough and it's a good bet you'll hear someone talking about football being a business. It took David Thomas less than one night of sleep to come to that realization.
The Patriots made Thomas their third-round pick last month, and the tight end no doubt went to bed that night excited about the possibilities that were to come. When the draft resumed the next day, however, the Patriots tabbed another tight end, Tulsa's Garrett Mills, with their first selection of the fourth round. In a matter of hours, Thomas got a lesson in NFL economics – No player is ever truly secure in his place on the team.
But the former Texas standout didn't give the Mills selection a second thought. In fact, he welcomed it because it was an opportunity to play with someone he already knew.
"I already was familiar with Garrett coming in so I was happy for him, and I was happy that I knew somebody coming into this," Thomas said between practices on the opening day of the team's rookie mini-camp at Gillette Stadium. "Hopefully we can push each and bring out the best in each other and wind up being good friends once this is over."
In reality, the fact that Bill Belichick took players with seemingly similar skill sets with back-to-back picks is probably more coincidence than anything else. Both were highly productive receivers in college and were known more for that aspect of the game than blocking.
And neither possesses prototypical tight end size, particularly the 6-1, 232-pound Mills. By comparison, Daniel Graham and Benjamin Watson, the team's two current tight ends, are both 6-3 and weigh 257 and 253, respectively.
Thomas is closer at 6-3, 246, but his inline blocking skills aren't what got him drafted on the first day. What made him attractive was his immense production playing for one of the nation's premier programs at Texas, which Belichick admitted gives Thomas a good starting point.
"I think there are some similarities [to what Texas does with their tight ends] but there are a lot of differences, too. [We're] certainly at a different level," Belichick said. "Texas is a great team and they play a high level of competition. But the competition level in this league is a little bit higher than that. How that works, we'll just have to wait and see. Dave has a good base from what he did there and the skills, he'll have to refine and improve at this level, but he definitely has something to work with."
At least at the start, both players appear destined to be joined at the hip – when referred to by Patriots fans anyway. On Saturday, their first taste of open locker room period as professionals was short-lived. Thomas made his way to his locker with just a few minutes remaining in the media period while Mills showed up even later. Both spent the bulk of the 45-minute session eating lunch.
On the field, they were used extensively in passing drills, which is not surprising since the pair combined for 137 catches for 1,848 yards and 14 touchdowns last season. Thomas showed outstanding hands and grabbed everything in his general direction.
One play in particular stood out when he beat safety Keon Jackson on a deep out and made a terrific finger tip catch with his arms extended near the sideline. Mills wasn't as impressive on first impression. He mishandled a couple of catchable balls during the 7-on-7 drills but he did show the ability to get open and caught a few others. The pair also worked together on some special teams footwork drills under the watchful eyes of Brad Seely.
There has been speculation about the role Mills could eventually wind up in. He saw time at tight end, fullback, H-Back and even filled in at long snapper for Tulsa and some believe that versatility could make him an ideal Patriot. Belichick wasn't ready to anoint anyone any roles at such an early juncture.
"We don't pigeonhole anybody," he said when asked about the similarities between Thomas and Mills. "We try to teach them our system and we'll see how their roles and responsibilities fall as we put our team together and get into practices and let them do different things and see how they perform at those different positions.
"Maybe they're versatile and maybe they're not. We'll see, but we want to give them the information so they'll have an opportunity to work at those spots. How well they do and what those things will turn out to be will be what separates them."