Four years ago, Rosevelt Colvin III's life drastically changed.
While playing for the Chicago Bears, Colvin was experiencing one of the two best years of his career. He was an established player in the National Football League and a rising star, but something was missing. He still refers to some prior ill-advised decisions as ones he has not repeated since the day he transformed into a new man.
In 2002, Colvin fully committed himself to becoming a Christian.
Born and raised going to church with a choir director for a mother, Colvin had plenty of exposure to Christianity. He's believed in God for as long as he can remember, but was still trying to find his way during some trying times. Now enjoying a "rebirth" of sorts, Colvin looks to that day in 2002 as a turning point in his life.
"I regret not becoming a Christian sooner," Colvin said. "In 2002 was when my life completely changed-the old Rosevelt Colvin went away and I've become a person that is humble, mild-spirited, a joy to be around and a family man."
Two Super Bowls and several career accolades later, Colvin relishes his role as a linebacker for the New England Patriots. He's known for his strong pass-rushing skills from his outside position and is generally held in high regard by Patriots fans. Colvin views his life as a constantly-evolving process and isn't fulfilled until he maxes out his capabilities, on and off the football field.
"Life is ever-changing; you're always trying to conform yourself," he said. "Each and every day, I try to do something better than I did the day before."
Despite spending the last three seasons in the Northeast, Colvin's roots are as a Midwest boy. His parents are from Texas, but he grew up in Indianapolis, Ind. The 6-foot-3, 250-pound linebacker played his college ball at Purdue University, where he was the biggest star on a solid Boilermakers defense. He holds a degree in Industrial Technology and was a fourth-round draft choice by Chicago in the 1999 NFL Draft.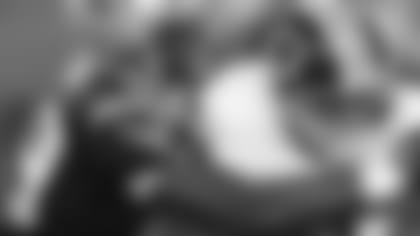 Colvin enjoys delivering fierce sacks and tackles on the opposition, but he also likes to make deliveries of a different kind. He owns two UPS stores in his hometown of Indianapolis, which often takes up a majority of his time off the gridiron. He's frequently in Indy taking care of the business, and his accomplishments are not going unnoticed back at home. Colvin was recently named Distinguished Alumnus of the Year by his high school alma mater, Broad Ripple High School, following last year's winner, David Letterman.
"Right now, the way my life is going, if I decided tomorrow that I was going to retire, I'd first figure out how far I want to take the UPS thing," Colvin said from the Patriots team facility. "My wife wants to own her own salon, so I'd probably try to help her in that direction," added Colvin, who's also interested in public speaking and recently started a bowling league with his teammates.
With his plate more than full during the NFL season, Colvin admits it can be difficult to achieve a proper balance between his professional and personal lives. The eighth-year player is also a husband to wife Tiffany and a father to four children-9-year-old and 1-year-old sons and daughters aged seven and three. Rooted in his faith in God, Colvin knows he can conquer challenging obstacles thrown his way.
He said, "I look at football as a stepping stone for what is in store for me after. With all the stuff I've got going on, it gets hard [to achieve a balance]. If you have decent time management skills, you've got to figure out how it works best and use it to your advantage for your after-football life."
But three years ago, the optimism Colvin displays today was hard to find. He was a big free-agent signing for the Patriots in 2003 as they set their sights on another Super Bowl. People around the league took notice of his ability after a couple breakout seasons with the Bears, and he seemed to be a perfect fit in New England's tricky defensive schemes.
Then, following a gruesome injury, those plans were quickly shelved. Colvin broke and dislocated his hip during just his second game in a Patriots uniform. It was unclear whether he would ever play football again.
Following surgery and a grueling, 10-month recovery program, No. 59 returned to the field in 2004, thanks in large part to his focus and belief in God. The man who teammates and family members call "Rosey" showed courage and heart in getting back to the elite level he established in Chicago. "With the injury in 2003, it's been sort of a grind to get through certain situations," Colvin acknowledged.
"I'd love to get more than 10.5 sacks, my career high, and I'd love to get back to the Super Bowl," stated Colvin, adding that making the Pro Bowl is another goal for 2006. He had to turn down his invitation to Hawaii in 2002 due to shoulder surgery, a "personal decision" he made. "I'm definitely not satisfied-I've had a couple individual years and a couple years when the team had a lot of success ... [I want] to get back to that dominant player that I was (in Chicago)."
Now a veteran who celebrated his 29th birthday this month, Colvin has nothing but winning on his mind. New England's linebacking corps may be as good as ever, with proven vets like Tedy Bruschi, Junior Seau and Mike Vrabel aiding Colvin, an intimidating pass rusher. Another trip to the Super Bowl is within reach for his team, and Colvin says that's the expectation when you play for a successful organization like New England.
"Any time you're winning, it's a good feeling," said Colvin, who led the Patriots with seven sacks last season and ranked fourth with 73 tackles. "It feels good to be a part of an organization that is directed towards winning. Everybody's on the same page with the coaching staff, the players and the front office. It's very realistic that we can get back to the Super Bowl, but you have to let the season play out.
"If we can try to improve each week ... then we give ourselves a very good opportunity. The goal right now is to win every regular-season game to qualify for the playoffs," he continued.
What's the secret to Colvin's effectiveness as a premier pass rusher in the NFL? Despite the speed of the game and the quickness with which defenders must react, Colvin says it all starts with preparation for gameday.
"Definitely, watching film helps you out, to see how the flow of the game is going," he said. "You try to process information quickly and you can give yourself an advantage on a speedy basis. Most teams repeat certain situations and formations. Hopefully, you make a play when your team needs you to make a play."
Making plays is precisely what Colvin has done during his career. He knows that his flair for pressuring quarterbacks has gotten him to this level, and he's poised to post another strong year for New England. His self-assurance is nearly matched by the confidence placed in him by Bill Belichick and his coaching staff.
"I feel great, and I've been presented with an opportunity by the coaching staff to get the job done," Rosevelt beamed. "I think I have to continue to work as hard as coach asks me to. If I can get that done, I can continue to excel and become a better player."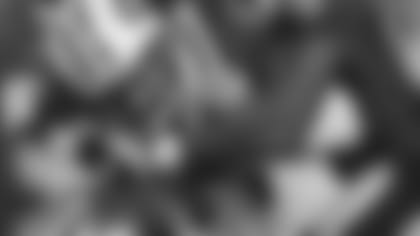 Belichick is known for getting more out of his players than most other NFL head coaches. Since their Patriots partnership in 2003, player and coach have established a relationship rooted in mutual respect. Colvin hopes to stay in New England-and in Belichick's system-because he believes a player like himself can thrive there.
"With the guys that Bill has coached, it's an honor to be a linebacker to be in that system," he stated. "The day they tell me it wasn't good enough, that's the day I step it up and do better."
Coming off another productive year in 2005, Colvin isn't content with his achievements to date. He pushed himself hard during training camp and that work ethic has carried over into the first three weeks of the new season.
"Last year turned out to be decent; there [were] a lot of things I could have done better, but that's what the offseason is for," Colvin said. "I can eventually do better than I've done before."
The 2-1 Patriots have experience, but they also have plenty of new faces on this year's roster. Colvin is one of the trusted veterans expected to provide leadership to a group of guys including rookie standout Laurence Maroney. (Related story: Laurence Maroney, Week 1 Rookie of the Week). Once a young player with boundless talent himself, Rosey knows a star-in-the-making when he sees one, and says Maroney is off to a strong start.
"That's what you hope out of young kids-that they're hungry, humble and can help their team win games," Colvin said of Maroney. "He has a shot to run the ball successfully, and with three healthy bodies we've got a great backfield." New England's running back platoon includes starter Corey Dillon, backup Maroney and specialist Kevin Faulk.
While Colvin strives to be a better Christian, father and husband, he's also quite the community volunteer. A supporter of the American Diabetes Association and a participant in the Red Cross Blood Drive, Colvin has gone the extra mile in his latest volunteer venture. In a unique partnership with CVS Pharmacy, he has teamed up to create "Rosey's Sack Packs," back-to-school backpacks to be sold in CVS stores throughout the New England area.
As part of CVS's larger "All Kids Can" promotion, a portion of the proceeds benefit children with disabilities. Colvin said his hope is to raise $100,000 to "sack disabilities" with a goal of selling 4,000 bags per month. Rosey's Sack Packs are on sale for $15.99, with $5.00 from every purchase going towards Easter Seals. Approximately 3,000 bags have been sold to date, Colvin estimates, and the campaign will continue throughout the 2006-'07 NFL season.
"When I broke my hip in 2003, even the most simple of tasks were difficult for me," Colvin wrote on his Web site, http://www.r59.com/. "I could not walk for six months, and I did not know if I would ever play football again. Thankfully, I recovered, but my injury helped me to realize that many kids deal with these issues everyday. I am honored to be helping out with such a worthy cause," he said.
More information can be found on Colvin's Web site, at CVS stores or by calling (401) 770-5919.
At age 29, Colvin tries to remain a kid at heart. He's quick to admit his fondness for new devices out on the market: "I'm a gadget guy; I like all the new toys." But that doesn't mean a longtime teammate is justified in calling him, well, a big geek.
"Without a doubt, Rosevelt Colvin," offensive tackle Matt Light answered when recently asked by PC Magazine who was the biggest geek on the Patriots. "His number is actually 1-800-GEEK," Light lightheartedly said before making amends by saying, "Seriously, the guy's great."
Colvin chuckled at Light's friendly comments, taking it in stride the way he takes most things nowadays. "I've known Matt for 10 years now; we went to school together," he said. "I wouldn't call myself a geek but I definitely like all the cool gadgets."
Modest despite his popularity among teammates and coaches, Colvin has already thought about his reputation when he leaves football. He will continue to succeed on the gridiron, but also wants to be known for his vivacious personality.
"I want to be known as a good player; I don't necessarily have to be great," he said. "[I hope] they label me as a consistent guy who you can count on and didn't have to worry about. Rosey just likes to have a good time."