Two of the top teams in the NFL found themselves in close quarters on Tuesday afternoon, as the New Orleans Saints took the field with the Patriots for their first of two joint practices outside Gillette Stadium.
The energy at practice was palpable from the moment the players took the field and were met by resounding cheers from another huge turnout of Patriot fans. For the Saints, it was their second opportunity in just three days to face a team other than their own. New Orleans squared off against the Arizona Cardinals on Sunday night in the annual Hall of Fame game in Canton, Ohio before leaving directly for Foxborough and arriving early Monday morning.
Despite their exhausting schedule, the Saints looked crisp and ready to compete with their new opponent.
"It's always great when we practice against a class franchise like this franchise," remarked Assistant Head Coach Joe Vitt after his team's practice session with the Patriots. "We got a lot of good work done today."
The team sessions were nothing short of entertaining. Both squads feature high-powered offenses led by two of the league's best quarterbacks, and Tom Brady and Drew Brees certainly did not disappoint. There was plenty of offensive firepower to go around, as Brady and Brees finally got the chance to show their skills against a defense other than their own.
While the Saints defense has their hands full just facing Brees in training camp, coaches and players alike admit that there is something special about Brady and the Patriots offense.
"Both of those guys do a tremendous job of looking people off and getting you off your spot and fitting the ball in there," says Vitt. "The tempo's great, the chemistry between [Brady] and Welker is unbelievable, so you've got to have your 'A' game."
"Tom's a completely different beast," says Saints defensive back Roman Harper. "I think he throws the ball down the field almost better than anybody in the league right now. Extremely, extremely strong arm."
Saints Defensive Coordinator Steve Spagnuolo, a Grafton, MA native and graduate of Springfield College, adds that his players "gain a great appreciation for a quality quarterback" when facing Brady and his offense.
"Tom Brady and Josh McDaniels, they find ways to attack a weakness. You can only take away so many things when you present something defensively, and Tom's so good at it. That's why we like competing against each other, I mean it's a chess game out there."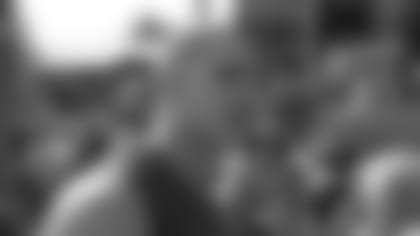 It's not often that you find three of the NFL's best young tight ends on the field at the same time, but such was the case on Tuesday afternoon. Saints tight end Jimmy Graham and Patriots tight ends Rob Gronkowski and Aaron Hernandez revolutionized the position last year by racking up the receiving yards and establishing themselves as legitimate threats in the passing game.
Gronkowski and Hernandez have been impressive in camp thus far, and Jimmy Graham seems poised for another strong year as well. Any doubters who think Graham is not up to par with the Patriots duo were likely silenced early on in practice. In a goal line seven-on-seven drill, Graham made a leaping catch in the end zone for a touchdown and topped it off with his signature celebration: a thunderous slam dunk over the field goal post.
Graham is confident that he belongs in the same sentence as Gronkowski and Hernandez among the NFL's elite tight ends, and his play on Tuesday seemed to prove that.
"All of us work hard, so I'm definitely proud to be in that group," says Graham. "But I definitely expect to be because of how hard I work."
Still, that doesn't mean he can't learn a thing or two from New England's dynamic duo.
"I watch a lot of film on them, because they're two very different types of tight ends; they do different things but they're good at what they do," adds Graham. "Gronkowski, the way he uses his body, Hernandez is a technician in his routes… So I take as much as I can from the both of them and apply it to my game."
Saints defensive back Roman Harper notes that Gronkowski, Hernandez, and Graham all have unique aspects to their game that make them successful.
"Hernandez has the most shake, the most wiggle at the top of the routes just getting open. He will break a guy off in one-on-one coverage, no doubt."
"I think Jimmy [Graham]'s just more of a strider. He's going to be faster than Gronk, but he's more a strider and he comes out [of] the break and he's just like 'Drew, throw it up, it's more of a rebound I'm going to get it.' So he's more athletic. "
"Then you've got Gronk, who's just a big guy and he's a big target, he's going to [give you] a little body action, and of course Brady is putting it right on him. Gronk makes his money after the catch."