It's no secret that Jacksonville has a very tough defense. The Jags finished second in the league in both points and yards allowed, and they recorded eight touchdowns on that side of the ball including the postseason.
Jacksonville uses a combination of a ferocious pass rush, athletic linebackers and physical corners who are capable of locking down man to man. Whether it's getting to the quarterback or creating turnovers, the Jags have been as disruptive as any defense in the league this season.
Sunday's AFC Championship showdown at Gillette Stadium will feature the Patriots top-ranked offense against the Jags talented defense.
So it's only natural that our Samsonite Make Your Case question of the week is: What element of the Jaguars defense concerns you most? The Jaguars had 55 sacks during the regular season and they did it behind a dominant front four that consistently applied pressure to opposing passers. Calais Campbell led the way with 14.5 sacks, but Yannick Ngakoue wasn't too far behind with 12. Malik Jackson and Dante Fowler had 8 each, so the Patriots offensive line won't be able to focus its game plan on stopping just one player.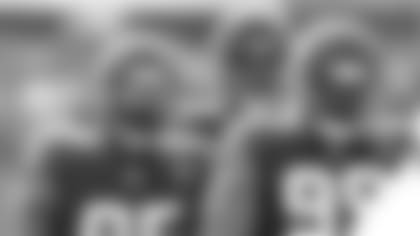 In the past when the Patriots offense has been sluggish, it usually means Tom Brady isn't getting enough time to find open receivers. When he isn't comfortable at the start of a game, sometimes that leads to the offense struggling throughout. If the Jaguars pass rush gets to him early, it could make for a long day.
The offensive line has performed better of late, but this is a tall task. The pressure will be on to keep Campbell and Ngakoue in particular at bay. If not, the Jags could very well pull off the upset. PFW's Paul Perillo says ...
I have a lot of respect for the Jaguars defense but I've seen Tom Brady move the ball and be productive against similarly talented units. I also don't have much fear of the Jags offense, so Brady might not need to score 35 points in order to get to another Super Bowl.
But that could change if the Patriots are careless with the football. Turnovers are always the equalizer and if Brady throws a pick or two, and the Jags turn those giveaways into points, then all bets are off.
The Patriots have been great at protecting the football all season, so even though Jacksonville has scored eight touchdowns on defense it would be out of character for New England's offense to add to that total. As long as Brady avoids the major mistakes, the Patriots will produce more than enough to win.
Now it's your turn to cast a vote in this week's Samsonite Make Your Case poll question.
[wysifield-embeddedpoll|eid="639541"|type="embeddedpoll"|view_mode="full"]