INDIANAPOLIS - Each year the Combine is littered with a variety of players from all sorts of backgrounds. One of the most interesting stories thus far is that of West Virginia outside linebacker Bruce Irvin.
In less than five years Irvin has gone from a troubled team who spent time in juvenile jail to a solid mid-round prospect as a pass rusher.
"I have a different story from a lot of these guys," Irvin began when asked about his troubled past. "I grew up in a rough neighborhood in Atlanta, dropped out of high school in 11th grade, got in some troubling running with the wrong crowd. Then I finally saw the light, got my GED, passed all five parts on the first try, and that January I went to school and I never looked back.
"I was in jail for two charges but was only in there for about three weeks. They've heard the story, they've read the articles but they want to hear from the horse's mouth. The whole situation and how it happened."
Irvin's luck changed when he met a man named Chad Allen in Atlanta. While trying to prepare for his GED, Irvin was attending a prep school for troubled teens but the program folded. Allen was a regular at the school, speaking with the youngsters about their lives while trying to provide alternatives and advice.
Irvin got both - in spades.
"My mentor saved my life, Chad Allen," Irvin explained. "I was homeless pretty much. He took me under his wing, let me live with him and started training me, sent me to junior college, paid my tuition and it took off from there. He would come [to the prep school] and talk to the kids and give them real life experiences. He talked with me and he was like 'I can't let you go back to what you were doing' and he opened up his house to me.
"Honestly, he doesn't ask me for anything. All he asks of me is to work hard and strive to be the best I can be."
Irvin completed his GED in December of 2007 and wound up attending San Antonio Junior College for the 2009 season. He had 72 tackles, 21 for loss and 16 sacks and became the envy of most every major college program in the country. He said he received 27 offers but chose West Virginia because he wanted "a program that needed me as much as I needed them."
His two years in Morgantown featured more of the same - 14 sacks in 2010 and a first-team All-Big East selection in 2011. Now he's hoping to show teams his troubles are in the past and he's ready to bring his abilities to the NFL. He's been working out in Orlando with respected conditioning coach Tom Shaw and trying to develop some linebacker skills beyond rushing the passer.
"It's going to be a lot different a the NFL level and I understand that," said Irvin, who admitted he's always played as a down linemen. "I've always been faster than the guys trying to block me, so there will be some techniques that I'm going to need to learn in order to improve."
There's no question that Irvin is very much in a work in progress, in more ways than one, but his talent and perseverance make him a guy to keep an eye on in April.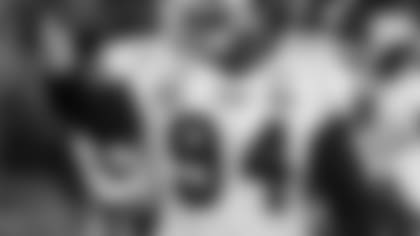 Fletcher Coxis one of the highest-rated defensive linemen in this year's draft and he spent one season as a teammate of current Patriots defensive tackleKyle Love**.
Naturally, he was asked about their relationship.
"I just got done texting Kyle," he disclosed with a grin. "He asked me when my workout was and I told him Monday. He told me he would be watching and wished me good luck."
Having spent just one season together, what might Cox have learned from his elder teammate?
"I was a freshman and he was a senior. He showed me a lot of stuff, too, showed me the ropes and told me once he left, that I was the next thing coming through and to keep working hard and never give up," Cox said. "He said they do more of a read technique [in New England]. They have what they call 'rabbits,' third down they put the pass rushers in the game and get after the quarterback."
Earlier in the week we heard from a head coach about a former Patriots safety and it wasn't real positive. This morning was a different story.
Unlike Chicago's Lovie Smith, who said things didn't work out between the Bears and Brandon Meriweather, Atlanta's Mike Smith was asked about former Patriot James Sanders and had nothing but good things to say.
"James is one of the 17 free agents that we have and he was a very good addition, a solid addition for our secondary with his experience, even though he's a young player," Smith said. "We got him late, he was a guy who joined our football team right before the season started, so there was an acclimation period but when he got the opportunity to play, he played well. He was a stabilizing factor in our secondary. I really like his makeup, his skill set as a guy that can play strong and free safety."
With so many talented receivers in this draft class it's hard to keep track of all of them. One player definitely flying under the radar is Miami's Travis Benjamin. He's not expected to be drafted at all, but like most former Hurricanes he's not shot on confidence.
The 5-10, 175-pound speedster is the third rated wide receiver at his own school behind Tommy Streeter and Aldarius Johnson.
But that hasn't stopped him from talking a big game. In what has become something of a Combine tradition for unheralded players, Benjamin boasted of his potential 40 times and claims he's capable of running a sub-4.3.
"I feel like I can get there ... a sub-4.3 40," Benjamin said.
When informed the NFL is considering having players run the 40 against each other at the Combine instead of individually, Benjamin smiled.
"I'd love to do that. I feel like my competitive nature if I ran against somebody would boost my adrenaline up more and make me run even faster," Benjamin said. "That would make me even faster than just against the clock."
Time will tell - literally.
Michigan's David Molk came into the Combine with the hopes of breaking the record for bench press reps. Although the 6-1, 298-pound center fell short, he led the way among offensive linemen with 41 reps. Former Oregon State and current Chicago Bears defensive lineman Stephen Paea set the mark last year with 49 reps of 225 pounds.
Thanks for the advice, but ...
The Atlanta Falcons created quite a stir last spring when general manager Thomas Dimitroff boldly climbed from No. 27 in the first round all the way to the sixth spot to take Alabama wideout Julio Jones. Such major leaps are rare - not to mention costly - and the deal attracted attention around the league.
That included New England, where Bill Belichick advised his former director of college scouting against the move prior to the draft. The story was included in Michael Holley's book "The War Room" and detailed how Dimitroff discussed the deal with Belichick and Chiefs GM Scott Pioli before pulling the trigger. Dimitroff talked about the events leading to the discussion following his press conference.
"We had a great conversation about it," Dimitroff said. "My feeling on that is, organizations have totally different approaches to how they build their team. I respect Bill a great deal, obviously, with his team-building abilities and learned a lot from him. And we definitely talked about a move like Julio. And our feeling was, for our organization, it was right."
Dimitroff said he spoke with both Belichick and Pioli about a month and a half before the draft. He said he thought he would probably need to make multiple deals in order to get where he wanted to go, first moving to about the halfway point before making another deal to get to No. 6. He also added he felt that process would have been "exponentially more expensive."
It was a controversial deal (Atlanta gave up second- and fourth-round picks in 2011 and first- and fourth-round picks this year to switch spots with Cleveland) but Jones' solid performance in his rookie season has at least eliminated some of the criticism Dimitroff received.
Arkansas wide receiver Joe Adams (5-11, 179) is an interesting player given his versatile skills and abundant athleticism. He played in a pro style offense for the Razorbacks under coach Bobby Petrino and was productive as both a receiver and return man. He also caught passes for Patriots third-string quarterback Ryan Mallett during his sophomore and junior seasons in Fayetteville. It's something he looks forward to doing again someday.
"I'd love playing for the Patriots," Adams said. "They throw the ball a lot in their offense like we did in my offense."
Adams said he keeps in touch regularly with Mallett and the two discuss the benefits of playing in a system like New England's.
"He loves it," Adams said. "He's just ready to have his chance there to play. But right now he's sitting behind Tom Brady, so you might as well be patient."
Belichick back to the links
It looks like Belichick is ready to try his luck on the links once again. After finishing in third place with his partner Ricky Barnes at the AT&T Pebble Beach Pro-Am a couple weeks ago, our buddy Greg Bedard of the Boston Globe tells us that Belichick is ready to try it again. ESPN760 says that Belichick will tee it up Wednesday at the Honda Classic Kenny G Pro-Am as part of the PGA National in Palm Beach Gardens, Fla.