With the Patriots hanging by a thread, down 17-3 to the Dolphins in the fourth quarter of Sunday night's eventual loss, the coaching staff reached deep into their bag of tricks to help produce a potential game-changing play on special teams.
The two teams traded punts to start the second half, but Miami found their stride on their second possession, moving the ball from their own eight-yard line all the way to the Patriots 25-yard line before a 10-yard holding penalty set Miami back on a second down. The Pats blitzed on third down, with Kyle Dugger dropping back into coverage and knocking away a pass targeted for Erik Ezukanma that might've gone for a big gain.
With the stop at the 31-yard line, the Dolphins lined up to attempt a 49-yard field goal on fourth down and the Patriots saw their chance to get creative.
"When we called the play going on the field, [Matthew Slater] said to me 'you are going to go block this and just trust in what we practiced during the week,'" relayed Brenden Schooler, the man who would eventually get the block.
Schooler lined up down the line of scrimmage, nearly halfway between the end of the defensive line and the Patriots sideline, then began running as the long snapper started his process, timing the snap perfectly and diving into the oncoming kick for the block.
"As soon as the ball was snapped and I felt myself in the momentum, carrying, I just knew I was going to get there and just wanted to make sure I got a hand on the ball or something where I could stop the ball and hopefully one of us picked it up and get the offense spark going," described Schooler. "I don't think I would have come up with that play, so it's a testament to our coaching staff because when they drew it up and told us what we were doing I thought to myself, 'I trust them but I haven't ever seen anything like this before.' I mean it was awesome to see the new innovative plays that they come up with and then to go out there and execute it and make a play for your team."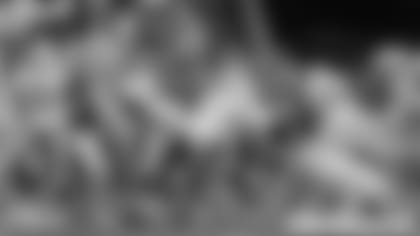 Schooler had an excellent rookie season in 2022 after making the team as an undrafted player out of Texas. In his second season, he's made significant strides both physically and mentally. On at least two occasions this summer during training camp practices Schooler was on the spot to collect onside kick attempts by the kickoff team. He might be under the radar because he's a special teamer but as Sunday night showed, the second-year Schooler is finding ways to make his presence felt.
"It was timed up well" said Bill Belichick on Monday morning of the big play. "He did a good job of timing the play, turning the corner there on [Christian] Wilkins and laying out for it. It was, as you said, a well-executed and well-timed out play. It was a big play for us, changed the field position, turned the momentum around. Unfortunately, we weren't able to capitalize on it, but it was still a really good play on Schooler's part and well-designed by the special teams coaches."
"That's a testament to our special teams coaches – Joe Judge, Joe Houston and Cam [Achord]," said captain Deatrich Wise. "They are very brilliant guys when it comes to that. They know all the schemes and how to put plays together on special teams to make plays. We ran it in practice. We knew it was going to work, and he did a fantastic job executing it well."
Even Miami head coach Mike McDaniel was impressed by the unique play.
"It was a really cool schematic adjustment by the Patriots," said McDaniel after the game. "Hats off to them.... that was a great design. They kind of used one of the motions that we use on offense all the time, basically, and field goal block. Hadn't seen that before. So that was a great job by them."
Despite the big play, the ensuing offensive drive ended in an interception as the Patriots continue to search for the kind of complementary play that wins games.
"I feel we are making strides in the right direction right now and there is a lot to improve on but we have come a long way," said Schooler. "I am proud of the guys and the coaching staff and how they expect a lot out of us. We are taking strides in the right direction."
DISCLAIMER: The views and thoughts expressed in this article are those of the writer and don't necessarily reflect those of the organization. Read Full Disclaimer