The back-to-back defending Super Bowl champions opened training camp 2005 in front of a large crowd on the practice fields behind Gillette Stadium Friday morning. And while the first look at what will eventually be the 2005 squad was a big draw, not surprisingly the list of players not in attendance was just as significant.
One day after the team reportedly placed him on the reserve/did not report list, three-time Pro Bowl defensive lineman Richard Seymour remained absent from the team. Seymour missed the team's June mini-camp in an apparent effort to express his displeasure over his contract situation as he continues to play under the original rookie deal he signed as the sixth overall pick in the 2001 NFL draft. By rule, Seymour could be fined $6,000 a day during his absence from the team.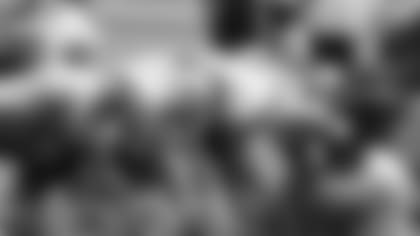 ]()Seymour and his agent have remained relatively quiet and respectful in what is now officially a holdout. As expected Patriots Head Coach Bill Belichick took a similar approach in his late morning press conference, choosing as always to keep team issues in-house.
"I am just concentrating on the people that are here," Belichick said when asked about the status of the Seymour situation. "[We'll] coach the guys that are here."
Beyond Seymour, other players noticeably absent from the field, although the absences were expected, included Tedy Bruschi and the recently-retired Ted Johnson. Although Belichick did say that Bruschi, who has been officially placed on the physically unable to perform list, would be a frequent visitor to the camp.
"He'll be here on a regular basis. I am not sure exactly what his workout schedule is with the trainers and so forth, but I am sure if he is not here now he either just was or will be, one or the other."
The head coach also cautioned not to read too much into Bruschi residing on PUP, a list that technically allows a player to return to action after the sixth week of the regular season. The team released a statement in recent weeks that Bruschi would "forgo" the 2005 season while recovering from the mild stroke he suffered in February and that status remains unchanged.
"I don't think we want to confuse whatever the NFL rules are and whatever the categories are with what Tedy has said his situation is," Belichick said. "I think what Tedy has said and the statement that he has made, that's what it is. That's the way Tedy feels and that's the way I feel. That's the way the organization feels. I wouldn't try to read into something that some other league classification or rule is. I don't think that has any bearing on the truth of the matter which is Tedy's position and therefore the organization's because we support him."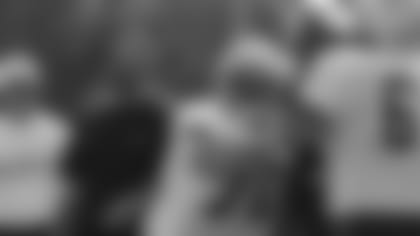 ]()With both Johnson and Bruschi out of the equation at inside linebacker, free agent additions Chad Brown and Monty Beisel took the first team reps at the position with Brown taking the signals from the sidelines and calling the defenses in the huddle. The duo also took most of the reps with the second group in team drills, remaining in action while most other positions rotated through.
Belichick appears to be taking the hectic nature of the absences and resulting depth chart changes in stride.
"Every season undergoes changes," Belichick said. "Every season is a new season even if it was the same people, there are still changes that the team has to deal with as things are different. That's part of football. I have been in the NFL over 30 years and it's been like that every year one way or another. Sometimes when it seems like we've had the most changes, those have turned out of be some of the better years. It is what it is. We have changes at a number of spots and in a number of different areas. So we'll take care of them in a case-by-case basis and try to put them together."
The coach took a similar approach to the overall status of his team with its first public practice session under its belt.
"We are under way," Belichick said simply when asked to asses the morning session. "We are further ahead than we were yesterday. We have a long way to go."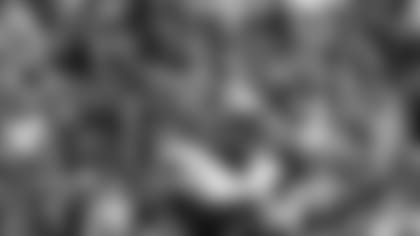 ]()NotesThe two-hour morning practice took place in full pads, with a few team drills displaying some decent Day 1 hitting. … Running backs coachIvan Fearswas also absent from practice as he deals with what Belichick called a "health matter." The team's versatile director of pro personnel,Nick Caserio, will coach the backs until Fears returns to the team. … Super Bowl XXXIX starting cornerbacksAsante SamuelandRandall Gayheld down the first team spots at corner throughout practice action. …Robert Kraftand his wife Myra took in the morning session. … The wide receivers and cornerbacks took part in some competitive one-on-one drills in the early going. … As he did in mini camp, leftyLarry Izzoplayed scout team quarterback during some secondary drills and hooked up withDon Davison a long completion through tight coverage. …Benjamin Watsonmade a number of big catches, hooking up withTom Bradyon a long gain over the middle in 7-on-7 action. …Jarvis Greentook what would be Seymour's spot at right defensive end with the first unit. …Dan Kleckotook plenty of reps backing upVince Wilforkat nose tackle, in a second group that also includedMarquise HillandRodney Bailey. …Logan Mankinsworked at left guard with the first offensive line as didBrandon Gorinat right tackle.Tom Ashworthtook reps at left tackle with the second unit with rookieNick Kaczurworking right tackle in that group. … RookieMatt Casselcontinued to show a strong arm in his first pro training camp practice, connecting withBam Childresson a nice throw through traffic on one play. … The team signed wide receiverRich Musinskion Thursday. The former William & Mary star spent last preseason with the Titans as a rookie free agent. He wore jersey No. 9 for Friday's practice action. … The team also placed a number of players on the various inactive lists prior to the start of camp.Bryan Anderson, Tedy Bruschi, Tim Dwight, Chad Morton andBethel Johnsonall start camp on the physically unable to perform list. Third-year nose tackleEthan Kelleyis on the non-football injury list. As expected, linebackerTed Johnsonwas placed on reserve/retired list. … Aside from those not eligible to take the field, veteran linebackerWillie McGinestwas on the field in shorts and t-shirt and did not take part in the practice action. … NFL Europe allocationCedric Jameswas noticeably absent from the practice field. … The new addition Childress worked with the punt returners at various times throughout practice. Others in the return group includedKevin Faulk, Deion BranchandTyrone Poole. Morton stood with the group in shorts and t-shirt. … 5,062 fans took in the morning practice. … Belichick confirmedTy Law'srecent comments saying he'd spoken with his former head coach. "I have talked to Ty and would again keep those conversations personal as I would with really any other player on or off our roster." … Belichick wouldn't reveal if any player had failed the team's daunting conditioning run test saying only that, "I think overall the team is in reasonably good condition. As you would expect some players are in better condition than others. We have some players who aren't quite physically ready to begin practice yet. So it may take them a little bit longer to do that." … The team returns to practice field for a Friday evening session from 5:30-7:30 PM. Check back to Patriots.com later today for more notes on the first day of double sessions. Also keep an eye out for the first training camp edition ofPatriots Video News** later today on Patriots.com.