FOXBORO — Musings, observations and the occasional insight as we take stock of a Divisional round playoff weekend that not all that surprisingly was owned by the four home teams…..
* No matter who wins next Sunday in the two glamor-matchup conference championship games, form has held. Again. For the sixth season in a row, the Super Bowl pairing will be comprised of teams that earned one of the top two seeds and a first-round bye. That's just the way the NFL works these days.
With home teams going 4-0 in this weekend's Divisional round, the power of the bye is all the more evident. In the past 10 seasons, Divisional-round home teams are now a gaudy 30-10 (.750), never once registering a losing record for the weekend during that span.
For the most part, the domination by the four favorites was workmanlike in the Divisional round:
— In the early Saturday game, the AFC's No. 1-seeded Chiefs jumped out to 24-7 halftime lead against the Cinderella Colts and won 31-13, garnering their first home playoff win in 25 years and ending a ghastly six-game home playoff losing streak.
— In the Saturday-night NFC showdown, the second-seeded Rams led Dallas 20-7 at the the half, and won 30-22, the franchise's first playoff win in the Los Angeles area playoff since 1985.
— Sunday afternoon in AFC action, in their most complete game of the season, the No. 2 Patriots cruised to a 35-7 halftime lead over the Chargers and won.… as usual. It means New England will make a mind-boggling eighth consecutive trip to the AFC Championship game, and 13th overall in the Brady-Belichick era. If they win next week at Kansas City, the Patriots will play in their ninth Super Bowl from 2001 on. Rinse, repeat.
— And capping the weekend with by far the most competitive game of the four, the NFC's top-seeded Saints crushed the repeat dreams of the defending champion Eagles, winning 20-14 in a game Philadelphia led by two touchdowns after its first two possessions. It was the largest comeback in Saints playoff history.
The average score of the four Divisional games? With home teams out-pointing their opponents 122-77, it works out to 31-19 score per game, and underlines again how much the top four teams have the advantage by being at home, coming off a week with no game. The Colts, Cowboys, Chargers and Eagles all turned in strong performances last week, with three of those clubs winning on the road. But they couldn't repeat their magic for a second straight away game. That's why the top two seeds are so coveted.
Counting this season, every year since 2013 the Super Bowl matchup will be between teams that didn't have to mess with the first round. Even more dramatic, nine of the past 10 teams to reach the Super Bowl have been No. 1 seeds, with the lone exception being the No. 2 seeded Falcons in 2016. Baltimore in 2012 remains the last team to reach the Super Bowl despite having to play in the first round.
The Chiefs, Patriots, Saints and Rams have been out front for most of the season, and they remain that way as the playoff field now winnows to four. The last three wild-card teams were all dismissed this weekend, with the Colts, Chargers and Eagles finding the route too difficult to continue. Maybe they weren't pretenders exactly, but they didn't have what it takes to go further either. That's why the Divisional round is different. Home teams are set up to dominate, and often do. After all, they are the best teams for a reason, and this year they proved it again by advancing.
* Yep, the Patriots dynasty sure looks to be on its last legs. The Chargers were given a great shot by many to win in Gillette, and it wasn't even remotely in doubt from midway through the second quarter on. New England scored touchdowns on its first four drives, becoming the first team in 15 years to turn that trick in the playoffs, since the 2003 Colts accomplished it in the first round against visiting Denver. The 41-28 final score of the Patriots' win is as misleading as they come. This was a thorough butt-kicking that left a mark.
When will we ever learn? New England might have lost back-to-back road games in December, prompting another round of declarations that the end is nigh, but here they are again. Back in the NFL's final four and playing their best when it counts the most.
True, New England on the road this season (3-5) has been pretty vastly different from the Patriots at home (9-0). But the Patriots totally out-classed a Chargers team that many considered their match. Los Angeles hadn't lost a game outside of Southern California all season, and had won in five different time zones, including London's.
No matter. The Patriots got 129 yards rushing and three touchdowns from the talented Sony Michel, 15 catches for 97 yards from ever-useful running back James White, and nine receptions for 151 yards from a ultra-determined Julian Edelman, picking the Chargers defense apart piece by piece. That's New England for you, coming up with an offensive approach that perfectly fits the opponent and matchup in front of them, regardless of what they have done in the past or what they do particularly well. Running 34 times and throwing the ball 44 times was the ratio the Patriots deemed best against the Chargers, so balance was the theme of the day.
"They ran the ball when they wanted to run and they passed the ball when they wanted to pass,'' said Chargers rookie safety Derwin James, according to NFL.com.
Sorry, Patriots haters. We know you've got New England fatigue, but this team isn't done. Everyone else in the AFC except Kansas City is, however, at least for this season. December might have revealed some New England vulnerabilities. But it's January now. And the Patriots know how to navigate the first month of the new year.
"You know, everyone thinks we suck," Brady said in the post-game to CBS sideline reporter, Tracy Wolfson. "You know, can't win any games. So we'll see. It'll be fun.''
A Patriots-Chiefs showdown with a trip to the Super Bowl on the line in a rematch of New England's 43-40 win in Foxboro in Week 6? Sounds like fun might be an understatement.
* What the heck, we're down to four potential Super Bowl matchups, so let's rank their potential in order of sizzle and storylines:
1. Chiefs-Rams — A rematch of that epic 54-51 Monday night score-fest in Week 11 at the Los Angeles Coliseum (which was supposed to be played in Mexico City's Azteca Stadium, but had to be moved due to un-playable field conditions). What's the record for the highest over-under in Super Bowl history?
2. Patriots-Saints — Tom Brady and Drew Brees at quarterback. Sean Payton and Bill Belichick matching wits on the sideline. Yeah, that'll work.
3. Saints-Chiefs — The two top seeds, whose offenses are state of the art, and defenses are better than they're given credit for. Especially the Saints, but how can you slight Kansas City's after its shutdown of the Colts on Saturday?
4. Rams-Patriots — Can you imagine this Boston-Los Angeles pairing being only the fourth-best matchup (cue the "Beat L.A.'' chant one more time in New England)? The Bill Belichick-Sean McVay coaching contrast would be fascinating in and of itself. But Brady versus Jared Goff, just a couple California quarterbacks from the Bay area, would be make for great theater as well.
* The Saints are thought of as a quick-strike offense, but instead it was one long, painstaking third-quarter go-ahead drive that wound up deciding the game against the Eagles. And what a thing of beauty it was: 18 plays, 92 yards, taking a massive 11:29 of game clock. A pair of penalties set the Saints back, but they persevered and wound up scoring on a touchdown pass to, who else, Michael Thomas, putting New Orleans up for good at 17-14 late in the third quarter.
The Saints showed me something by not panicking in the least after Philadelphia grabbed a 14-0 lead, scoring on its first two possessions of the game. New Orleans could have felt its charmed season slipping away at that point, but the Saints defense instead asserted itself, keeping the Eagles off the board on their next seven possessions.
* So Nick Foles' magic-carpet ride finally ended, through no real fault of his own, however. He might have led the Eagles to the go-ahead touchdown and the win if Philadelphia receiver Alshon Jeffery hadn't let that Foles pass slip through his hands and be intercepted by Saints cornerback Marshon Lattimore with 1:52 left to play and the Eagles down 20-14. It was Lattimore's second pick of the game and saved the day when it looked like Wil Lutz's missed 52-yard field goal on the previous New Orleans drive might prove fatal.
One more playoff win and I believe Philadelphia would have had a real problem on its hands at quarterback. If Foles had taken the Eagles back to the NFC title game, how could the team realistically let him go this offseason and turn the reins back over to the twice-injured Carson Wentz? In a strange sense, perhaps Sunday's defeat saved the Eagles from having to cross that bridge. We shall see what Philadelphia does with Foles' $20 million option in March.
* That was one gutsy call the Saints made, pulling off a fake punt on fourth-and-1 in their own territory in the second quarter, trailing 14-0. If special teams dynamo Taysom Hill doesn't burrow for a first down, things could have gotten out of hand in the Superdome very quickly.
But the smartest move the Saints made all game? That was throwing the ball in the direction of All-Pro receiver Michael Thomas every chance they got. Thomas was unstoppable for most of the day, catching 12 passes for a club playoff-record 171 yards and a touchdown. The Saints are advancing to their first NFC title game since 2009 because of that Drew Brees-to-Thomas connection.
* Give the Chargers credit for their seven-defensive-back defensive alignment last week at Baltimore. But nothing Los Angeles defensive coordinator Gus Bradley tried really worked Sunday at Gillette. The Patriots early on screen-passed the Chargers to death, exploiting their dime-package, zone-defense approach, by one count calling 27 screens or shovel passes in the game's first 20 minutes.
Glitzy road record this season season or not, Los Angeles simply didn't look ready for the big-game atmosphere in New England. The Bolts play hesitantly at times and had no answers as Tom Brady picked them apart underneath, feeding Julian Edelman and James White with a steady stream of passes that kept the Chargers back-pedaling all game.
Belichick's 40th career playoff game looked a lot like many of his others — a comfortable win in which he coached circles around his opponent on the other sideline.
* Not bad, having three Super Bowl coaches working in the league's conference title games next weekend. New England's Bill Belichick, New Orleans' Sean Payton and Kansas City's Andy Reid have all led a team to the NFL's biggest game.
Belichick, Payton and Reid have combined for 10 Super Bowl trips and 38 playoff trips represented, with Belichick logging eight of those Super Bowls to go with one each for Payton and Reid.
* And while we're at it, the quarterback field in the final four has plenty of star-power, too. Tom Brady, Drew Brees, Patrick Mahomes and Jared Goff give us a Super Bowl-winning veteran versus emerging-star angle in both games.
And if Brady should advance to his ninth Super Bowl with a win in Kansas City, it'll mean that he, Peyton Manning and Ben Roethlisberger have represented the AFC in the Super Bowl in a whopping 15 of the past 16 seasons. Only Baltimore's Joe Flacco interrupted the streak in 2012.
* Didn't it feel like that Philip Rivers to an all-alone Keenan Allen first-quarter 43-yard touchdown bomb was the only real Chargers highlight of the game? It was 35-7 at the half after Desmond King muffed a punt return late in second quarter, and you saw the Chargers' will starting to slip away. Sure, they scored 21 points in the second half, but the game was never close and never in doubt. The Chargers ran 23 plays in the first half, while New England was amassing 24 first downs.
Anthony Lynn's an impressive first-time head coach, and his steady hand and calm presence has served his team very well these past two years, with 22 victories and only 12 defeats to show for it over that span. Los Angeles has great young talent, especially on defense, and should be back in the playoff hunt again next year.
But what of Rivers, who's headed for birthday 38 and still has never been on a Super Bowl team? He's still playing at a high level, but will the pieces ever fall together for perhaps the league's best quarterback who has never won anything of great significance? Rivers didn't play badly against the Patriots, with 335 yards passing, three touchdown and one interception, but his team didn't come close to winning, dropping his career playoff record to a so-so 5-6.
The Chargers tied Kansas City for the AFC's best mark at 12-4 this season and it was perhaps Rivers' best shot to take advantage of New England's lack of dominance and at least play for another shot of making the Super Bowl. But it was not to be, and now, in a division that might be owned by Patrick Mahomes and the Chiefs for the foreseeable future, Rivers must again wait his turn for another opportunity.
* Nobody was under more pressure this weekend than the two head coaches who won on Saturday. And they both delivered. After earning a third consecutive AFC West title, and a fifth playoff berth in his six Kansas City seasons, there's no way Andy Reid could afford another swift postseason exit and the squandering of home-field advantage.
Not after losing by a single point at home to Tennessee in the first round last year, blowing an 18-point halftime lead. Not after falling by two points at home to Pittsburgh in the 2016 Divisional round, wasting the AFC's No. 2 seed. Not after seeing his Chiefs impossibly cough up a 28-point third-quarter lead at Indianapolis in 2013's first round, getting out-scored 35-6 in the game's final 26-plus minutes.
Reid has been a superb regular-season coach for 20 seasons now, but it's time he shows his chops in the playoffs, too, and this may be his best team ever. He certainly has the best quarterback he's worked with as a head coach in Patrick Mahomes, who is the difference-maker the Chiefs have rarely had at the game's most pivotal position. Give Reid his due on this front: His teams are now 21-4 all-time when coming off a bye week. That extra week showed up big time for the Chiefs, who looked fresh while the Colts wilted.
As for the Rams' Sean McVay, though his head coaching career has just begun, he was desperate for a dose of playoff success as well. His Rams won the NFC West in back-to-back seasons for the first time since 1978-79, and another one-and-done postseason showing at home would have been galling for the innovative and creative offensive-minded coach who every team looking for a new coach seemingly wants to clone.
The Rams franchise hadn't won a playoff game since 2004, while still in St. Louis, and the last L.A. Rams postseason win came way back in 1989, when John Robinson's club got hot and beat Philadelphia and the Giants on the road in the first two rounds of the NFC playoffs. The Rams most recent playoff win in the Los Angeles area (actually Anaheim) before Saturday was 1985, also against Dallas, and the franchise is returning to the NFC title game for the first time since 2001.
* Next Sunday in Kansas City will be a very big deal. History-making even. Think about this: The Chiefs have never played host to a championship game in which the winner went to the Super Bowl. In 1993, with Joe Montana at quarterback, Kansas City lost at Buffalo in the AFC title game. In 1969, when the Chiefs won the last AFL title, they upset the Raiders in Oakland, before beating the Vikings in Super Bowl IV. And in 1966, when Kansas City earned its way in to Super Bowl I, the Chiefs won the AFL championship in Buffalo, in a rout of the Bills.
For a franchise that has been playing pro football for 59 seasons, all but the first six of them in the Super Bowl era, that's a remarkable streak that's finally and thankfully coming to an end with the AFC Championship game at Arrowhead Stadium. Andy Reid will take his career 1-4 mark in conference championship games (all with Philadelphia) into the showdown against the Patriots.
* I really can't decide what was more impressive, the Rams getting 123 yards rushing and a pair of touchdowns from recent street free-agent running back C.J. Anderson, or Dallas having its star running back Ezekiel Elliott bottled up and held to just 47 yards rushing on 20 carries by a stout Los Angeles defense? After gouging Seattle for 164 yards on the ground last week at home in a first-round win, the Cowboys never remotely got their running game going against a determined Rams defensive front, finishing with a paltry 50 yards on 22 attempts.
But that Rams ground attack put the lie to the idea that McVay's club features a pass-happy offense. Los Angeles rolled up a franchise playoff-record 273 rushing yards — 200 more than Dallas gave up to Seattle's great running game last week — and became the first team to have a pair of running backs to top 100 yards rushing in the same playoff game since Denver managed it in 1997. Todd Gurley ran for 115 yards and a touchdown on 16 carries against the shell-shocked Cowboys defense.
What a find Anderson has been for the Rams, who signed him in mid-December with Gurley dealing with knee issues. Released by the Broncos, Panthers and Raiders at various points in 2018, Anderson has been the Rams' best weapon in their past three games. He ripped through the Cardinals and 49ers defenses in L.A.'s last two regular-season games for 299 yards rushing and two touchdowns (7.0 average), and it was obvious how much McVay trusted him against Dallas, calling his number on the game-deciding 1-yard touchdown plunge on fourth down with a little more than seven minutes remaining.
Phillip Lindsay made Anderson expendable in Denver, and Christian McCaffrey did the same in Carolina. As for the Raiders, who know why they didn't need him? But the Rams are sure glad he was sitting home and available, and you get the feeling we are going to see plenty more of Anderson in next week's NFC title game.
* Speaking of unsung running backs who have ended up starring in the postseason, Kansas City's Damien Williams is making everyone who predicted the demise of the Chiefs running game look silly in the wake of Kareem Hunt's December release.
Williams was money against the Colts, gashing Indianapolis's previously-stout defense for 129 yards rushing and a touchdown on 25 carries, and adding 25 more yards on five receptions. Three times the Chiefs gave the ball to Williams on fourth and short, and three times Williams moved the sticks. Kansas City had 12 rushing first downs (29 overall) and ran 33 times for 180 yards against the Colts, averaging a very workable 5.5 per carry.
It was the Chiefs running game that provided the offensive backbone of Kansas City's win, even more than Patrick Mahomes' performance. Mahomes was good, throwing for 278 yards on 27 of 41 passing in the cold. But he was held without a touchdown pass for just the second time this season, and the running game provided him with a scarcity of third-and-long situations.,
* Anybody else wondering where that Ndamukong Suh has been all season in Los Angeles? It's amazing how dominant he can still look when he's motivated and into his work. Suh had a stellar night, and it was his penetration that helped the Rams stuff Cowboys Ezekiel Elliott on fourth and 1 early in the fourth quarter, which was the key defensive play in the game.
Overall Suh registered four tackles, with two quarterback hits and a tackle for loss, and he likely NFL Defensive Player of the Year, Aaron Donald, wrecked some serious havoc against Dallas from the middle of the Rams defensive line. In Suh's case, it was better late than never and at least partially made his one-year, $14 million contract seem worth the investment.
* What a ridiculous and embarrassingly bad in-the-grasp call that went against Dallas in its loss to the Rams. Referee John Parry made the erroneous decision to blow a play dead late in the first half, even though Cowboys quarterback Dak Prescott was in the grasp of his own offensive lineman, La'el Collins, not a Rams tackler.
"From my view the quarterback's progress had stopped moving forward," Parry told the pool reporter in the post-game. "There were hands around him and another defender was coming, so we went in the grasp to protect the quarterback."
Parry said he stopped the play because Prescott was no longer moving forward. How about just admitting you thought the guy with his arms around Prescott was a Rams defender, not a Cowboys lineman, who appeared to trying to make sure his quarterback stayed upright? The play stopped a Dallas drive, and it was not a good look for a league that has had more than its share of bad officiating this season.
* Saturday's disappointing results aside, the Colts (11-7) were a dangerous No. 6 seed who was basically playing with house money in just reaching the second round of the playoffs. From a 1-5 start to the season to winning 10 of 11 and taking part in the AFC Divisional round is a heck of an accomplishment, and the young Colts will be back in the playoff contention mix against next season, that seems a safe bet.
Indianapolis found out a lot of things this season: Frank Reich can really coach and has a great feel for how to inspire an NFL locker room. Andrew Luck is still an elite quarterback. And 2018 rookies Quenton Nelson, the guard, and Darius Leonard, the linebacker, are cornerstone players who earned first-team All-Pro honors and could be cogs for the next 10 years in Indy.
* As for the Cowboys, the pattern of being good but never great goes on to a large degree. Dallas has had sporadic success in the Jason Garrett coaching era, but it is never sustained. Garrett's playoff record is 2-3 after the loss, and the Cowboys still haven't won multiple playoff games in the same season, or reached a conference title game since 1995, their most recent Super Bowl year.
A little bit of winning always seems to inspire an overreaction in Dallas, and if the news that the Cowboys plan on extending Garrett's contract is accurate, you have your latest example of how low the bar is set for Jerry Jones' team. Making the playoffs is great, but you have to make your run at some point, and it's been a 23-year waiting game on that front in Dallas.
Garrett seems like a good man, and a pretty mediocre coach.
* Cody Parkey is the NFL's current poster child for the razor's edge existence that a kicker lives, but the Bears' double-doink specialist probably appreciated the 46-year-old Adam Vinatieri taking a little bit of the spotlight off him. You knew it wasn't going to be the Colts' day/night in Kansas City when Vinatieri somehow missed a 23-yard field goal, clanging it off the left upright, and later blew an extra point attempt. The 23-yarder was the shortest field goal miss of his career, and the failed extra point was his first in 70 playoff attempts.
Both misses robbed Indianapolis of some much-needed momentum and gave a lift to the Chiefs, who led the game from wire to wire. It was only the seventh time in Vinatieri's record-breaking 23-year NFL career that he missed a field goal from inside of 30 yards.
Hands down the internet-winning reaction to Vinatieri's stunning failure on the chip-shot field goal was Charles Woodson's tweet: "Now he misses in the snow,'' typed the former Raiders defensive back, referencing Oakland's bitter loss to the Patriots in the snow in the 2001 playoffs.
* Hey, look, the Chiefs just made the Colts jump offsides again. Even hours and hours after the game ended.
I'm not sure I've ever seen a quarterback play the tricky cadence game better than Mahomes did against Indianapolis, with the over-eager Colts incurring five flags for jumping. I'd be surprised if Mahomes can fool New England's defense anywhere near as often or as well. But I'll bet the guy they say sounds like Kermit the Frog will sure try.
Ridiculously Cool Football Card of the Week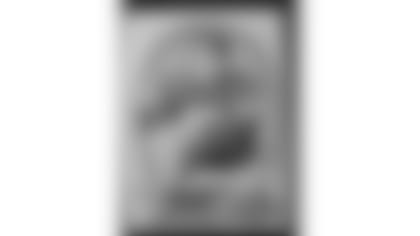 Watching the Chiefs' much-maligned defense rise up and stuff the Colts Saturday night in Arrowhead reminded me that once upon a time, Kansas City had one of the most feared defenses in pro football. The Chiefs defense in the late '60s and early '70s was studded with future Hall of Famers like defensive tackles Buck Buchanan and Curley Culp, linebackers Willie Lanier and Bobby Bell, and cornerback Emmitt Thomas. And early next month, there will likely be a sixth member of that Kansas City defense elected to the Hall: Safety Johnny Robinson, shown here on his 1970 Topps card.
Robinson was a versatile and valuable member of a Chiefs team that played in two of the first four Super Bowls, winning Super Bowl IV in New Orleans against Minnesota in January 1970. Robinson last August was selected as this year's sole Seniors Finalist by the Hall of Fame's Senior's Committee, making his election by the Hall's full voting body all but assured. Robinson was an original Dallas Texan and moved with the franchise to Kansas City in 1963, where he played with the Chiefs until retiring after the 1971 season. Can you imagine, six Hall of Fame players on the same defense? Years ago, Chiefs quarterback Len Dawson told me Robinson — his roommate for road trips — was the smartest player on Kansas City's roster, and had convinced him during Super Bowl week the Chiefs defense was going to dominate Minnesota's offense in Super Bowl IV, which it did, winning 23-7.