Musings, observations and the occasional insight from a thrill-a-minute Week 11 in the NFL that featured lead changes galore….
* Let's hold off on that Jason Garrett is done in Dallas talk for now. Nobody who played Sunday afternoon in Week 11 won a bigger reprieve than Garrett and his up-and-down Cowboys, who might just be in the driver's seat to win the NFC East at this point.
On a day in which plenty of the results around the league didn't make much sense, Dallas finally found a way to show some consistency at long last, winning 22-19 at Atlanta to forge its first two-game winning streak of the season. Two consecutive road wins at that, with last Sunday night's conquest at Philadelphia becoming even more important to the Cowboys now that they've followed up with another victory over an NFC wild-card hopeful.
Dallas, which hasn't been over .500 all season, is suddenly in pretty good shape at 5-5 in the NFC East and a schedule that keeps them home until mid-December. With first-place Washington (6-4) losing 23-21 at home to Houston, just after losing starting quarterback Alex Smith to a gruesome, season-ending broken right leg, the division now feels more up for grabs than ever. Philadelphia did its part to help the Cowboys, continuing its underachieving season later in the day, falling 48-7 at New Orleans to drop to 4-6 and on the verge of playoff-race irrelevance.
When assessing Dallas's final six games, consider the following:
— The Cowboys play at home four times in the next six weeks, where they are 3-1 so far this season.
— Dallas starts a three-game homestand on Thanksgiving Day when Washington visits and starts backup Colt McCoy in place of the injured Smith. A short-week division road game with a new quarterback is a daunting combination for an opponent to contend with.
— The Cowboys then get a Thursday-night visit from the Saints in Week 13, and the rematch with the Eagles at Jerry World in Week 14. Tough games, to be sure, but the opportunity is there for Garrett's guys to seize command of the NFC East and make its theirs.
— Dallas ends their schedule with games at Indianapolis, home against Tampa Bay and at the Giants, and two of those should be wins if the Cowboys show up with their "A'' game. The way I add it up, Dallas should be at least 9-7 with that schedule, and I'm expecting that to be good enough to get the job done in this year's so-so NFC East.
Wouldn't you rather be Dallas than Washington about now? I would. If the Cowboys can stay hot and keep winning, Garrett's club will be in position to claim its second division title in three years, and third in five years. With or without a playoff win, Garrett's job just might be safe once again, given his proven ability of having nine lives in the job, and owner Jerry Jones' well-known reticence to send him packing.
If it unfolds that way, remember the pivotal win in Week 11 in Atlanta. The Cowboys didn't play their best game by any stretch, but they rode Ezekiel Elliott (201 yards from scrimmage) and a bend-but-don't-break defense to a narrow upset of the Falcons, and that may be the win that gives Dallas an unexpectedly clear path to the playoffs.
* As for the Falcons, they're toast at 4-6, having now dropped back-to-back games to Cleveland and Dallas, teams that entered play against Atlanta with losing records. The Falcons allowed two fourth-quarter touchdowns to the Cowboys, after the first three quarters featured only an exchange of field goals.
Though Atlanta rallied to a 19-19 tie in the final two minutes on a pretty 34-yard touchdown reception by Julio Jones, the Falcons' dreams of becoming the first team to host the Super Bowl on its own home field is all but officially over. Atlanta scored just that one touchdown against the Cowboys, setting for four Matt Bryant field goals when the game was there for the taking.
Key defensive injuries early in the season obviously hurt the Falcons' chances this year, and their string of agonizingly close losses displayed an inability to put teams away. I wouldn't expect coach Dan Quinn's job to be in jeopardy at the end of this season, but it wouldn't completely shock me either if Atlanta opted for change, given the trend line isn't heading in the right direction. After a Super Bowl run and that blown 28-3 lead against the Patriots in the 2016 season, Atlanta went 10-6 as a wild-card team and won one postseason game last year. No playoffs in 2018 could leave Quinn vulnerable, especially if a long losing streak now ensues.
* Dallas isn't the only Texas-based NFL team that is feeling really good about itself in mid-November. How 'bout those Texans! Houston won its seventh in a row, surviving at Washington 23-21 when kicker Dustin Hopkins was way short on a desperation 63-yard field goal attempt with three seconds remaining.
According to Elias, Houston is only the second team in league history to string together seven wins in a row after starting the season 0-3, matching the 1925 New York Giants, in what I believe was Eli Manning's rookie season. (I kid Eli, because he can take it.)
But at 0-3, the thought of holding a two-game lead in the AFC South over both Indianapolis and Tennessee (each 5-5) after Week 11 would have been preposterous on its face. But somehow it has happened for Bill O'Brien's under-the-radar club, and merely winning the division should now only be part of the Texans' goal. Houston has the same record as the No. 3 seeded Patriots, although New England holds the head-to-head tiebreaker thanks to its Week 1 win in Foxboro. Picking up another game on the Patriots and perhaps challenging for a first-round bye is both realistic and within reach for Houston.
The Texans offense sputtered, scoring just one touchdown at FedEx Field, but rookie safety Justin Reid turned in the play of the day, intercepting Alex Smith in the Houston end zone and returning it 101 yards for a touchdown to make it 17-7 late in the first half. Teams facing the Texans defense had scored on a mind-boggling 44 red-zone possessions in a row before Reid's game-changing pick-6.
Like Dallas, Houston now has a three-game home-stand to look forward to, and plays four its final six games at Reliant Stadium. None of the Texans' final six opponents currently have a winning record, with the key games being home dates with Tennessee in Week 12 (on Monday night), and Indianapolis in Week 14.
* It's almost eerie that Smith's ghastly broken right fibula and tibia occurred 33 years to the day former Washington quarterback Joe Theismann suffered a very similar injury after being hit by Giants pass rusher Lawrence Taylor on Monday Night Football. Theismann was even in the house Sunday to see Smith's season-ending and perhaps career-threatening injury first hand.
Washington backup Colt McCoy entered in the third quarter and played admirably in relief of Smith, leading his team to two long touchdown drives and finishing 6 of 12 passing for 54 yards and a scoring pass. Jay Gruden's team isn't doomed with McCoy under center, but it might need to go out and find a veteran backup behind McCoy, with ex-Cardinals starter Sam Bradford being one obvious candidate.
Washington finally played a game that involved a lead change for the first time all season, but it wasn't on the right side of the scoreboard when things ended, and challenging division road games at Dallas and Philadelphia loom in Weeks 12-13.
* For quite a while there it looked like the Patriots were in for a very good Sunday, despite being on their bye this weekend. Pittsburgh was losing at Jacksonville, Tennessee was going down in flames at Indianapolis, while Houston was going back and forth with Washington and Cincinnati and Baltimore were slugging it out.
But in the end, the results were mixed in terms of the AFC playoff contenders, largely because Pittsburgh rallied to win 20-16 and end any playoff hopes the Jaguars might have still harbored. That's about as bad as the Steelers (7-2-1) can play, and they still found a way to climb out of a 16-0 hole against the Jaguars and claim their sixth game in a row. Two touchdowns in the final 2:28 saved the day for Pittsburgh, including Ben Roethlisberger just barely breaking the plane of the goal line on an in-artful but effective 1-yard touchdown run with five seconds remaining.
Rookie running back James Conner didn't exactly distinguish himself in the first game of the Steelers' post-Le'Veon Bell era, dropping what would have likely been the game-winning touchdown reception in the final seconds. I'm not sure what happened to the Pittsburgh team that dismantled Carolina with that 52-point explosion a week ago Thursday night, but it clearly did not make the trip south to Jacksonville.
And we can say it definitively now: the Jaguars (3-7) were frauds as Super Bowl contenders this season, and lost whatever mojo worked for them last season and in September, when they started 3-1 and already owned a win over New England. It's going to be an interesting and probably eventual offseason in Jacksonville, when Jags football czar Tom Coughlin does the autopsy on what went wrong with Doug Marrone's talented but flawed team.
* Week to week in the NFL it's almost impossible to make judgments (snap, or otherwise) that have much staying power. To wit: The Patriots beat the Colts 38-24 in Week 5 in Foxboro. But then the Titans crushed New England 34-10 in Week 10 in Nashville, just before the Colts laid a 38-10 butt-whipping on Tennessee on Sunday in Indianapolis.
We know this much, Frank Reich is getting the job done and then some as the rookie head coach of the Colts (5-5). Indianapolis has won four in a row after sinking to 1-5, and Andrew Luck is back in MVP-level form, producing his seventh consecutive game with at least three touchdown passes in the rout of the Titans.
How did I ever pick Tennessee to beat Indianapolis, given that Luck is now 10-0 in his career when he starts against the Titans? Luck was a gaudy 23 of 29 for 297 yards and those three touchdown strikes before taking a seat in favor of backup Jacoby Brissett with the outcome decided in the fourth quarter.
The Colts again didn't surrender a sack, making it five straight games in that impressive department. Certainly it hurt Tennessee's chances when defensive coordinator Dean Pees left Lucas Oil Stadium to receive medical attention at a local hospital, but it was still hard to fathom this was the same Titans team that ran over the Patriots at will last Sunday.
It was a lost day all around for Tennessee (5-5), which saw starting quarterback Marcus Mariota leave the game late in the first half with another elbow injury. Mariota had just started looking fully healthy and his dangerous self last week against New England, after an elbow injury suffered in a Week 1 loss at Miami. And now this, which further complicates the Titans' chances in the AFC playoff race, and might wind up having the effect of boosting the Colts' hopes.
Not that Indianapolis hasn't done most of the heavy lifting itself on that front. The AFC has a clump of 5-5 teams in the Colts, Ravens, Bengals, Dolphins and Titans, but Indianapolis looks to be the best of that bunch at the moment.
* Speaking of Baltimore, John Harbaugh's club isn't dead yet. The Ravens are currently clinging to the No. 7 seed in the AFC, after holding on for dear life to beat the visiting Bengals 24-21 in rookie quarterback Lamar Jackson's first career start.
Jackson was a fun watch. He rushed for 117 yards on 27 carries — setting a new Ravens rush yardage record for a quarterback — and was an efficient 13 of 19 for 150 yards passing, with one glaring interception. In short, he offered the dual-threat capability he's known for, helping Baltimore win a game that both saved its season and snapped a three-game skid.
The Bengals entered with a defense ranked dead last in the NFL in yardage allowed, but Jackson still had to make the plays and he did, especially after Cincinnati built a 21-13 lead in the third quarter. The Ravens responded with two straight scoring drives, producing 11 points to re-take the lead in the fourth quarter.
Did newly hired do-it-all-coach Hue Jackson make a difference for the Bengals defense? I suppose you could make that case, but Cincinnati still lost, and some might say he brought a little of his Cleveland touch with him when he relocated once again in Ohio.
* So another coach got gutsy and went for a two-point conversion and the win late in regulation rather than play for overtime — and another coach lost. Carolina's Ron Rivera opted for his "Riverboat Ron'' persona on Sunday in Detroit, but Cam Newton overthrew wide-open Panthers receiver Jarius Wright on the two-point attempt and the Lions held on to win 20-19 and snap a three-game losing streak.
I get it, to a degree, but I still don't like Rivera's call, which would have worked if Newton executed. The Panthers had the momentum, and were on the road, and kicker Graham Gano had been beyond shaky, missing both an extra point and a 30-yard field goal earlier in the game. But with 1:07 still to play in regulation, plus overtime, I don't let the entire game ride on the outcome of one play. Especially when it's vital to stay within two games of first-place New Orleans in the NFC South, with two games remaining against the Saints.
Like Tennessee coach Mike Vrabel against the Chargers earlier this season in London, and University of Maryland interim coach Matt Canada against Ohio State on Saturday, Rivera's gamble might have been sound from analytical standpoint, but when it doesn't work, it only heightens the sense of the near-miss defeat.
The Panthers are 6-4 now, three games behind New Orleans, and have lost consecutive games for the first time this season. And this one won't be so easy to brush off, like the 52-21 pasting they took in Pittsburgh in Week 10, which had the feel of an aberration. Carolina should have been able to handle the last-place Lions (4-6), and led 7-0 early on. Next comes what feels like a must-win home game against Seattle in Week 12, and then two more road games, at Tampa Bay and Cleveland. Let's see if Rivera's bold call grows in significance as the season continues to unfold in Charlotte.
* Sure, why not, back to Jameis Winston it goes at quarterback in Tampa Bay. Does it really matter at this point? Both Ryan Fitzpatrick and Winston have played their out of the starting job this season, with Fitzpatrick making it a repeat performance. His three-interception showing in the Bucs' 38-35 road loss to the Giants re-opened the door for Winston, who took the opportunity and ran with it, completing 12 of 16 passes for 199 yards and two touchdowns in his relief outing.
The Bucs seem to always make it close, but find a way to fall just short. Close but no (victory) cigar should be the title of their 2018 highlight film. In the Giants' best game of the season by far, New York never trailed and alway had an answer whenever Tampa Bay put any pressure on it.
Though they're costing themselves top-five draft position in 2019 by winning their second in a row, the Giants have to be happy to see Saquon Barkley looking like the game-changer they drafted at No. 2 overall (a career-best 142 rushing yards, three touchdowns). And Eli Manning had another strong game as well, helping New York amass 359 yards of offense without a turnover.
And just like that, the once-hapless Giants have their first two-game winning streak since December 2016, when rookie coach Ben McAdoo was still hailed as a savior and the team's infamous boat party in South Florida hadn't even taken place yet.
* As expected, the Eagles were no match for the Saints, but honestly, who would be about now? Go ahead, I'll wait…. New Orleans is in a league of its own in recent weeks, scoring a franchise-record 144 points over the course of the past three games. This team is scary good, and now it has another weapon in rookie receiver Tre'Quan Smith, who caught 10 passes for 157 yards and one of Drew Brees' four touchdown passes.
The Saints beat the visiting Eagles 48-7, and it really wasn't that close. New Orleans dominated Cincinnati 51-14 on the road last week, and handled the Rams 45-35 in Week 9. Every week produces a new, even loftier standard to live up to, and I'd put the Saints' 9-1 record up against the 9-1 marks of both Kansas City and the Rams and confidently predict Sean Payton's red-hot club would be favored against either of them.
With Carolina's loss, there's nobody catching the Saints in the NFC South, and you can probably say the same thing about the race for the NFC's top seed. It ain't over, but it feels over. Brees has a ridiculous 25 touchdown passes and one interception this season, and the Eagles defense was totally outmatched against the Saints unstoppable offense.
The weekly humblings continue in Philadelphia (4-6), which now has lost twice as many games as it did all last season en route to a franchise-first Super Bowl victory. Given the state of the NFC East, the Eagles still have plenty to play for, trailing first-place Washington by two games and second-place Dallas by one game. But reality demands acknowledging Philadelphia is also just one game ahead of the last-place Giants, and New York has been playing better than the Eagles of late.
In Philly, last year's dream season has given way to this year's nightmare.
* Well that ought to cool off any talk about Philip Rivers being a legit MVP candidate. The Chargers veteran quarterback made a very rookie-like mistake that helped Denver upset the Chargers 23-22 in Carson on Sunday. The loss snapped Los Angeles' six-game winning streak and reminded us that the Chargers (7-3) can still find a way to snatch defeat from the jaws of victory.
Rivers inexplicably threw the ball away on a third down at the Denver 48, despite the Broncos being out of timeouts and inside the two-minute warning. The play ate just two seconds of clock time, and Denver, trailing 22-20, thus had the necessary time to drive to the Chargers 16 and have kicker Brandon McManus convert the game-winning 34-yard field goal as time expired.
Mix in a critical failed extra point try by Los Angeles kicker Mike Badgley in the second half and it was like a flashback to horrible Chargers losses of yesteryear. Denver had dropped six of seven coming into Week 11, but somehow escaped with a road win to improve to 4-6. Los Angeles scored only 22 points despite gaining 479 yards of offense, kicking three field goals when touchdowns would have put the Broncos away.
Leave it to the Chargers to finally get pass-rusher Joey Bosa on the field for the first time, then ruin that happy headline with a devastating last-second loss.
* Oh, you exasperating Raiders. Even in the rare instances when you win, naturally you lose. Oakland might have cost itself mightily with its 23-21 win at Arizona, which was decided on a 35-yard Daniel Carlson field goal at the gun. The Raiders were in line for the No. 1 pick in next year's draft, but now at 2-8 are tied with both the Cardinals and 49ers.
This battle of bottom-feeders held little appeal beyond diehard fans, but people will be talking about the first-half sideline argument Raiders coach Jon Gruden and quarterback Derek Carr got into it after Gruden took exception with some of Carr's game management decisions. Maybe the win will smooth that over, but I still think Carr and Gruden are a bad match temperamentally and will prove combustible in time, if that's not where things are already.
* It looks pretty unlikely coach Mike McCarthy will keep his job in Green Bay and the Packers' 27-24 loss at Seattle Thursday night was the kind of missed opportunity he and his struggling 4-5-1 team could least afford. Punting on that 4th and 2 when Green Bay trailed by three points with four-plus minutes to play — and never getting the ball back in Aaron Rodgers' hands — felt like a potential nail in the coffin for McCarthy. The sub-plot of McCarthy and Rodgers having tension between them over the play-calling only adds to the sense that an era is close to ending in Green Bay.
I'm not going to argue that a coaching change isn't needed for the Packers, because I think it is, barring another miraculous late-season running of the table that delivers a playoff berth and then some success in January. But I'm also not part of the crowd that thinks McCarthy has been holding Green Bay back for years and suddenly lost his ability to coach winning football.
More than anything, it's once again a matter of the shelf life of an NFL coach. It's very difficult to stay ahead of the curve and fresh in the job when you've been in one program as long as McCarthy's 13 seasons. Even if you've won, as McCarthy has, remaining at the status quo creates frustration in the NFL, and that frustration builds until change is the only answer. The Packers have been very, very good under McCarthy, but rarely great. And that can become a problem for any coach, no matter how good they have been. Roughly the same dynamic is at work in Baltimore where John Harbaugh looks endangered in this, his 11th season on the job. Time is rarely defeated in this type of instance.
Both McCarthy and Harbaugh won Super Bowls, but none lately. And the luster of those rings have long since faded for those in Green Bay and Baltimore. I've noted it before, but the Packers are basically the NFL's version the 1990s-2000s Atlanta Braves, a perennial playoff club that didn't earn enough hardware and failed to take full advantage of their championship window. It doesn't mean they didn't accomplish a lot, but it's impossible to contend they accomplished enough.
* Call me premature on this, but I'm declaring Seattle the proverbial "dangerous'' club if it can fight its way into the playoffs. With that Seahawks' stout running game combined with Russell Wilson's knack for leading comeback victories, Pete Carroll's club won't be an easy touch for anyone the rest of the way. Seattle rushed for 173 yards in its pivotal win over Green Bay, putting the game away with those two clutch first downs via the ground game. That makes it seven consecutive games with at least 150 rushing yards for the Seahawks, the league's longest such streak since Atlanta in 2004.
With those two close losses to the Chargers and Rams the past two weeks, Seattle was desperate to get a win and stay alive in the NFC wild-card chase at 5-5, and the picture looked markedly brighter for the Seahawks in light of their victory. They are the NFC's No. 8 seed at the moment, but their opportunity to move up is obvious, given they play two other higher seeded NFC contenders head to head in the coming three weeks — Week 12 at Carolina and Week 14 at home against Minnesota.
Ridiculously Cool Football Card of the Week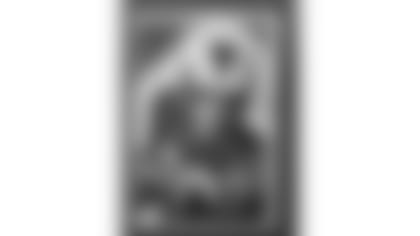 No doubt most people in Los Angeles can't wait for the new Rams-Chargers Hollywood Park stadium/megaplex to open for business in 2020, but not me. I'm enjoying the brief NFL renaissance of the historic Los Angeles Coliseum, where the 9-1 Chiefs and 9-1 Rams will collide Monday night in the matchup of the season thus far in 2018. The sight of another big game under the lights at that fabled venue — at least in the second half once the sun sets — holds great appeal for those of us who grew up watching the Rams of the late '60s and '70s play there until heading for Anaheim Stadium in 1980.
Pro Football Hall of Fame receiver Tom Fears knew all about big games at the Coliseum. Fears spent his entire nine-season NFL career with the Rams (1948-56), and also starred at UCLA. Born in Mexico of an American father and Mexican mother, Fears moved to Los Angeles with his family when he only 6. The city is entwined with his story, and not only did he later go on to become the first head coach of the New Orleans Saints from 1967-70, he also served as a Rams assistant head coach in the early '60s, the head coach of the World Football League's Southern California Sun in the mid-70s, and the player personnel director for the USFL's Los Angeles Express in the early '80s. (The Express played its home games at the Coliseum).
Here's Fears, No. 80, late in his playing career, captured on his classic 1955 Bowman card, with those sweet facemask-less Rams helmets featuring big, bold yellow horns. Fears was as L.A. as they come for decades and decades, and even when he led the Saints into the franchise's first game ever in September 1967, it came in a loss to the visiting Rams, the team he will forever be linked with.