Musings, observations and the occasional insight as we take stock of a complicating Week 15 in the NFL…..
* While the NFC features three teams already crowned a division champion (New Orleans, the Rams and Chicago) and two other clubs that have all but punched their ticket to the playoffs in Dallas and Seattle, the AFC suddenly remains a bit of a mystery with just two weeks to play in the regular season. At least in terms of how the conference's six-team playoff field is going to shake out in the seeding process.
That much became clear by Sunday evening, thanks to the losses suffered by the two teams that started Week 15 occupying the AFC's top seeds: Kansas City and New England. The No. 1 Chiefs were beaten 29-28 at home by the Chargers Thursday night, opening up the race anew for both the AFC West title and the AFC's coveted home-field advantage in the playoffs. And when the No. 2 Patriots fell 17-10 in Pittsburgh on Sunday, making it back-to-back road losses for New England, even more intrigue was added to the AFC postseason picture.
To boil it down, only the Chiefs and Chargers have clinched playoff berths and no divisions or seedings have been decided. The ramifications of the Kansas City and New England losses are obvious and many faceted. To wit:
— The No. 3-seeded Patriots (9-5) now need help to earn a first-round bye, a benchmark they've accomplished a league-record eight years in a row, starting in 2010. New England has never made the Super Bowl in the Belichick-Brady era without earning one of the AFC's top two seeds. Home games remaining against Buffalo and the Jets figure to be to the Patriots' advantage, but New England doesn't control its own situation any longer, and that feels strange to acknowledge in mid-December. The Patriots' latest loss featured a series of self-inflicted wounds and missed opportunities, and adds to the question of whether this New England squad has true championship potential?
— The Houston Texans (10-4) have now jumped into the No. 2 seed, and would have to lose a game to allow the Patriots to climb back over them into a first-round bye. Houston has never finished with a better record than New England in its team history, and have games at Philadelphia and home against Jacksonville remaining. Given the Jaguars struggles, the Texans could all but clinch a bye by beating the Eagles on the road next Sunday.
— The No. 4-seeded Steelers (8-5-1) steadied themselves dramatically by beating New England for the first time since 2011, snapping a dire three-game losing streak in the process. Pittsburgh would have dropped out of the playoff bracket entirely with a loss, falling out of first place and trailing Baltimore (8-6), which won at home against Tampa Bay, 20-12. Pittsburgh still has work to do, with a tough game at New Orleans (11-3) next week. But Sunday's was a season-saving win for now.
— The Chiefs and Chargers (both 11-3) are now in a dogfight for the AFC West title and a first-round bye (most likely via the top seed). No. 1 Kansas City has to travel to Seattle next week, while the No. 5 Chargers have a home game against contending Baltimore. A tie and the Chiefs are the division champions and get the higher seed, but Kansas City could have already settled these issues if it had been able to protect a two-touchdown lead at home with about four minutes remaining Thursday night.
— Lastly, Baltimore's win didn't wind up vaulting it into first place in the AFC North ahead of the Steelers, but it kept the Ravens in the No. 6 seed and on track to end the franchise's three-year streak of missing the playoffs. Baltimore trails Pittsburgh by a half-game with two weeks left, and can overtake the Steelers with a win against the Chargers and a Pittsburgh loss at New Orleans. Meanwhile the Colts and Titans both won Sunday to improve to 8-6 and stay right on the Ravens' tail in the wild-card chase.
After thinking we had the AFC playoff field all figured out for weeks and weeks, there's plenty of drama still to come and questions to be answered in the coming half month.
* The Seahawks' 26-23 overtime loss at San Francisco was disturbing, but not critically damaging, even if they did miss an opportunity to clinch a playoff berth. Thanks to its win against Minnesota last Monday night, Seattle (8-6) still has a strong grip on the NFC's No. 5, top wild-card seed. The Seahawks would probably have to collapse in the season's final two weeks in order to lose control of a wild-card berth altogether.
While next week's home game against the Chiefs (11-3) poses an obvious challenge, the Seahawks close out the regular season at home against last-place Arizona (3-11), and even a 9-7 mark should be enough assure a postseason trip. Still, in terms of building a sense of momentum as the playoffs approach, the sloppy, penalty-strewn loss to the 49ers wasn't helpful. Seattle had just trounced San Francisco 43-16 two weeks ago at home, and had won four in a row entering Week 15. The Seahawks looked to be a team on the rise, and were facing a 49ers team starting its third different quarterback of the season in Nick Mullens.
If nothing else, Pete Carroll should have his club's full attention in the final two weeks of the regular season, now that both games figure to be meaningful. The 49ers (4-10) played Seattle tough, snapping their 10-game losing streak against their division rivals, and beating them for the first time since December 2013. San Francisco has gone through four head coaches and six starting quarterbacks since that galling streak began.
* All credit to the newly crowned Bears. They saw the opening that existed in the NFC North this season and they took full advantage, even after giving away that game in Green Bay in such stunning fashion in Week 1. This time there was no Aaron Rodgers miracle comeback. This time Chicago handled the visiting Packers somewhat easily, beating them 24-17 in a game that wasn't as close as the score indicates.
The Bears (10-4) won the division because they finally made the right decision on the coaching front. Matt Nagy was exactly what this team needed, and his creativity, imagination and offensive expertise were like pure oxygen to a Chicago team that had largely gone stale under Lovie Smith, Marc Trestman and John Fox. The Bears had finished in last place in the division four years in a row, and their worst-to-first journey has been one of the NFL's best stories in 2018.
The Packers, Vikings and even Lions had all taken their turns making the playoffs in recent years, but Chicago hasn't been to the postseason since 2010, and the Bears lost that year's NFC title game at home to Green Bay in deflating fashion. This season there was nothing fluky about Chicago's dominance in the division. The Bears were 7-1 at home, their best mark since 2005, and they lacked the issues that plagued the Packers, Vikings and Lions.
With Nagy's leadership, a talented and opportunistic defense that improved all the more once the Khalil Mack trade was made late in the preseason, and solid play from second-year quarterback Mitchell Trubisky, the Bears were the class of the NFC North from day one in 2018. And their reign atop the division may not be a short one. Even better for a Chicago fan, the Bears got to put the rival Packers (5-8-1) out of their misery, doubling the fun.
* Oh, so that's what Mike Zimmer meant when he said he wanted to run the ball more. Zimmer fired offensive coordinator John DeFilippo last week due to his unhappiness with Minnesota's commitment to the run, and you could tell interim offensive coordinator Kevin Stefanski got the message loud and clear. The Vikings gouged the visiting Dolphins for 220 yards rushing on a season-high 40 carries, for a 5.5 average gain and three touchdowns, winning 41-17 in a game the Vikings desperately needed.
Getting the ball into the hands of second-year game-breaking back Dalvin Cook was the top priority and it showed. Minnesota fed him 19 carries and he responded with a career-best 136 yards and two scores, adding a 27-yard reception. The Vikings led 21-0 in the first quarter, and finished with 202 yards in the opening quarter, the highest total in the NFL this offense-happy season.
Zimmer at least made a good call in elevating the highly thought of Stefanski from quarterbacks coach, and the move paid instant dividends in keeping the Vikings entrenched in in the NFC's No. 6 playoff seed. For whatever reason, Zimmer and DeFilippo weren't on the same page from a play-calling perspective, and Minnesota (7-6-1) couldn't afford any more offensive malaise.
But the Vikings aren't home free just yet in their quest to make the playoffs in back-to-back years for the first time since 2008-2009. Games at Detroit and home against Chicago still loom, and little has come easily for Minnesota this season.
* It was a shame to see Dolphins veteran running back Frank Gore leave the game in Minnesota with a left foot sprain, but what a highlight rookie running back Kalen Ballage provided in Gore's absence. Ballage took a hand-off and went 75-yards for a touchdown on Miami's first snap of the second half, topping 21 mph in the process, according to ESPN.
Miami (7-7) couldn't muster any magic this week in the 24-point loss to the Vikings, but Ballage was a revelation. He entered Week 15 with just 11 yards rushing on eight carries, but finished with 123 yards on only 12 carries, with the touchdown. But he was the sole highlight, as Miami reverted to its road form (six losses in a row), with nine sacks of Ryan Tannehill allowed.
The Dolphins simply have to upgrade at quarterback next season. It's been seven seasons since drafting Tannehill and he's still not the top-shelf passer who can take control of a game and find a way to victory. He was 11 of 24 passing for 108 yards against the Vikings, and Miami is once again stuck in mediocrity as a team.
* The Colts love them some Texas teams. They snapped the Texans' league-high nine-game winning streak in Houston last week, then came home to end the Cowboys' league-best five-game winning streak at Lucas Oil Stadium. Indianapolis has won seven of eight and made Sunday's 23-0 humbling of Dallas look almost easy. And by winning, Indianapolis kept the Texans (10-4) from clinching the AFC South, so there's another blow struck against the Lone Star State.
Frank Reich's 8-6 team is the best AFC club not currently in playoff position and their plus-72 point differential is best in the AFC South, one point ahead of even 10-4 first-place Houston. Colts quarterback Andrew Luck has the NFL's Comeback Player of the Year locked up, and he completed passes to eight different receivers against the Cowboys. With running back Marlon Mack leading the offense with a career-high 139 yards rushing and two touchdowns in this Super Bowl V rematch (the same team won), the Colts are rolling.
It'll be shame if that puzzling 6-0 loss at Jacksonville in Week 13 is the game that keeps Indianapolis out of the AFC playoffs, but either way the Colts' future looks promising after three bleak seasons in 2015-17.
* Well that ought to tamp down the Super Bowl talk in Dallas for the time being. The outcome wasn't a big surprise, but the margin of the Colts' 23-0 victory over the visiting Cowboys certainly was. Dallas hadn't been blanked on the scoreboard since mid-November 2003, and it was held sack-less for the first time all season, with Indianapolis again superbly protecting quarterback Andrew Luck.
The Cowboys (8-6) are still the overwhelming favorite to win the NFC East, but they didn't remotely threaten the Colts on this day. Their 23-point defeat represented the largest deficit they have faced all season, and Dallas gave up three more sacks of Dak Prescott, giving him a league-high 51 this season. The Cowboys gained only 292 yards, and were sloppy all day long, with an early blocked field goal, a defensive holding penalty that wiped out an end zone interception, a dropped touchdown pass by fullback Jamize Olawale, and nine overall penalties.
Dallas needs to put a solid effort together at home against last-place Tampa Bay (5-9) next week and close out the NFC East once and for all. After not losing since Week 9, the Cowboys got a rude wake-up call from the Colts and they wouldn't beat any other NFC playoff team next month with the performance they mustered Sunday.
* With the mandatory road win they needed secured, the Titans may be the smartest bet for the AFC's final playoff berth, the No. 6 seed wild-card slot. Tennessee has built its second three-game winning streak of the season, beating the sleep-walking Giants 17-0 in the rain and cold conditions at MetLife Stadium on Sunday. While Baltimore and Indianapolis (both 8-6) and even Cleveland (6-7-1) might still have plenty to say about it, the Titans are in good position to run the table and earn a second consecutive wild-card berth.
The Titans improved to 8-6 and have two home games remaining. The first one shouldn't be that much of a test, against quarterback-depleted Washington (7-7). The second one will be much tougher, against Indianapolis, and might even serve as a winner-take-all showdown to determine the No. 6 seed.
That would make for some Week 17 fun in Nashville, especially if Titans running back Derrick Henry continues his late-season heroics. Henry was the star once again for Tennessee, rushing for 170 yards and two touchdowns on a career-best 33 carries, a week after rumbling for 238 yards and four scores against Jacksonville.
The AFC South has been unpredictable all season, but it looks like it'll be the only division with three winning teams this year (Houston, Indianapolis and Tennessee). Meanwhile, everyone's preseason favorite, Jacksonville (4-10) will finish a distant last.
* On a cold, wet day that couldn't have been conducive for playing quarterback, Lamar Jackson did enough to help Baltimore win, yet again. The rookie seems to keep both teams in the game at all times, but his mistakes and miscues are generally made up for by his best moments, and he's making progress before our eyes as this Ravens playoff drive continues.
Baltimore out-lasted visiting Tampa Bay 20-13, and Jackson produced 95 yards with his legs and 131 yards with his right arm, overcoming a fumble and an interception in the process. Now comes the hard part the Ravens: a Week 16 trip to the well-rested Chargers and then a home date with the much-improved Browns.
The Ravens (8-6) aren't following the same script as the rest of the NFL, with their run-heavy offense and well-respected defense leading the way. But they're getting results, and they've won four of the five games since Jackson took over as the team's starting quarterback.
The Bucs have had more than their share of quarterback switches this season, but at 5-9 all it has added up to is another losing season. With a seventh losing record in eight years now assured, the next change on the way in Tampa Bay may be at head coach, meaning Dirk Koetter could be entering his final two weeks on the job.
* Josh Johnson Sunday in Jacksonville became Washington's fourth different starting quarterback in the past five games, and its first winning one. It says something about the mediocrity in the middle of the NFL standings that Jay Gruden's team was able to beat the Jaguars 16-13 and survive another week.
Washington needed a couple of fortuitously tipped passes to get the win, but it at least broke a four-game losing streak and a downward cycle that began when Alex Smith broke his leg in Week 11 at home against Houston. Washington improved to 7-7 and stayed just above the giant clump of five and six-win teams in the league.
By my count, there are a whopping 11 of them heading into Sunday night's Philadelphia at the Rams Sunday night game, and they represent a mass of underachievement this season. And the list doesn't even include the four-win Jaguars, who dropped to 4-10.
* Not a fan of the Bills' all-red uniforms, but I have to admit Josh Allen's game is growing on me. Now if Buffalo (5-9) could help him out and surround him with more talent next season. Allen remains raw, but you can see flashes of talent that will play very well in this league, and I'm not just talking about his running ability.
Allen was only 13 of 26 for 204 yards passing in the Bills' 14-13 squeaker over Detroit (5-9), but he threw for one touchdown, ran for another and played turnover-less ball, taking just one sack. Give the star-less cast of characters Buffalo is starting on offense these days — receivers Robert Foster and Isaiah McKenzie, and running backs Keith Ford and Marcus Murphy? — Allen is making the absolute most of what he has to work with as his rookie season winds down.
* What a joke that Oakland saw fit to move on from general manager Reggie McKenzie last week, firing him two years after he built a 12-win playoff team and won the NFL Executive of the Year honor. McKenzie most assuredly wasn't part of the problem in Oakland, he was part of the solution. But score another coup for new/old Raiders coach Jon Gruden, who now has the autonomy he coveted to run the franchise into the ground the way he sees fit.
The Raiders lost 30-16 to the previously reeling Bengals on Sunday and dropped to 3-11 in the process. Cincinnati snapped a five-game losing streak and won for the first time with Jeff Driskel at quarterback. Even the Bengals can look like a decent NFL club against these Raiders, who don't even know where they'll be playing their home games next year, in their final season before the move to Las Vegas. At least the loyal and long-suffering fans in Oakland appear safe and will be spared whatever humblings await in 2019, thanks to the city's lawsuit against the team.
* That's roughly how it was supposed to look for the Falcons this season: a 40-point season-high scoring outburst, and big plays from the likes of Julio Jones, Deion Jones, Matt Ryan and Tevin Coleman. There was still no Devonta Freeman, but almost everything else worked in Atlanta's 40-14 rout of Arizona (3-11).
In snapping their five-game losing streak — were the Falcons really 4-4 at midseason? — Dan Quinn's team ran for a season-best 207 yards on just 22 attempts, looking nothing like the league's worst-rushing offense that it had been this year. Atlanta (5-9) was eliminated from playoff contention even in winning, but the victory in the Falcons' home finale should take some of the heat off Quinn, whose club was racked by key injuries in missing the playoffs for the first time since 2015.
* How 'bout those resilient Carson Chargers, going into Kansas City Thursday night and winning at Arrowhead for the first time since 2013, Andy Reid's first season coaching the Chiefs? That was like two or three kids ago for Chargers quarterback and all-star dad Philip Rivers. The smartest take I've heard about Anthony Lynn's club is that it's already primed and battle-tested for the playoffs, since it has virtually no home-field advantage any way and has effectively played the entire season on the road.
The West Coast-based Chargers (11-3) this season have won three games in the always tricky Eastern time zone, were victorious in London (against the Titans), and came away with W's in tough places to play like Seattle, Pittsburgh and now Kansas City. They're 6-1 on the road, with their only loss coming at the Los Angeles Coliseum against their cross-town rival Rams way back in Week 3.
Unlike so many previous incarnations, these Chargers don't wilt when the pressure of the game intensifies, and their 15-point fourth-quarter outburst against the Chiefs proved it once and for all. Los Angeles' 29-28 win gives the Bolts a real chance to claim the AFC West and the conference's top seed, given that Kansas City still has to play in Seattle next Sunday night, while the Chargers finish at home against Baltimore and at Denver. Los Angeles started last season 0-4, but is a gaudy 20-6 since then, so it's high time we give them our utmost attention.
* The Chiefs usually wait until the postseason to start blowing leads and losing home games, but they got a jump start on the process in letting that 28-14 fourth-quarter advantage slip away against the talented Chargers. Any way you cut it, Kansas City has lost to the three best teams it has played this year — New England, the Rams and the Chargers — and that has to worry a Chiefs fan as the playoffs loom.
Things were supposed to be different for Kansas City this season, because second-year wunderkind quarterback Patrick Mahomes changes everything. But the familiar trend of the Chiefs finding a way to lose their biggest games has returned and that is sadly why you can never underestimate the ability of Reid's teams to struggle and underachieve in the postseason. At Seattle next Sunday night is now a monster game for Kansas City (11-3), which in the blink of an eye in December could be a relegated to a deflating No. 5 seed in the playoffs after a season of so much domination and success.
* After all those years of suffering through the mediocrity of David Carr, Matt Schaub, Ryan Fitzpatrick, Brian Hoyer, Ryan Mallett, Case Keenum, Tom Savage, T.J. Yates and Brock Osweiler, how great must it be for the Texans to know Deshaun Watson is their guy at quarterback? Watson is on track to start all 16 games this season, making him Houston's first passer to turn that trick since Schaub in 2012.
No matter the situation, Watson's calm and cool continue to impress me, and he was at his best when the Texans needed him in rallying Houston (10-4) to a must-have 29-22 comeback win at the Jets on Saturday. The Texans once led 16-3 in the first half, but New York scored 19 of the game's next 22 points and built a 22-19 lead with five minutes remaining.
No worries. Watson took charge and led Houston to a touchdown and a field goal over a span of 1:21 on the game clock, and the Texans had their 10th win of the season, reaching double digits for the first time since 2012 and only the third time overall in franchise history. Watson now owns 20 starts in his NFL career, and he's 13-7 in those games, a nifty 65 percent success ratio. After going 9-7 in his first three seasons in Houston, coach Bill O'Brien finally produced a double-digit win season in his fifth year on the job, and he has Watson's game-changing skill set to thank for that.
* For the most part, I agree with J.J. Watt. Sam Darnold looks like he has what it takes and he should have a bright future in the league. But I just can't tell much right now about Darnold's up-and-mostly-down rookie season, because there's just not much around him in the Jets lineup to help him out. Darnold made some nice improvisational plays against Houston Saturday night to bring his club back into the game and give it a shot to win. But New York just isn't a very good team right now and it's hard to look like a quality quarterback when there's a dearth of talent surrounding you.
A new, offensively-creative head coach and some help in the draft might do wonders for Darnold in 2019. Maybe a Jared Goff-Sean McVay first year together improvement isn't realistic for the Jets next season, but that has to be the goal for New York.
* Break up the Brownies. All they do is win in the Gregg Williams era. Cleveland sunk to 2-5-1 at midseason under former head coach Hue Jackson, but it's 4-2 with Williams in charge and Saturday night's 17-16 upset in Denver was no fluke. The Browns (6-7-1) are quite often the better team on the field these days, and once they win at home against reeling Cincinnati next week, they'll even their record at 7-7-1 with only a game at Baltimore in Week 17 remaining.
Don't laugh, but Cleveland's dreams of securing the AFC's second wild-card berth remain barely alive. The Steelers win took away any division title hopes, but if Cleveland wins out and gets help, a wild-card slot is still mathematically possible, however slight the chance. What if the pivotal game comes down to beating the Ravens on the road in Week 17? Wouldn't that be something given that the NFL's other Ohio-based team, the Bengals, knocked Baltimore out of the playoffs last year in Week 17 at M&T Bank Stadium?
I predicted in the preseason that Cleveland would improve to the point of flirting with a .500 record in 2018, and the Browns are dead on goal to reach that rung of respectability, and maybe even a big step further. Any doubts on whether Cleveland would be playoff-bound if it had dumped Jackson earlier than midseason? None here.
* Looks like Denver might have a decision to make on second-year coach Vance Joseph after all. Or maybe that call has been all been made in light of the Broncos' latest failure, we just don't know it yet.
After scratching its way to 6-6 on the strength of a three-game winning streak, Denver (6-8) has dropped consecutive games to the 49ers and Browns, and now face the likelihood of the franchise's first back-to-back losing seasons since 1971-72. That's not going to sit well with Denver football czar John Elway, who famously had a habit of beating the Browns when the stakes were the highest.
Joseph did himself no favors against Cleveland, getting timid with the game on the line in opting to kick a field goal when the Broncos trailed by four and faced a 4th and 1 at the Browns 6 with less than five minutes remaining. (This after asking quarterback Case Keenum to play more aggressively and stop worrying about interceptions last week).
Denver eventually forced a stop and got the ball back, but never reached game-winning field goal range. That's the kind of call a coach makes when he's scared of losing his job, and it usually proves to be self-fulfilling. Joseph is 11-19 in his first 30 games in Denver, with two remaining this season. The Broncos fired Josh McDaniels with four games remaining in 2010 after he went 11-17 to start his head coaching career.
The mess in Denver is mostly Elway's fault. But the Broncos legend won't pay the price, at least not yet. And while we're at it, Elway's Keenum signing looks worse all the time. Denver this season has lost head-to-head against young quarterbacks Sam Darnold, Nick Mullens, Patrick Mahomes, Deshaun Watson and now Baker Mayfield. Keenum was the second-most productive passer in all of those games, which is not what Elway was looking for in a No. 1 quarterback.
Ridiculously Cool Football Card of the Week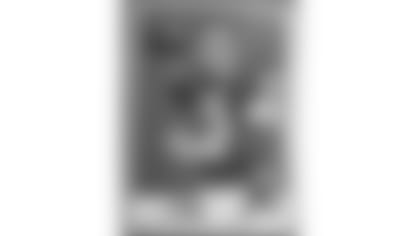 Okay, Baker Mayfield, this one's for you. Something to shoot for as your career continues to ascend. When the Cleveland Browns were last atop the NFL world, Frank Ryan was their quarterback. Ryan spent seven seasons (1962-68) with the Browns, but the unquestioned highlight was Cleveland beating Baltimore 27-0 in the 1964 NFL title game, two years before the start of the Super Bowl era. Ryan threw three touchdown passes to Cleveland lead receiver Gary Collins (18, 42 and 51 yards) in that blowout of Don Shula's visiting Colts at Municipal Stadium, while completing only 11 of 18 overall, for 206 yards and a sterling 117.1 passer rating.
Ryan out-dueled the great Colts quarterback Johnny Unitas in that Dec. 27, 1964 game, played almost 54 years ago. Unitas threw for a paltry 95 yards and two interceptions, completing 12 of 20 passes for a microscopic 32.3 passer rating. There was no scoring in the first half, but a 17-point Browns third quarter effectively ended the drama. Ryan was 52-22-2 in his 76 games as Cleveland's starter, making the Pro Bowl three years in a row from 1964-66. He still ranks third in Browns history with 134 scoring passes, trailing only Brian Sipe and Hall of Famer Otto Graham. Here's Ryan, ready to deliver on his final Browns card, a 1969 Topps that looks almost pretty in pink.