Musings, observations and the occasional insight as we digest a fairly high-scoring and eventful Week 2 in the NFL….
* Remember the narrative that quickly formed this offseason when the NFL suspended Bucs starting quarterback Jameis Winston for three games for his role in a groping incident? Tampa Bay's season would be done, finished, cooked almost before it even started because the schedule called for at New Orleans, at home against Philadelphia and at home against Pittsburgh on Monday Night Football the first three weeks of the season.
So much for that conventional "wisdom.'' The Bucs are 2-0, for the first time since 2010 we might add, and who doesn't give them a chance of beating the 0-1-1 Steelers next week at home? Tampa Bay so far this month is the reason why we're all hopelessly addicted to the NFL, because the script gets flipped and none of us really know what's coming next.
Ryan Fitzpatrick is the story for these Bucs. The 35-year-old NFL journeyman and presumed backup threw another four touchdowns on Sunday in a 27-21 win over the visiting Eagles, and now who knows when or if Winston will get his job back in Tampa Bay?
As good as Fitzpatrick was (27 of 333 for 402 yards and those four scores), he might have been even better in the post-game, when he stole receiver DeSean Jackson's ensemble and wore it to the podium, showing off an impressive display of chest hair in the process. (Find the clip, it'll be worth your effort).
Fitzpatrick threw a pair of 75-yard scoring passes against the stunned Eagles defense, and now has four touchdowns of at least 50 yards this season, matching the two-game league record total of Joe Namath in 1972. These Bucs are suddenly a big-play, pass-first club. They ran for just 43 yards against Philadelphia, and new Bucs play-caller, Todd Monken, has his players performing with confidence and aggressiveness. The Bucs press the issue on offense, and so far two pretty good defenses in New Orleans and Philadelphia have not kept pace.
* So the Eagles lost their first game that truly mattered since Week 13 of last season, but nobody should be panicking in Philadelphia. For starters, it appears Carson Wentz will be ready to make his long-awaited return from knee surgery in Week 3 against Indianapolis.
Even if Wentz isn't quite himself when he gets back on the field, just having their franchise quarterback under center will help an Eagles team that is realizing what it's like to play with the defending Super Bowl champion target on your back. You get everyone's best shot, as the Bucs certainly delivered in a game Tampa Bay once led 27-7.
And it's worth noting that no one in the NFC East is going to run away and hide from the Eagles. Washington is 1-1, like the Birds, and lost pretty badly Sunday to a Colts team that is not expected to contend for the playoffs this year. Dallas and the Giants both dropped their opening games and will face off tonight on Sunday Night Football, meaning there will likely be a three-way tie atop the division at 1-1.
The Eagles have injuries galore to deal with right now, with both left tackle Jason Peters (quad) and receiver Mike Wallace (ankle) adding to that list leaving the game in Tampa. But Philadelphia's talent advantage will show itself over the course of the long season, and this Week 2 upset at the hands of the Bucs will not be a preview of things to come for the 2018 Eagles.
* Another week and another tie in the NFL, and that supposedly wasn't going to be the outcome when the league moved to limit the overtime period to 10 minutes last year. Green Bay and Minnesota tied at 29 on Sunday in Lambeau Field and I'm guessing you're going to start to hear some grumbling from fans, media and maybe even teams about the lack of a winner and a loser for the second time already this season.
Overtime was reduced for player safety issues, so the rule probably isn't changing despite the Packers and Vikings making it a pair of ties between division rivals in two weeks, joining the Steelers-Browns deadlocking last week.
Also for the second week in a row in a tie game, a roughing-the-passer call ended up being pivotal to the outcome. Last week the NFL said game officials got it wrong when they penalized Cleveland's Myles Garrett for a hit on Steelers quarterback Ben Roethlisberger.
This week it was Green Bay linebacker Clay Matthews who drew a flag for his late hit on Kirk Cousins, thereby negating a game-icing Packers interception and giving Minnesota new life in their bid to close an eight-point deficit and tie the game in the final moments of regulation.
The protection the officials give to quarterbacks is starting to look comically overdone. Whether Matthews was called for the ridiculous "body weight rule'' or just roughing the passer, his hit didn't look anywhere close to being over the line or dirty in any way. I understand the good intentions the league has, but the interpretation of this call has quickly proven to be a problem that leaves pass rushers with almost no good choices. Can't go high, can't go low, and as Matthews proved, you can't go to a quarterback's middle either, even when you don't drive them into the ground with the momentum of the hit.
* What a brutal day to be a kicker in the NFL. Good luck sleeping tonight if you're Cleveland's Zane Gonzalez, Minnesota's Daniel Carlson or Pittsburgh's Chris Boswell. (And anybody got a good contact number for ex-Cowboys kicker Dan Bailey?)
You know the epic fails around the league on the kicking front in Week 2. Gonzalez missed two field goals and two extra points in the Browns' three-point loss in the New Orleans Superdome. Carlson cost the Vikings a game they probably shouldn't have been in position to win in Green Bay, missing three field goals in that tie with the Packers, including a 35-yard chip shot in overtime. The usually reliable Boswell is off to a shaky start, too, missing a field goal and an extra point in Pittsburgh's 42-37 shootout loss to visiting Kansas City, after missing a field goal in last week's tie with Cleveland.
In a related note, the Browns and Steelers are winless thus far this season, while the Vikings are 1-0-1 and missed something of a gift opportunity to steal a division road win
* Go ahead and give Patrick Mahomes the Offensive Player of the Year award, and maybe the MVP, too. The Chiefs' new starting quarterback has an astounding 10 touchdown passes in two games, without an interception. That's the most touchdowns anyone has ever thrown for in the first two games of a season, and his six-TD day against Pittsburgh Sunday tied an NFL record for the most passing scores by a road quarterback, and tied a Steelers record for most allowed in one game. Mahomes had more touchdowns (six) than he did incompletions, finishing 23 of 28 against the Steelers, for 326 yards and a dazzling 154.8 passer rating.
Mahomes has been even better than advertised as Alex Smith's replacement, but naturally two games does not a season make and he'll likely hit some inconsistent patches at some point. But his six scores against Pittsburgh went to five different receivers, so he's seeing the field well, making great decisions and executing accurate and strong throws. Kansas City is 2-0 and hasn't even played a home game yet.
But about that Chiefs defense. Kansas City's offense is great, but the Chiefs defense might just keep the other guys in most games, as they did in Pittsburgh, despite an early 21-0 lead. And the defense on the Steelers side of things was even worse. I know Ryan Shazier's absence changed a lot in Pittsburgh, but tell me again why Steeler coach Mike Tomlin fired his offensive coordinator (Todd Haley) and kept his defensive coordinator (Keith Butler) this offseason?
* Here's hoping Jets fans didn't let themselves believe every game was going to be like that hiccup-and-giggle-fest last Monday night in Detroit, when rookie quarterback Sam Darnold and Co. could basically do no wrong in that 48-17 blowout win. Darnold and New York came back to earth a bit at home against the Dolphins, losing 20-12, despite crawling out of a 20-0 hole to at least make a game of it in the fourth quarter.
Darnold threw for 334 yards and a touchdown against Miami, but he also had a costly interception in each half and looked a little like the USC quarterback who struggled with turnovers at times. He's learning how tight the throwing windows are in the NFL and how quickly a quarterback has to make his decisions. New York's drive at the end of the first half that ran out of time when the Jets were stopped at the 1 was another missed opportunity that Darnold should learn from.
As for Miami, 2-0 for the first time since 2013, they're playing efficiently and not beating themselves any more. They lacked for a bit of killer instinct in the second half against the Jets, when they went scoreless and didn't add to their 20-0 halftime lead. But they also did a solid job of protecting their late eight-point lead, maintaining possession for the final 5:56 minutes and breaking the Jets' spirit with a 19-yard pass to Frank Gore on third-and-19 inside of four minutes.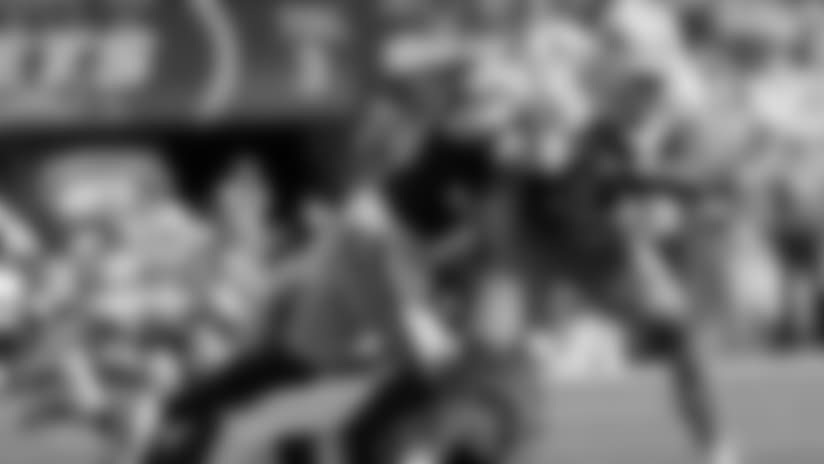 * NFL teams feature rosters that include players who have quit on their team quite frequently, but holy smokes, never like Bills cornerback Vontae Davis, who literally walked out on Buffalo at halftime of the team's 31-20 loss to the visiting Chargers. Talk about losing the will to play.
Davis later issued a statement to explain his bizarre retirement decision, opening it with perhaps one of the more head-slapping lines in recent NFL history:
"This isn't how I pictured retiring from the NFL,'' Davis wrote, in epic understatement. He went on to say, "today on the field, reality hit me fast and hard: I shouldn't be out there any more.''
The 10th-year veteran said he meant no disrespect to his teammates and coaches, but that's comically naive of him, because his fellow Bills likely saw it as abandonment in the middle of a game and that's quitting in the most ill-timed way possible. He couldn't have endured another 30 minutes of game time to walk away in a less controversial manner? Like calling in on a Monday morning to say see you later?
Bills linebacker Lorenzo Alexander, via ESPN, called Davis's decision "completely disrespectful to his teammates. Never had seen it ever. Pop Warner, high school, college, pros. Never heard of it. Never seen it.''
As omens go, the way Davis left the Bills Sunday might wind up saying plenty about the state of things in Buffalo this season.
* The headlines will go to Andrew Luck, given the Colts quarterback won his first game since 2016, in Indianapolis's 21-9 road win at Washington. Or maybe to rookie Colts coach Frank Reich in getting his career's first win. But the game ball should definitely go to Colts rookie linebacker Darius Leonard, who was a play-making revelation in Indy's victory.
Leonard was everywhere for the Colts, racking up 18 tackles, with a sack, a forced fumble and a pass defensed. He helped Indianapolis hang on after Luck threw two interceptions in Colts territory, with Washington settling for field goals both times. A second-round pick out of South Carolina State, Leonard's 18 tackles (including 15 solos) were the most by a Colts defender in almost seven years.
Washington's offense was nothing like last week's crisp display in a win at Arizona. In particular, Adrian Peterson did a disappearing act, gaining all of 20 yards on 11 carries, with 30 more receiving yards. He's not going to break Emmitt Smith's career NFL rushing mark like that.
* Speaking of rookie coaches really earning their first win, well done, Mike Vrabel. Well done. The Titans were without their injured starting quarterback, Marcus Mariota, and their three top offensive tackles, and they still found creative and aggressive ways to get the job done in a 20-17 conquest of visiting Houston.
Tennessee scored on an early fake punt that produced a tone-setting 66-yard touchdown pass from safety Kevin Byard to defensive back Dane Cruikshank, and also went for it on fourth down and featured a Wildcat attack that showcased running back Derrick Henry both running and throwing the ball.
In other words, all the daring, go-for-broke moves you have to make when you're trying to win a game despite starting Blaine Gabbert at quarterback.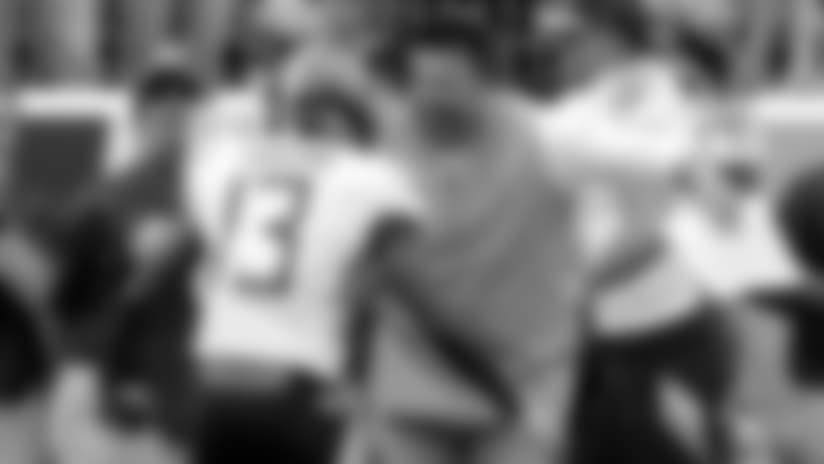 Houston's loss means they're 0-2 and in last place in the competitive AFC South. But both games were on the road and the Texans did mount a comeback and take the lead in the fourth quarter, showing signs of getting their offense back on track. It's still early in the season, but next week's home opener against the Giants is probably must-win material for Bill O'Brien's team.
* For a minute there on Sunday, it was looking like we'd have the undefeated Cleveland Browns to contend with after Week 2 of this young NFL season. But then the Browns turned back into the Browns, stretching their winless streak to an excruciating 19 games in an 21-18 loss at New Orleans.
Wasting a near-miraculous 47-yard game-tying last-minute touchdown bomb to rookie receiver Antonio Callaway — the kind of play the Browns never pull off — Cleveland lost thanks to those four missed kicks by soon-to-be-unemployed kicker Zane Gonzalez. You have to be a masochist to invest your heart into Browns football.
Gonzalez flubbed not one but two extra points in the game, as well as two field goals, including a 52-yard game-tying effort in the final seconds. Gonzalez had a potential game-winning field goal blocked in overtime last week, when the Browns and Steelers tied.
So instead of being 2-0 and the toast of the NFL in mid-September, as they probably should be, the Browns are a deflating 0-1-1 and still look capable of doing whatever it takes to avoid victory. In often grotesque fashion.
* The Saints survived, but when you consider they opened the season with home games against Tampa Bay and Cleveland — combined record of 5-27 last season — there's no reason to feel good about New Orleans' 1-1 start. The defense improved after last week's 48-point embarrassment against the Bucs, but the Saints offense was almost non-existent for three quarters, trailing Cleveland 12-3 entering the fourth quarter.
Then Michael Thomas took over. The third-year Saints receiver is an absolute machine through two weeks, catching 12 passes for 89 yards and two fourth-quarter touchdowns against the Browns. Throw in last week's 16-catch, 180-yard, one-touchdown effort and Thomas has a ridiculous 28 catches for 269 yards and three scores in two games. That's the most receptions anyone has ever recorded in the first two weeks of an NFL season. Thomas is on pace for 224 catches this season, and I'd like to go on the record in predicting that won't happen.
* It turns out the Falcons can get the job done in the red zone after all. Atlanta scored touchdowns on all four of its red-zone trips against visiting Carolina Sunday, for a week at least putting to rest its biggest Achilles heel. The Falcons held on to beat the Panthers 31-24, thanks to some unaccustomed production from quarterback Matt Ryan, who had a pair of rushing touchdowns.
Ryan's second score on the ground featured him going all John Elway, getting airborne and half spun around at the goal line. It wasn't the full helicopter, but stayed with the play and dove into the end zone.
Like Bengals safety last week against Andrew Luck, Falcons safety Damontae Kazee became the latest player ejected for a helmet-to-helmet hit. He laid out a sliding Cam Newton in the first quarter, sparking a brief fight between the teams. In both cases, the hits delivered by Kazee and Williams were obviously flagrant and deserving of ejection. It shouldn't take defenders long to learn where this particular line is drawn between drawing a penalty and being asked to leave the field for good.
* The Jaguars certainly trusted Blake Bortles this time, learning their lesson from their safe-but-sorry second half of last January's AFC Championship game. Sure, the New England defense was undeniably dismal for most of Jacksonville's 31-20 defeat of the Patriots, but let's give the credit where it belongs: Bortles and the Jaguars offense went out and won their biggest regular-season matchup in recent franchise history. Decidedly.
Bortles has been the butt of jokes for most of his career, but he was the only one laughing at the end of perhaps one of the finest games of his career. Bortles carved up the Patriots defense, throwing for four touchdowns and 377 yards on 29 of 45 passing, with just one pick, and 26 yards rushing. New England couldn't get the Jaguars off the field, with Jacksonville converting 10 of 14 third downs, and exposing any number of Patriots defenders as a step slow or out of position.
No Leonard Fournette (hamstring) in the lineup did not pose problems for Jacksonville. The Jaguars put their faith in Bortles and he proved up to the task. If there's an AFC title game rematch looming in January, Jacksonville's Week 2 win might help determine the venue.
* Careful, Los Angeles Rams. You don't want to peak too soon. The Rams last Monday night turned it on late to cruise past Oakland on the road in their opener, then they came home Sunday and kept it going, throughly dismantling Arizona 34-0 in a game that felt like L.A. could do anything it wanted. The Rams are 2-0 for the first time since 2001, their most recent Super Bowl season.
When the Rams get that Aaron Donald and Ndamukong Suh led defensive front in damage mode, with Todd Gurley taking care of the running game and Jared Goff clicking through the passing game, it's a machine-like showing. The Cardinals are clearly something of a train wreck so far, losing badly both at home and on the road, but Los Angeles made Arizona look punchless with 137 total offensive yards and five first downs.
The Cardinals aren't going to be competing with the likes of the Rams in the NFC West this season, and how much longer until the cries for rookie quarterback Josh Rosen to take over for starter Sam Bradford begin in the desert? But maybe it's better to let Bradford bear the brunt of things about now, rather than throwing the rookie into a desperate and losing situation.
* Both hires were celebrated in their own way, but so far Jon Gruden in Oakland and Matt Patricia in Detroit are new coaches who aren't getting the job done. The Raiders blew their second consecutive second-half lead and lost 20-19 in Denver, and the Lions are 0-2 after losing 30-27 in San Francisco, in a game that wasn't that close for much of the afternoon.
The Raiders and Lions are both clubs that made the playoffs as recently as 2016, but Gruden and Patricia were supposedly to elevate them back to contention overnight. That has not been the reality thus far, and both clubs already face crucial games in Week 3, with the Raiders staying on the road to take on the 2-0 Dolphins in Miami, and the Lions receiving a visit from New England (and former Patricia mentor, Bill Belichick) on Sunday Night Football.
* Denver has something good building at 2-0, and so far Case Keenum has been the answer at quarterback, leading two consecutive fourth-quarter comebacks in beating Seattle and Oakland at home. The Broncos defense was in back-pedal mode too often on Sunday, as Raiders quarterback Derek Carr was a razor-sharp 28 of 31 for 288 yards and a touchdown. But the bottom line was a win, again led by Keenum's calm and cool performance despite a fourth-quarter deficit.
Kansas City is so far setting the pace in the AFC West, winning a pair of road games. But the Broncos have hung tough when it mattered, and on Sunday they found a way to win a game they would have given away last year.
* The 49ers toughed out their win against Detroit, but Jimmy Garoppolo taking six sacks has to be concerning for the 49ers. Three of those sacks came within the red zone and kept San Francisco from a more comfortable win.
Despite his standout play at the end of last season, which earned him a big new contract, it's fairly obvious so far this year that Garoppolo's development is very much a work in progress. He avoided the turnover problems he had in losing at Minnesota last week, but he still requires time and repetition to better hone his decision-making skills and improve his knack for getting rid of the ball before the pass pressure closes off his options.
* The Browns obviously got tired of waiting for Josh Gordon to get it together and at least hint at his other-worldly form of 2013, when he went into Beast Mode and caught 87 passes for 1,646 yards in just 14 games. The 49ers and Cowboys are reportedly where Gordon hopes to land — most likely via trade — and both of those teams have been known for their willingness to put up with troubled but talented players in the past.
Maybe a change of scenery will lead to a change in the downward arc of Gordon's career, but I don't know how you can be optimistic about that kind of rosy scenario at this point. Gordon has played in only 11 games in the past five NFL seasons, from 2014-on, and this weekend he finally wore out his welcome in Cleveland after reportedly giving the Browns reasons to not trust his behavior (a hamstring injury at a Friday-night promotional shoot?)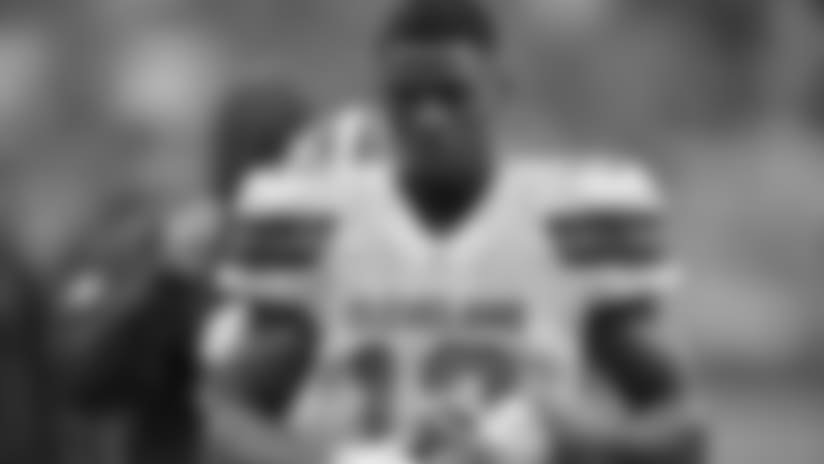 Gordon is still only 27 and his talent is obvious, as he displayed last week in catching a game-tying 17-yard fourth-quarter touchdown pass against Pittsburgh, his only reception of that tie game. Someone will open their doors to him. But wouldn't it be interesting if Gordon is acquired by Dallas and his departure from Cleveland makes room on the Browns roster for another as-yet-unwanted veteran receiver, ex-Cowboy Dez Bryant?
* Well the Bengals have this 34-23 thing down, having won by that exact score in each of the season's first two weeks, at the Colts and home against the Ravens on Thursday night to kick off Week 2. The 2-0 start is the team's best since 2015, the last season Cincinnati made the playoffs, but I wouldn't start making plans for the postseason just yet if I were a Bengals fan.
In their coming five games, the Bengals face a pretty tough gauntlet that includes trips to NFC South playoff contenders Carolina and Atlanta in Weeks 3-4, a visit from division nemesis Pittsburgh in Week 6 (the Steelers have won nine of 10 against Cincinnati) and a road game at Kansas City in Week 7. All four of those opponents have been playoff perennials in recent years, so we'll know plenty more about Cincinnati's viability for January once that portion of the schedule has been played.
One thing is crystal clear so far in Cincinnati: The Bengals offense has been streaky but it's much better when determined second-year running back Joe Mixon is on the field. Mixon, however, might miss the coming two games or more after having arthroscopic knee surgery on Saturday. That's a troubling development for the Bengals' attempt to keep their early season success going.
* Baltimore got its own dose of costly injury news coming out of Thursday night's game — cue up the debate about player injuries on a short week — after losing star middle linebacker C.J. Mosley with a knee injury in the first quarter of the loss to the Bengals. Without their defensive leader on the field, the Ravens stout defense was gouged for four consecutive touchdown drives by Cincinnati.
Mosley's injury has been diagnosed as a bone bruise, with no ligament damage according to an MRI, but that's still likely a two or three-week injury for Mosley, a three-time Pro Bowl pick who is easily Baltimore's most indispensable defender. The Ravens are home against Denver in Week 3, but then hit the road for a three-game trip: at Pittsburgh on Sunday Night Football, at Cleveland and at Tennessee.
Ridiculously Cool Football Card of the Week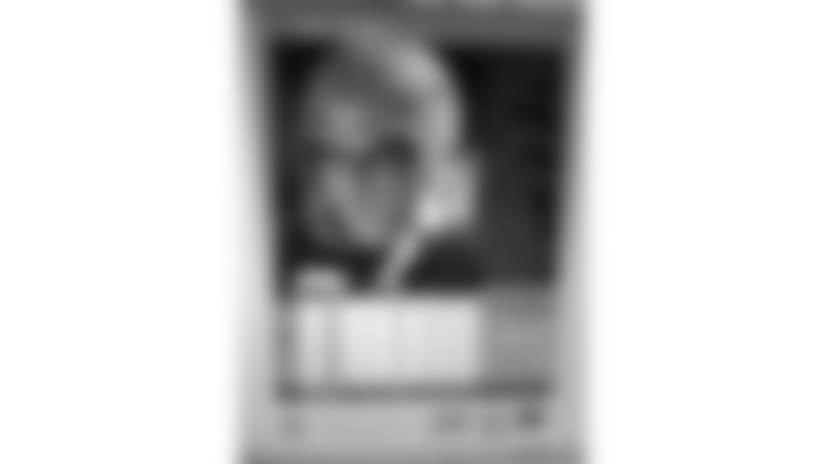 First off, the Bengals should darn well bring back their classic original helmet, at least for one throwback home game Sunday per season. Nobody looked better in it than Bob Trumpy, their standout tight end who played his entire 10-year NFL career in Cincinnati, making four Pro Bowls and earning one first-team All-Pro honor. As noted in my NFL picks column last Thursday, Trumpy was the star of the Bengals' first regular-season win, catching four passes for 114 yards, with a 58-yard touchdown — in a game played 50 years ago yesterday, Sept. 15, 1968.
Cincinnati (2-0) honored the 30th anniversary of its 1988 Super Bowl team before its home win over Baltimore Thursday night, but Trumpy was one of the stars of the expansion Bengals in the franchise's first decade. After his playing career he went on to a long and successful run as a color analyst on NBC's NFL coverage, and in 2014 was honored with the Pete Rozelle Radio-Television Award, bestowed by the Pro Football Hall of Fame. Here's Trumpy in his prime, shown on the back of a 1997 Upper Deck NFL Legends card.