Musings, observations and the occasional insight as a low-scoring but nevertheless riveting first round of the NFL playoffs wraps up…..
* It figures, doesn't it? After a season dominated by the gaudy and record-breaking offensive totals — a virtual points-palooza every week — naturally defense has dramatically come to the fore in the playoffs. All four teams that won in the first round did so largely on the backs of their defensive prowess, with the Colts, Cowboys, Chargers and Eagles turning in impressive displays of limiting the other team's damage on the scoreboard. No one all weekend scored more than the 24 points Dallas produced in beating Seattle, and four of the eight teams in action failed to top 17 points.
In order, Indianapolis limited Houston to a season-low seven points, and even those were disputed.
Dallas shut down Seattle's vaunted running game to a degree no one has done in months.
The Chargers made Baltimore rookie quarterback Lamar Jackson look beyond shaky for most of the game, and built a 23-3 fourth-quarter lead before the run-first Ravens rallied late to make it close.
And the defending Super Bowl champion Eagles stunned the Bears, flashing some defensive muscle of their own in a 16-15 win at Solider Field.
Offensive fireworks might have ruled a good bit of the 2018 regular season, but despite reports of its demise, defense is far from dead in the postseason. It's a great to see if you're a football fan who appreciates both sides of the ball.
* What a monster showing by Chargers defensive end Melvin Ingram, who set the tone for his club's manhandling of Baltimore (though the 23-17 final score sounds otherwise). Ingram was everywhere for Los Angeles, registering seven tackles, two sacks, two quarterback hits, two tackles for loss, forcing a fumble and recovering the game-clinching Lamar Jackson fumble inside of a half-minute remaining. Ingram played like a man possessed at M&T Bank Stadium, the way Ray Lewis, Ed Reed and other great defenders once did.
The Chargers defense is going to be handful for the Patriots next Sunday. With Ingram, fellow defensive end Joey Bosa and rookie safety Derwin James, Los Angeles has some serious star power on that side of the ball, and defensive coordinator Gus Bradley was a star in his own right on Sunday. Bradley had a masterful scheme ready for the Ravens. Playing with seven defensive backs, including three safeties as linebackers at times, the Chargers crowded the line, used their speed and dared Baltimore to run. But the Ravens couldn't, and until midway through the fourth quarter, Jackson could get next to nothing accomplished against Los Angeles through the air.
The Chargers sacked Jackson seven times and largely contained him, at one point holding him without a pass completion for about two hours of real time Sunday afternoon. Baltimore's first 10 possessions of the game produced just three first downs, three completions, three points and only 74 yards of offense. Jackson had net negative passing yards until two late touchdown drives allowed him to finish 14 of 29 for 194 yards.
Next task for Bradley? It's Brady. He has to slow down not the youngest quarterback in the field, but the oldest, in the Patriots' Tom Brady. And the stakes are even higher this time.
* Nick Foles is at it again. And who knows how long his latest roll will last? But at this point, we can't be surprised any more. We have to expect it. The Eagles are a different team with Foles under center, and his pressure-packed work in Philadelphia's upset of Chicago just re-enforces the feeling that even on the days when he might not be at his best, he'll figure something to help the Eagles win.
Even though it took until fourth down from the Bears 2 with the season on the line, did you ever doubt Foles would find someone in green and white for the game-winning touchdown pass? His 2-yard toss to Golden Tate was a very nice throw under pressure, and Tate's grab made his midseason trade from the Lions to the Eagles all worth it.
Foles is now 4-0 since taking over for the injured Carson Wentz, and he's also 4-0 in his last four playoff starts for Doug Pederson's resilient club. Philadelphia can continue to say it remains committed to Wentz long term, but there's got to be a few guys in even the Eagles locker room who wouldn't mind if Foles stayed in the City of Brotherly Love.
* Even if you're an Eagles fan you have to feel for Bears kicker Cody Parkey, whose field goal miss from 43 yards with five seconds remaining was one of the crueler endings to an NFL playoff game I can ever recall. Parkey, the ex-Eagle, hit his first attempt, but saw it wiped out by a well-utilized Philadelphia timeout, then bounced the kick that counted off both the left upright and the cross bar.
Ouch. That's the worst fate imaginable for Parkey, who hit the upright with four separate kicks in a game against Detroit earlier this season, then doinked another one last week at Minnesota. If the ball hits the cross bar and bounces in, he's a hero. But it bounced out, and a few inches on that section of yellow-painted metal decided which team would play on and which team had to go home for the season.
This is not a second guess, because I said it at the time as well: I'm still surprised the Bears played so hard to win last week against the Vikings, knowing they stood a chance of drawing the surging Eagles as an opponent in the first round, rather than a rematch with a mediocre Minnesota club. Battle-tested Philadelphia was not a great matchup for a Bears team playing its first playoff game in eight years.
* One man's ranking of next weekend's four divisional-round matchups, from most appealing to least….
1. Indianapolis (11-6) at Kansas City (12-4) — Patrick Mahomes versus Andrew Luck will give us a quarterback pairing that features the most combined touchdown passes in NFL playoff history (89, Mahomes 50, Luck 39).
2. Los Angeles Chargers (13-4) at New England (11-5) — The oldest pairing of starting quarterbacks in league playoff history: Tom Brady, 41, against Philip Rivers, 37. The Patriots are undefeated at home this season (8-0), while the Chargers have yet to lose a game out of Los Angeles (9-0).
3. Philadelphia (10-7) at New Orleans (13-3) — The Saints mopped the floor with the Eagles 48-7 in the Superdome in Week 11. But that was the low point Philadelphia apparently needed and the Eagles have won six of seven since. The Saints should be wary, knowing this is not the same team that it throttled in mid-November.
4. Dallas (11-6) at Los Angeles Rams (13-3) — The Rams got a break when the Eagles won, because the Bears had already beaten Los Angeles once this season and it was one of the worst games of the year for Sean McVay's team. The Cowboys are playing well and with confidence, but the Rams should be able to score enough at home to return to the NFC title game for the first time since 2001.
* If nothing else, perhaps one silver lining to Baltimore's loss is that rookie quarterback Lamar Jackson had one of the worst games imaginable in his NFL playoff debut, and still weathered it and finished strong. The youngest playoff starting quarterback at 21 — he turns 22 Monday — Jackson was getting booed off the field by his hometown fans in the fourth quarter, and he still had the fortitude to hang in there and lead the Ravens on a pair of late touchdown drives to make it a six-point game.
If Jackson didn't cave when he was still in minus-passing yardage in the fourth quarter, with the crowd wanting Baltimore head coach Jim Harbaugh to bench him in favor of veteran Joe Flacco, he's not likely to fold up in too many pressure situations in his career. Jackson showed me something on Sunday, even though it wasn't apparent until all seemed lost. He's a resilient guy and he almost staged the biggest comeback of all in this 2018 NFL season.
* The Colts defense is legit and it will head into Kansas City with building confidence after passing its first test of the playoffs so easily in that 21-7 win at Houston on Saturday. The game felt over when Indianapolis raced out to a 21-0 lead in the first half, and it was. Led by its rookie first-team All-Pro linebacker Darius Leonard, the Colts defense made the Texans offense look anemic, limiting DeAndre Hopkins to just 37 yards on five catches, and harassing quarterback Deshaun Watson (29 of 49, 235 yards, one touchdown, one interception) all day. Watson rarely looked comfortable and threw way too many errant passes.
Indianapolis is a fun team to watch these days and the Colts are feeding off their underdog status. Andrew Luck's superb comeback, coach Frank Reich being his team's second choice, the success of the rebuilt offensive line, and Marlon Mack running for a team playoff-record 148 yards against Houston all give the Colts a little team of destiny feel to it. And we almost forgot the emergence of that touchdown machine, tight end Eric Ebron, who scored again Saturday.
The top-seeded Chiefs could be in a bit of trouble next weekend.
* What a dismal ending this season for Bill O'Brien's Texans. Losing a playoff game always hurts. Losing a home playoff game hurts even more. Being out-classed at home in a playoff game is the worst of all.
The Texans vaunted defensive front got shoved around by the Colts' fine offensive line, with Indianapolis not allowing a sack and rolling up 200 yards of rushing. For a team that led the league in rush defense (87 yards per game), as Houston did this season, it was a humbling day in front of their own fans. The Colts were a dominant 9 of 14 on third downs, while Houston converted just 3 of 13.
The Texans are now 1-3 in the playoffs in the five-year O'Brien coaching era, and twice in five seasons they've been eliminated at home by a playoff opponent that started the season 1-5. It happened when Kansas City won 30-0 at Houston in the first round of the 2014 playoffs, and history repeated itself in the 14-point loss to the Colts.
The Texans' rally from an 0-3 start to the season was a nice accomplishment. But it just got dwarfed by what the AFC South rival Colts have done after the 1-5 hole they dug in September and October.
* Speaking of which, this is the postseason for comeback teams. The Colts are far from the exception. The Cowboys were 3-5 at midseason, and have won eight of nine since. The Chargers started 1-2, and just improved to 13-4 this season with their win in Baltimore. And the Eagles were 4-6 and decimated by injuries in November, but here they are back in the NFL's final eight at 10-7.
* The Bears didn't turn the ball over, had two takeaways against the Eagles on a pair of Nick Foles interceptions, held Philadelphia to just 42 yards rushing and got a 303-yard, one-touchdown passing game out of second-year quarterback Mitchell Trubisky in his NFL playoff debut. And they still lost. I'm not sure how, even with Parkey's ill-fated field goal attempt.
Chicago won the NFC North handily for the first time in eight years and took huge strides under rookie head coach Matt Nagy. He changed the losing culture that existed for the Bears, and set the foundation of what should be a very bright future. But this one is going to sting for quite a while, because Chicago played well enough to win and still found a way to give away a home playoff game against a 9-7, sixth-seeded team.
* Three road teams winning this weekend in the first round of playoffs continued some recent trends. In the previous five seasons (2013-2017), No. 6 seeds were 5-5 in the first round, while No. 5 seeds went 4-6 over the same span. Make that 7-5 for No. 6 seeds thanks to the Colts and Eagles wins, and 5-7 for the fifth seeds, with Seattle losing but the Chargers moving on. The bottom two seeds have played .500 ball in the first round, going 12-12 from 2013 on. And if you had to pick which first-round winners have the best chance of advancing next weekend, the Colts and Chargers would likely top that list.
* You would have done fine this weekend simply picking teams whose nicknames start with C, given the Colts, Cowboys and Chargers all won, with only the Eagles not following suit. And the Chiefs join the final-eight party next week in the divisional round, making it an even half the field. I should have gone the winning C route, since my predictions went a sorry 1-3, hitting only the Colts victory.
* How ironic would it be if Colts defensive coordinator Matt Eberflus wound up getting a head coaching job in this hiring cycle before Patriots offensive coordinator Josh McDaniels did? Eberflus, you might recall, was hired to the Colts staff that McDaniels was assembling, before McDaniels had his 11th-hour change of heart last February and stayed in New England. The Colts and their new coach, Frank Reich, retained him on staff, and now his unit has performed so well that he has generated head-coaching interest. Cleveland for one wants to interview him for its open coaching vacancy.
Eberflus getting the Browns job that McDaniels is thought to covet would be a twist we didn't see coming.
* All credit to the Cowboys. What was so impressive was that Dallas did to Seattle what Seattle was hoping to do to Dallas, running the ball down its proverbial throat. The Cowboys got the key yards when they needed them and answered the Seahawks every time the visitors started to swing momentum their way. After so many years of struggling to find a home-field advantage in AT&T Stadium, Dallas is now 8-1 in Jerry World this season and is tough to beat there.
Seattle was supposed to be the stop-us-if-you-can running game, but instead Dallas flipped the script, gaining 164 yards on 34 attempts, an effective 4.8 yard average gain. Ezekiel Elliott was a reliable chain-mover, with a game-high 137 yards on the ground and a touchdown, picking up an average 5.3 yards on his 26 carries. Elliott chipped in with 32 more yards on four receptions, and if there's anybody still out there who thinks you never "waste'' a first-round pick on a running back, Elliott should be exhibit "A'' that there can be deserving exceptions to every rule.
* Cowboys coach Jason Garrett evened his career playoff record at 2-2 with the win over Seattle, and team owner Jerry Jones said after the game the victory "will make people think more highly of Jason.'' Perhaps so, but one playoff win every four years isn't exactly the pace Garrett needs to earn new-found respect.
Dallas is in the final eight of this year's playoffs, but the Cowboys still haven't advanced beyond the divisional round since 1995, their most recent Super Bowl season, and their last road playoff win came in the 1992 NFC title game. So let the Cowboys knock off the Rams next week on the road and at that point we can re-assess whether Garrett is getting the just due and respect he deserves.
* You know who had the worst Saturday night of all in Dallas? Unimaginative Seahawks offensive coordinator and play-caller Brian Schottenheimer. The run-run-pass on third and long approach didn't work at any point throughout the game, and yet Schottenheimer stuck with it to the bitter end instead of letting quarterback Russell Wilson put the game on his shoulders. Schottenheimer was so bland and conservative he probably made Seattle fans pine for Darrell Bevell.
Seattle was a horrible 2 of 13 on third down (15 percent) and the only thing the Seahawks offense had going for it was Wilson to Tyler Lockett, a connection that produced 120 yards on just four catches. I would have spent the entire second half letting Wilson target Lockett, who also contributed a 52-yard kickoff return in the first half. In reality, Lockett was targeted only six times in the game, with Seattle stubbornly clinging to its restrictive run-first game plan.
The Cowboys had the fifth-best rushing defense by yards per carry in the league, and only the 13th ranked pass defense, and still Seattle chose to continue to run right at Dallas, even in the face of abject failure. The Seahawks obviously thrived by running the ball this season, averaging a league-high 160 yards per game on the ground, with a 4.8 average rush. But it wasn't working against Dallas, and with the season on the line, you go to Plan B and let Wilson take shots downfield.
Seattle finished with just 73 yards rushing on 24 carries, with Wilson scrambling for 14 of those yards, and running back Rashad Penny gaining 28 on a single run. Try as they might, the Seahawks never did establish the run against the Cowboys, and because of their lack of adaptability and adjustment, they'll be home for the rest of the playoffs.
* From 2012-2016, Russell Wilson's first five seasons in the NFL, Seattle won at least one playoff game each year, a streak matched only by New England over that span. In fact, the Seahawks had earned a playoff win or more in each of their past nine postseason trips, with their most recent one-and-done playoff experience coming with a 27-20 first-round home loss to the St. Louis Rams in 2004, long before Pete Carroll and Wilson arrived.
But now they're out of the tournament, wasting some of the good vibes created by their strong 10-6 bounce-back season in 2018. In what looked to be a rebuilding year, Seattle re-created a good bit of its winning identity on the fly this season. But while the regular season success in many ways mirrored the dominant teams Carroll led from 2012-2016, the Seahawks weren't able to follow their blueprint to a playoff victory this time.
Ridiculously Cool Football Card of the Week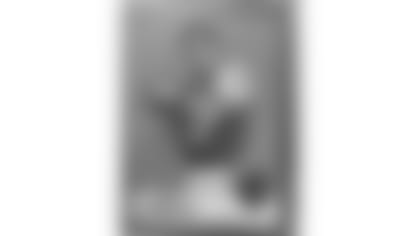 Last week we noted the 60th anniversary of the fabled 1958 NFL title game between the Colts and Giants, and this coming week we'll hit the 50th anniversary of perhaps the second-most significant game in pro football history: The Jets' stunning 16-7 upset of the heavily favored Colts in Super Bowl III, on Jan. 12, 1969 in Miami's Orange Bowl. The pre-game storyline became an iconic part of sports lexicon, thanks to Jets quarterback Joe Namath becoming the first athlete made famous for issuing a "guarantee'' of victory.
Namath wasn't exactly spectacular against Baltimore, but he still garnered MVP honors for completing 17 of 28 passes, for 206 yards, with no touchdowns or interceptions. Many thought the award could have gone to either running back Matt Snell, who ran for 121 yards and the Jets' only touchdown, with 40 receiving yards as well, or receiver George Sauer, who caught eight Namath passes for 133 yards. But Namath made the bold and brash call to guarantee the win, and then he and the rest of the upstart Jets delivered, changing football history and putting the AFL on equal footing with the NFL. Here's Joe, looking as cool as ever, on his 1969 Topps. One of the unexplained mysteries of our time is why he needed a band-aid near his left eye.