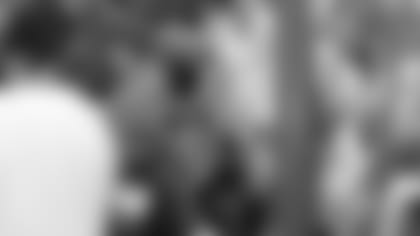 ]()Toss in a heap of mulch, gallons of paint, one fun looking slide, hundreds of volunteers, the New England Patriots and - KaBOOM!, you have a playground. On Tuesday, October 26, the New England Patriots players and alumni, the New England Patriots Charitable Foundation and the Kraft family teamed with UnitedHealthcare, KaBOOM! and the Waltham Boys & Girls Club to construct a state-of-the-art playground in a one-day build event at the Waltham Boys & Girls Club.
Patriots players including QB Tom Brady, DL Vince Wilfork and LB Jerod Mayowere hard at work assembling slides, game areas and jungle gyms. "Communities are really what shape kids these days. Providing safe places to go for kids, that parents can trust, is something that is very important, and there's no better place than the Boys & Girls Club," said Brady.
The new playground will provide the more than 275 children served every day at the club with a place to be active outside. In addition to the playground, volunteers created a new outdoor patio, multiple murals, a new fence, picnic tables with checkerboard tops, cubbies for the indoor areas and completed an entire site clean-up project. The children also participated in service and learning activities in which they created a Thank You Mural, prepared the ribbon for the final ribbon-cutting ceremony and played games with Patriots players throughout the day.
Patriots Chairman and CEO Robert Kraft, and his wife Myra, were joined by Patriots President Jonathan Kraftand New England Patriots Charitable Foundation President Joshua Kraft in the build. Robert Kraftaddressed the children at the ribbon-cutting ceremony. "I think sitting here, we have future CEOs or sports club owners. You may not know, but most players who came here today have attended Boys & Girls Clubs themselves and it is interesting to see how handy they were with the building." He also addressed the players that attended. "This is different than making a tackle or scoring a touchdown, but in many ways it is just as rewarding. And we hope that our players will carry this with them when they leave the Patriots and are giving back to their individual communities."
]()During the build, QB Tom Brady, DL Vince Wilfork, LB Jerod Mayo, DL Gerard Warren, LB Gary Guyton, RB Sammy Morris, G Stephen Neal, P Zoltan Mesko, LBTully Banta-Cain, G Dan Connolly, TE Rob Gronkowski, G Rich Ohrnberger, C Ryan Wendell, DT Darryl Richardand OL Thomas Austin, Patriots Hall of Famers John Hannah and Andre Tippettwith Entertainment Industry Foundation iParticipate Ambassador Donnie Wahlbergand Patriot Cheerleaders were on hand, not only to construct the playground, but to sign autographs and interact with volunteers.
The New England Patriots Charitable Foundation (NEPCF) is supporting UnitedHealthcare's 'Do Good. Live Well.' mission in inspiring community service through volunteerism. The mission of NEPCF is to support programs that foster cultural diversity, education, family and health and has taken special interest in youth programs that encourage education, creativity and development of character.