There are times during training camp when a day off is exactly what the doctor ordered. The wear and tear from the constant pounding the players take on the practice can sometimes cause the pace of the workouts to slow a bit, and the rest can restore some of the zip that normally would be on display.
Even though the Patriots practiced just four days before taking Monday off, the rest certainly seemed to help add some physicality and intensity to the mix on Tuesday. No one benefited from that time off more than Brandon Spikes.
After suiting up for each of the first four sessions but seeing no action in contact drills, the linebacker was very much in the mix. He stepped in at middle linebacker during the first team period of practice as part of a sub defense that included Jerod Mayo and five defensive backs. He popped back to his feet after delivering a hit on his first play, and began running in place quickly as if to show everyone that his surgically repaired knee was good to go.
"It felt great to get out there and get some reps," Spikes said, who admitted the plan was to work his way into the mix slowly after undergoing arthroscopic surgery during the offseason. "I wanted to get out there with the guys. I've been watching for a while so I wanted to be out. It's fun to be back in pads running around again."
Later he was involved in more team action, showcasing his physicality in the running game and again during some goal-line work. He and rookieDont'a Hightower seem to have similar approaches with their enthusiasm often becoming infectious. After one solid run stop on the goal line, Spikes and safety Patrick Chung celebrated with a spirited chest bump as the defense asserted itself.
"It's great. We have a whole unit with a lot of guys who can do different things," Spikes said of the linebackers in particular. "Our thing is to be strong. We have to be on the same page, come out here and get better as a unit and we'll be fine. It's all about energy."
While Spikes' energy was a welcome sight, it may be a bit premature to expect it moving forward in the short term. At the end of the goal line drill, he walked backed to the sideline with a bit of a limp. Asked if he felt the knee was 100 percent, Spikes didn't admitted it's still a work in progress,
"I'm working to try to get out there full time. I'm working to get better. I can't really put a percentage on it. It's day by day," he said.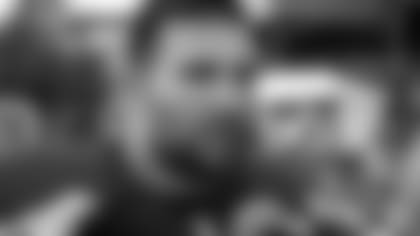 Any lingering doubts on whether the Patriots defense is a 4-3 or a 3-4 appear to be completely gone. Players like Rob Ninkovich and Jermaine Cunningham, who in the past have served as outside linebackers, have been full-time defensive ends, lining up on the edge out of a three-point stance.
Ninkovich and Cunningham have spent much of camp lining up at left defensive end while rookies Chandler Jones,Jake Bequette and free agent newcomer Trevor Scott have worked on the right side. Bill Belichick was asked if the traditional roles of having a pass rushing defensive end coming from the offensive left and more of a run-stopping end on the right (where many teams tend to run) remain in place.
"I would say it's still more that way than the other way," he said. "Teams are balanced and they do a good job of scouting themselves and making sure that they don't create any heavy tendencies or maybe if they do create them, it's because they want to create them. I would say that it's still tilted a little bit more that way than the other way, lets say. In other words, most weeks I would say the most athletic pass rusher that we face lines up on our left side. It's not set in stone, but generally that would be what we would see."
Since Ninkovich hasn't played much on the line during his time in New England, it's worth wondering whether or not he's capable of holding up as an edge-setting run defender. But Belichick has no such reservations.
"Essentially that's what Rob has done. Rob is pretty flexible – he's played both sides and played on his feet, played in a three-point stance," Belichick said. "I think he's certainly strong enough to do that, physical enough, plays with good leverage, yeah."
Ironically, when practice got underway moments after Belichick's press conference, Ninkovich did not take any reps during team periods. He didn't see much action on Sunday, either, but was present during both sessions doing plenty of running so perhaps he's dealing with an injury of some sort. Tim Bulman got some reps at left defensive end in his place.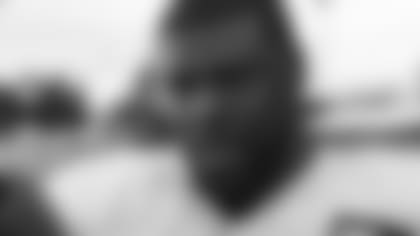 Buy: Donald Thomas –** With three starters still out of the lineup, opportunities for the backups to receive reps with the first unit have been available throughout camp. On Tuesday it was Thomas' turn and the veteran made the most of it, working at left guard throughout the team periods. He appeared to do a nice job in the running game and also during the one-on-one pass protection drills.
Sell: Running backs – Ball security was an issue on Tuesday for several of the backs. First, rookie Brandon Bolden fumbled on an off-tackle run during a team period and took the subsequent penalty lap. Moments later Shane Vereen dropped a routine screen pass in the same drill. Later Stevan Ridley couldn't hold onto an easy dump in the flat, and shortly thereafter double clutched a reception on a similar play.
Play of the day: At the tail end of one of the team periods, Ryan Mallett led a group of reserves and tried to hitMatthew Slater in traffic down the right seam. But Aaron Lavarias made a terrific play to deflect the pass and Ross Ventrone was there to pick it off.
There were a few additions to the list of absentees on Tuesday. Offensive lineman Jamey Richard, tight end Visanthe Shiancoe and fullback Tony Fiametta did not practice. Richard was shaken up on Sunday and left the field with Dr. Thomas Gill carrying his helmet, while Shiancoe was not part of the team action toward the end of that practice as well. Fiametta did some running with other rehabbing players while Shiancoe worked on the stationary bikes as well.
That group joined Alfonzo Dennard (leg), who hasn't practice since July 27, Nate Ebner (unknown), Jeremy Ebert (hamstring) and Tracy White (unknown) as well as the group of players on PUP –Nick McDonald (failed physical), Logan Mankins (knee),Sebastian Vollmer (back), Daniel Fells (shoulder), Jake Ballard (knee) andMyron Pryor (shoulder) – and rookie Markus Zusevics (torn pectoral muscle), who is on NFI, on the sidelines. All except Ballard were seen rehabbing in some capacity.
Brian Waters remains away from the team and Belichick said there was no update regarding the guard's status. Matthew Slater (shoulder) and James Ihedigbo (shoulder) continue to wear red, non-contact jerseys. …
The tight ends worked a lot against bracket coverage from safeties and linebackers in the red area. Aaron Hernandez was once again a standout in the drill, beating virtually any combination of players he opposed. Rob Gronkowski also bounced back from his struggles on Sunday and was back to being his dominant self. He was so open on one play he forced linebackers coach Pepper Johnson into a few choice words for his group. … Hightower had a terrific defensive play during a goal-line drill when he deflected a Tom Brady pass to force an incompletion. Hightower continues to show great athleticism and versatility in his first days as a pro. … Deion Branch was in pads but did not take part in any of the team periods. It appeared as if he received a veteran day off. ... The Patriots will hold their annual practice inside Gillette Stadium for season-ticket holders only at 6:30 p.m. Wednesday night. This is a ticketed event and open only to season-ticket holders. The open portion of camp will resume on Thursday and Friday with the team back at it at the normal time of 1:30 p.m.-4 p.m. on the practice fields behind the stadium. As always check with patriots.com for the latest schedule updates.