JACKSONVILLE, FLA. – Veteran players always tell younger players to enjoy the Super Bowl experience because it might come just once in a career. And for the most part that can be true. Guys like future Hall of Famer Dan Marino have gone to the big game early in their careers, never to make a return trip.
But for many of the young players in New England these days, trips to the Super Bowl are simply the end to a normal season. Guys like Richard Seymour and Matt Light are making the trip for the third time in four years, while second-year guys like Eugene Wilson and Ty Warren are two-for-two as professionals.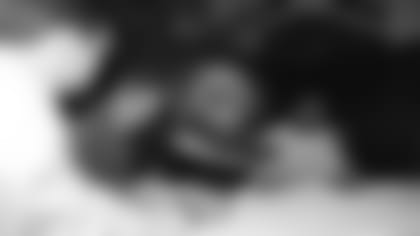 ]()"It's not too bad," Warren said of his youthful good fortune. "I feel real fortunate to be in this situation twice. This is my second go-around and I look forward to the opportunities coming up on Sunday. But I don't take it for granted knowing that this could be my second and last Super Bowl."
Part of the reason the young players don't take the success for granted is the fact that they have witnessed veteran teammates who haven't been so lucky. For the 2004 Patriots the perfect example of that is eight-year veteran running back Corey Dillon. Dillon's Bengals failed to even reach the postseason in his seven years in Cincinnati.
While the wait was long, the three-time Pro Bowler is enjoying his unaccustomed success in his first season in New England.
"It's exciting, but at the same time I'm going to treat it like a regular season game and remain focused," Dillon said. "I'm going to go in there and play football and try to help our team win."
"To be honest with you, I knew that we were going to win games," Dillon added of his expectations for his first year as a Patriot. "But to be sitting here and having an opportunity to play in the Super Bowl? I thought about that, but hey, until you go out there and actually do it as a team…it's just an awesome feeling."
That type of grounded attitude helps guys like Warren stay focused amidst back-to-back seasons of Super Bowl success and hype.
"We had a guy last year in Larry Centers, a guy that played 14 years and never made it to a Super Bowl," Warren said. "I could see it on his face last year and I see the same thing on Corey's face this year. Being in the situation he was in and not getting to this point and now he's finally at this point. I see that in those guys' faces and attitudes."
T.O. play or not?One of the biggest questions making the rounds for Super Bowl XXXIX is whether Eagles Pro Bowl wide receiver Terrell Owens will be able to play or not? Owens has been practicing with the Eagles this week, pushing to come back from Dec. 22 surgery to repair a high ankle sprain and broken leg. But the Patriots aren't taking any chances either way.
"We've got to prepare for all the players," Patriots Head Coach Bill Belichick said of his team's approach to the Owens' question. "Anybody who is on the active roster could potentially be in the game. We need to know their strengths, how they have been utilized in the past, what skills they bring to the game. We have a good opportunity to look at Terrell and what he has done this year. He had a great year. In terms of his production and how he was utilized in the offense, if he is there we defend accordingly based on things we have seen. If it's (Freddie) Mitchell, (Todd) Pinkston, (Greg) Lewis, we will have to be ready for all of them however they are deployed. We expect everybody to be at their very best for this game. That's the only way we ever think about it. We never expect anything less from our opponents. That's what we try to get ready for."
"We are putting our game plan in regardless whether T.O. plays or not," safety Rodney Harrison said. "We are not going to change anything if Terrell Owens plays. He's an All Pro receiver and a Pro Bowler, you know his stats. I am not thinking twice about it. I am preparing as if he's going to play and be a major factor in the game.
"I am not going to change how I play. I am not going to sit here and tell you I will go at his knees or his legs or anything like that. Now if that's the only way I have to tackle him, of course I am going to do it. But you don't really worry about that. If he's on the field he's healthy and he's susceptible to any hit and any tackle that we have to impose on him."
Notes
Belichick and his players were about 15 minutes late to the media session at the Prime F. Osborn Convention Center, traveling to the media center directly from the practice field. … Monday afternoon's practice was the first for the team since working out Saturday in Foxborough. While the team is gradually moving toward a peak in preparation for Sunday, wide receiver Deion Branch said, "It was good to get back out there and get back in the groove of things." … Patriots defensive tackle Richard Seymour worked out on the side at practice on Monday, hitting a sled before working in one-on-one drills with practice squad offensive lineman Billy Yates. … Belichick deemed the team's first Florida practice a "loose and lively workout," but wasn't pleased with the practice facilities at Bartram Trail High School, comparing the field to an ice rink. … Asked about Seymour during his press conference, Belichick responded in his usual fashion, "If Richard can play, he'll play." … In addition to Belichick's press conference, Deion Branch, Tedy Bruschi, Corey Dillon, Ty Warren, David Givens and Mike Vrabel met with the media at the media center. … Tuesday is Media Day at ALLTEL Stadium. The Eagles will face the huge crowds of media at 10 a.m. followed by the Patriots at 1 p.m.